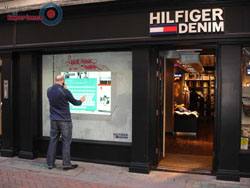 Starting from today, customers in certain cities around the world can add their photographs to the Hilfiger 'Hall of fame'. Some of the Hilfiger stores in London, Amsterdam, Cologne, Antwerp and Dublin will feature through window Touch Screens and camera which will enable the casual passers by to capture their images and submit to the Hilfiger Hall of fame. What it means is that the user submitted images will be shown on the Digital Screens inside the stores.
At the end of the campaign, the customers can go to the stores and get T-shirts printed with images they submitted.
I feel that it is a very intelligent marketing campaign.It has been finely crafted and needs to be praised.
On the one hand Lot of Media hype will be created around the campaign – drawing lot of customers to the stores. Secondly, the casual passers by have been given the freedom to play around without any pressure of buying any product . Thirdly, with the time and effort put in creating own images, many customers will return to the store to get their T-shirts (and pay!).
I don't know how much Tommy Hilfiger has invested in this campaign, but it looks sure to make much more than it invested…