H&M Foundation, a Global Change award winner, has supported early-stage innovation since 2015 while giving opportunities to people whose ideas can bring a change in the fashion industry. Startups struggle immensely to gather the funding and support to be able to change the world as we know it. H&M Foundation makes sure the voices of these startups are heard.
H&M Foundation came up with The Billion Dollar Collection, essentially a fashion collection you can't buy (unless you're Jeff Bezos of course) because the price tag of each product (startup) reflects the funding they require. They present 10 innovative sustainable fashion startups that could revolutionize the fashion world. 
The Foundation's main motive is to create a shift in the fashion industry where sustainability and innovation are implemented as default practices by 2030. Accenture brought its 360-degree value approach to the collection with the 2030 UN Sustainable Development Goals in mind to illuminate the potential of these startups. The model shows each innovation could have a big positive impact on the planet if allowed to scale. The impact potential is indicative of high-level estimations of the innovations' multi-dimensional value potential in 2030.
"The Billion Dollar Collection presents a unique opportunity to help the fashion industry reinvent itself through sustainable innovations that can fuel future growth and bring positive change. By adopting our 360-degree value approach for this collection, we are demonstrating how these innovations can deliver value across multiple dimensions including sustainability – and move past narrowly defined views of value," says Jill Standish Senior Managing Director and Global Retail Industry Group Lead at Accenture.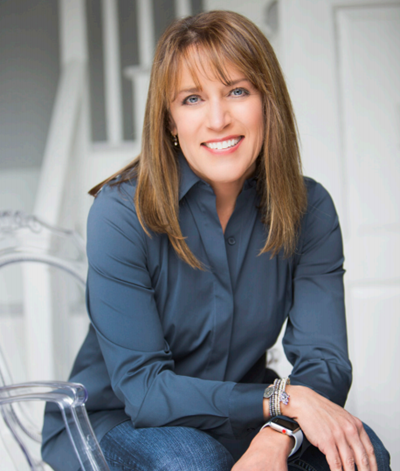 She believes Sustainability is fueling the future of fashion. Along with moving to digital platforms, sustainable fashion is the other approach that is accelerating at a very fast pace. According to a recent consumer study by Accenture, 81% of shoppers globally now feel strongly that companies should do more to preserve the environment. Further, 62% of people shop following their values, and businesses are listening.
SEACHANGE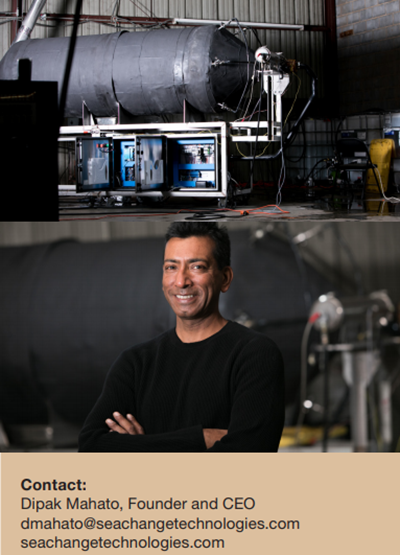 "Through a powerful jet engine that plugs directly into existing production systems, SeaChange wants to eliminate wastewater at its source to improve the environmental footprint of the fashion industry."
A lot of dyes and chemicals are used to get the right colors, finishes, and look of the garments. These processes are very harmful because these dyes and chemicals end up in the water and conventional wastewater treatment isn't able to take care of it, the polluted water turns into a thick, toxic sludge and is often pulled up on land, resulting in chemical discharge through the soil and carbon emissions. Basically, the problem is moved around, not solved.
Now, this is where SeaChange steps in, their mission is to eliminate pollution at its source by providing innovative and economical wastewater treatment systems. With their novel patented approach to water purification, SeaChange offers a way to make the clothes we want while protecting the environment.
How does their technology work?
The SeaChange technology plugs directly into existing factory systems and separates the water from toxins in one single step with the help of a powerful jet turbine. The water is released as clean water vapor into the atmosphere, and the sludge is converted into a concentrated dry powder that can be reused.
The support required
SeaChange requires $5,000,000 to convert its ideas into reality.
Competition
Primary competitors are traditional large water treatment contractors that employ decades-old technologies that were originally developed for sewage/ municipal water treatment.
SeaChange's impact potential according to Accenture
Will lead to wastewater elimination
Social sustainability; improved living surroundings
Reduction of 470,000 metric tons of CO2 emissions annually in 2030

VEGEA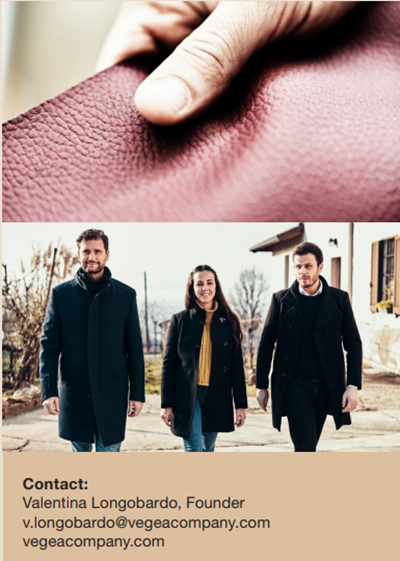 "With a vision of transforming the leather goods industry, Vegea contributes to a sustainable fashion future by making beautiful vegan leather out of leftovers from winemaking"
Every fashion enthusiast has a leather jacket, a pair of leather pants, and a pair of leather boots. A leather jacket is essentially a staple for fashion lovers. The impact of real leather on the environment is destructive due to its toxic substances and carbon dioxide emissions. Vegea hopes to bring in demand for vegan alternatives.
How is Vegan Leather produced?
Italian team VEGEA has a sustainable solution to all of the above by using leftovers from wine production to create a fine leather-like material. Traditionally, the skins, stalks, and seeds are considered waste and therefore burnt, leading to carbon dioxide emissions. Instead, VEGEA uses this material and loops it into a circular model where waste is turned into a valuable resource.
Business Model
Focusing on B2B, VEGEA produces and sells its product to customers in multiple industries, such as fashion, furniture, automotive, and packaging. The material is adapted depending on the technical requirements of each field of application.
The support required
Vegea requires $6,000,000 to convert its ideas into reality.
Competition
VEGEA's main and direct competition is oil-based synthetic leather. But the material also challenges animal-based leather and provides a solution to growing market demand for sustainably produced leather alternatives.
Vegea's impact potential according to Accenture
Creating sustainable ways to make customer's favorite fashion statement pieces
No animal handling
Reduction of 1200 metric tones of fossil fuels raw material annually in 2030

MYCOTEX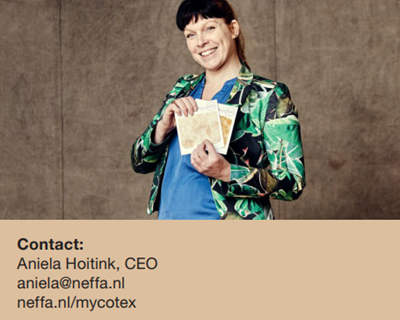 "By developing a manufacturing method based on biomaterials, MycoTEX creates products that require less water than natural fibers do, and use no farmland or chemicals. its first product is made of mushroom roots and can – once it's worn out – be buried in the ground and decomposed."
Customers have their demands set right; they want clothes to fit them perfectly, are made of natural materials, and are manufactured using methods that are clean, transparent, and produce zero waste. This is a difficult task for brands, especially considering they often need to deal with a complex, old supply chain.
How does MycoTEX solve this problem?
MycoTEX provides a sustainable solution to all of this. It has developed a seamless manufacturing method allowing for custom-made clothes made from compostable mushroom roots. Its ground-breaking method solves several major issues in the industry as it reduces the cost, waste, and labor intensity of cut and sew operations, replaces plastics and leathers with compostable materials while also improving the comfort and fit of fashion products.
Business Model
B2B with 3 revenue streams:
Fee per sold (bulk) item from strategic partners
Manufacturing license
Mark-up percentage on finished products from brands (royalties)
The support required
MycoTEX requires $3,000,000 to convert its ideas into reality.
Competition
The competition, like MycoWorks, Ecovative, Bolt Threads, Mogu, and MycoTech, all use a solid-state fermentation process based on the agricultural waste that needs to be developed from scratch. MycoTEX has a biotech approach and uses a liquid fermentation process that has already been proven, using significantly less space and time than the agricultural approach, and making it easier to scale.
MycoTEX's impact potential according to Accenture
No hazardous chemicals or farmland needed
On-demand production (speedy and agile)
910,000 m2 saved leather waste annually with MycoTEX's production solution in 2030

DIMPORA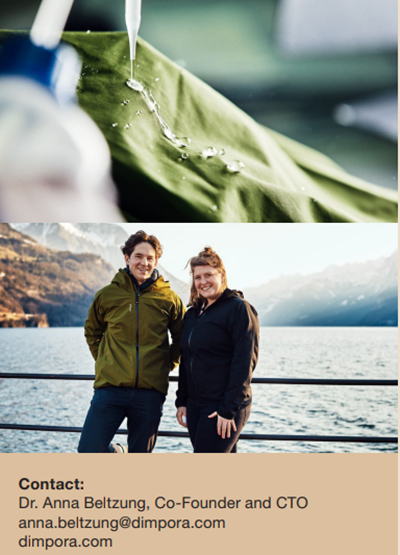 "A biodegradable and mineral-based membrane for outdoor wear, which is both waterproof and breathable, enabling outdoor enthusiasts to enjoy nature without harming it"
To make outdoor wear waterproof, breathable, and dirt repellent, it is treated with fluorinated chemicals. We may not even know but our simple hike on a mountain most likely leaves a toxic trace. Once these chemicals are released into the environment, it can take several hundred years until they break down. These pollutants have been found anywhere from mountain lakes and polar bears to human bloodstreams.
How did Dimpora tackle this problem?
Dimpora has come up with EcoPur and Sane Membrane products which provide not just one of the two- waterproofness and breathability but both. This has never been done before but Dimpora excelled in bringing such a solution. The solution can be added to any type of garment in a micro-thin membrane that shields against the elements in a sustainable way.
Business model
Dimpora replaces existing materials with sustainable options. With three product families in its portfolio, it can gain from multiple revenue streams-+ Products (membranes or laminates) produced by collaboration partners and sell directly to brands as well as converters specializing in modifying or combining materials to create new products
Licensing to manufacturers that gives access to a larger market.
Soon, 3D products will be licensed and developed in collaboration with large partners.
The support required
Dimpora requires $8,000,000 to convert its ideas into reality.
Competition
Dimpora competes with conventional performance outdoor membranes containing fluorine and the fluorine-free membranes that have entered the market. Currently, the fluorine-free alternatives aren't as comfortable, stretchy, or water-resistant as the chemically treated garments.
Dimpora's impact potential according to Accenture
Waterproof, breathable material with less environmental impact for consumers
Follows social sustainability, improved working conditions due to no solvents used in production
850 metric tons of textiles enabled to be saved from linear single-use and discarded textiles annually with the Sane Membrane solution in 2030

This article will be continued in Part 2 . Keep watching !