Calik Denim, one of the leading premium denim manufacturers in the world and is included among the top 200 exporters in Turkey. It has been focused on sustainability , the company has received a variety of international certificates such as Global Organic Textile Standard (GOTS), Organic Content Standard (OCS), Oeko-Tex, RCS, Nordic Swan, Eco Label, EU Ecolabel and Global Recycle Standard (GRS). In addition, since 2016, the company has also been included in the Turkish Turquality Support Program, the only program by which companies that have competitive advantages and branding potential are supported by the government. Recently , they released their 2019 sustainability report with targets for 2025 . We spoke to Tolga Ozkurt, Deputy General Manager of Sales and Marketing regarding the same .
Q.Among your 2025 sustainability goals, which do you think is the most important?
At Calik Denim, we are aware of the responsibility of corporations to the world. Therefore we, as one of the leading premium denim manufacturers in the world, aim to maximize our accountability and transparency towards our operations. Also, the fact that the industry is being faced with global environmental and social change, shapes our path for future. We consider this change as a challenge that allows risks to turn into opportunities and as a reason for us to manage the impact of denim on life, create positive value for and deliver benefits to its stakeholders. Therefore, our sustainability strategy has been defined as Passion for Denim Passion for Life, focusing on the purpose of making a positive impact for a better life. We are truly encouraged by the passion for denim and passion for life to become the leading denim brand that triggers the sustainability-driven transformation in the industry.
2025 TARGETS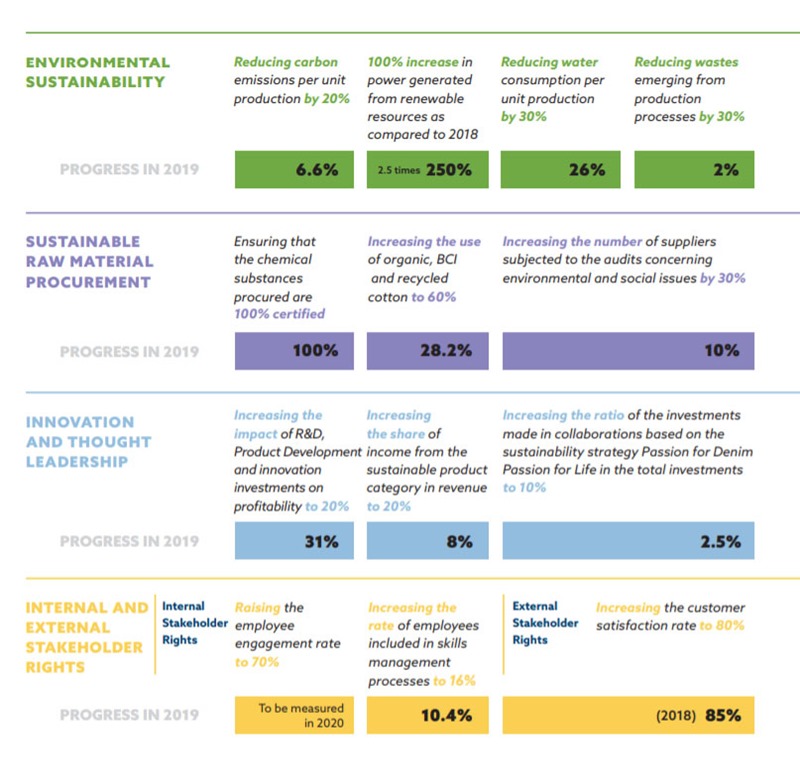 As a leading denim company, we set to achieve its purpose of making a positive impact for a better life by leading innovative products, creating positive impact for/ with our stakeholders and by reducing our impact on environment. Under our strategy, we defined 2025 Sustainability Targets under 4 main titles: Environmental Sustainability, Sustainable Raw Material Procurement, Innovation and Thought Leadership, Internal and External Stakeholder Rights.
In accordance with our vision, the most important issue we tackle with is environmental sustainability, about which we put much effort to improve. Living in an era where climate crisis drastically affects deeply the communities and environment urges us to take action to minimize our impact on the climate change.
Under environmental sustainability title, we identified 4 targets that are related to each other:
Reducing carbon emissions per unit production by 20%,
100% increase in the power generated from renewable resources as compared to 2018,
Reducing water consumption per unit production by 30%
Lastly reducing wastes emerging from production processes by 30%.
Considering the fact that global textile industry causes the production of emission at 1.2 billion tons emissions of CO2 every year, we prioritize our first target "reducing carbon emissions per unit production by 20% until 2025". While governments take action to reduce carbon emissions in accordance with the Paris Agreement or the European Green Deal, we, as a business world, must also play a key role by increasing R&D investments and focus on innovative technologies that would reduce carbon emissions. We are developing innovative and sustainable products and technologies focusing on energy efficiency and reducing environmental footprint to contribute fighting against climate crisis.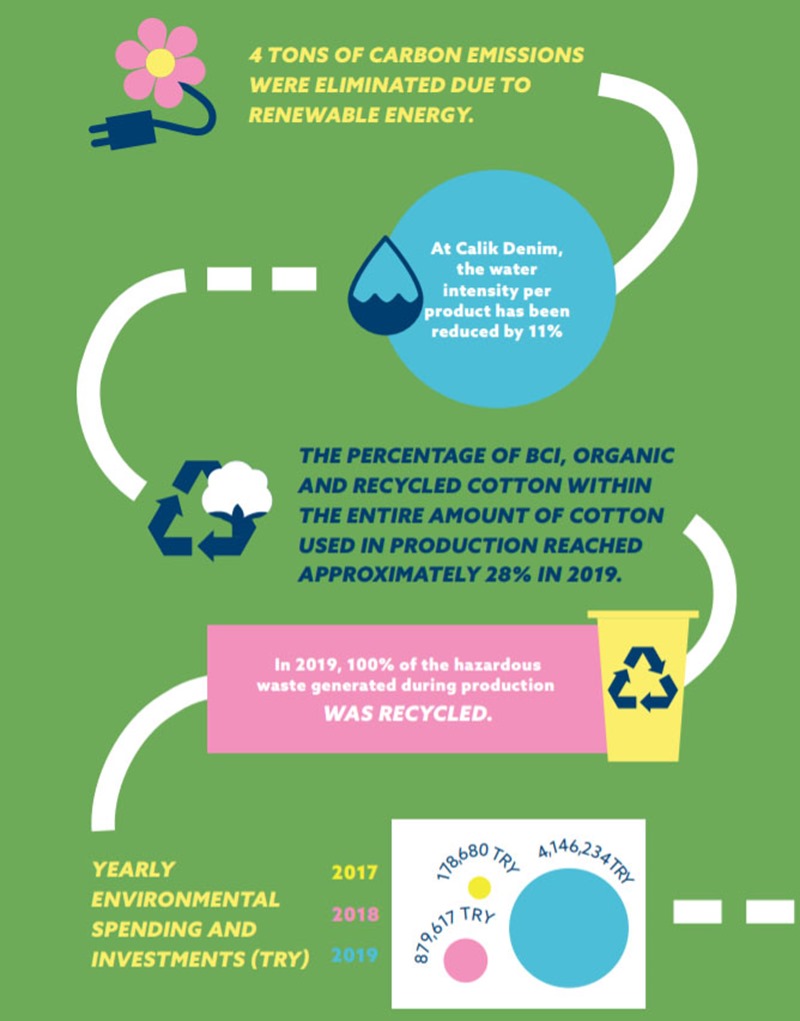 Q. Water saving is such an important goal. But do you think there can be a uniform way to measure its usage?
Among our other targets, we also find water management crucial for a sustainable future and sustainable industrial growth because textile industry is one of the industries that use natural resources, especially water, extensively. However, we believe that there are innovative solutions to minimize the waste and consumption of water and still pursue our Passion for Denim. By using technology and innovation, we are committed to improve the efficiency of our operations.
Among our several innovative solutions, Washpro Technology is Calik's latest sustainability-driven innovation that aims to reduce the environmental impact throughout the denim lifecycle. The new Washpro technology promises long-lasting freshness for garments thanks to Calik's new fibre innovations. With Washpro technology, end-users are required to wash their jeans less throughout the denim garments life cycle. It's well known that each home laundry requires a lot of water and energy, so Washpro featured fabrics provide significant saving of resources – a perfect remedy for new generation eco conscious consumers who are looking for products with greater intention and longevity.
Other concept that we are proud of to develop is Oxygene. With the Oxygene concept, we are able to create awareness in the sector by ensuring that its customers make sustainable production with the concept developed. On the other hand, customer satisfaction increases with superior ozone washing effects, stone washing effects in a shorter time, bright look and clear tones, fabrics with a light touch. Thanks to the Oxygene concept, 95% less water, 50% less chemicals and 79% less energy is used during the washing stage.
At Calik Denim, the water intensity per product has been reduced by 11% in 2019 compared to 2017. With new investments to be made, it is aimed to reduce the water intensity by 30% by 2025.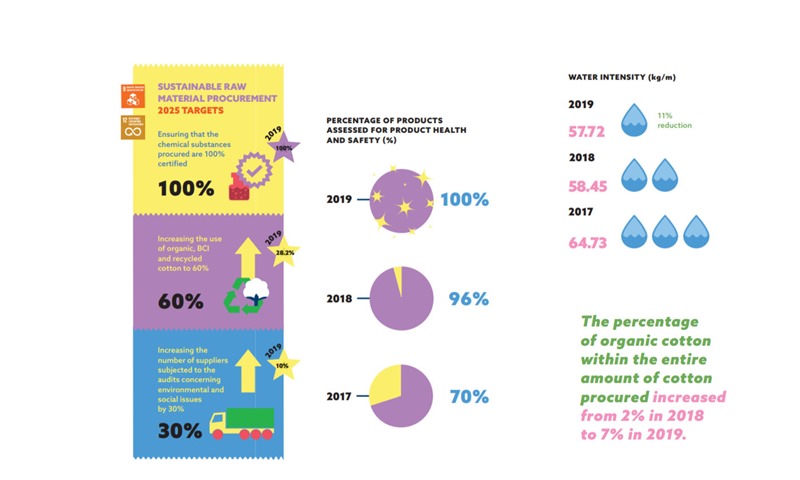 Q. Can you explain your Denethic and D Clear concepts.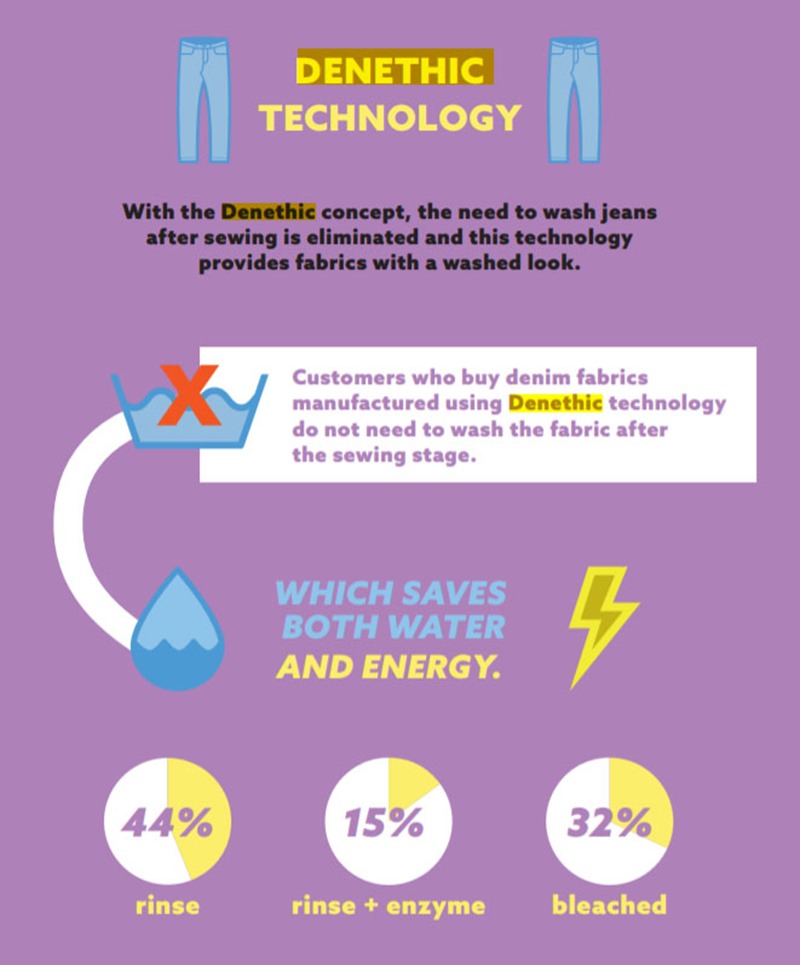 We care about water resources and develop innovative and sustainable technologies for denim manufacturing. Denethic is a product concept we have developed with a sustainable approach for the whole supply chain of a denim garment – manufacture with its important contribution to sustain our environment and our planet consciously and with responsibility. With the Denethic concept, the need to wash jeans after sewing is eliminated and this technology provides fabrics with a washed look. Denethic allows us and our customers to reduce water consumption. While we save water by 44% for rinse look, 15% for rinse enzyme look and 32% for bleached look at mill, our customers use Denethic fabrics ready to cut and sew without washing.
D-Clear technology of Calik Denim offers considerable saving values for both indigo / sulphur dyeing and finishing steps of production. The technology allows us to use 40% less water during the initial indigo dyeing and 83% less water during the finishing of denim and decrease the chemical use by 94%. We used D-Clear technology in 10% of our 2020-21 Fall- Winter collection and we aim raise it to 50% by 2020 and 100% by 2025.
Q. Do you think Covid has given a stronger push towards sustainability?
Covid-19 crisis has changed many aspects in our lives. Businesses and economies got damaged, as the crisis had its reflections on many systems other than health systems. Businesses were forced to slow down and most of the world has faced a drastic recession. According to the survey of Sustainable Apparel Coalition, 1/3 of the member brands were unprepared to such a crisis, which shows the importance of sustainability and risk management for corporations. Besides, it is estimated that revenues for the apparel and footwear sectors will contact by 27 to 30 percent in 2020.
We believe that prioritizing sustainability is what allows a company to survive from such a period. Companies that were already prioritizing are able to recovery easier now. Despite its importance, most of the companies prioritized to solve short- term problems that Covid-19 has brought with survival instincts. However, the companies with long term goals may integrate sustainability into their practices, because it will make them more resilient and allow them to adopt quickly to new challenges.
Besides the awakening of business, the awareness towards sustainability from the demand-consumer side has also risen. People facing with such a drastic crisis recognized the negative impact of unsustainable practices, including the unjust relation between the nature and human beings. The consumers are expected to prefer companies with sustainability practices more. With suppliers moving into "survival mode", workers in some of the poorest countries face unemployment and risk of poverty and hunger. Applying human-centered practices in this time of crisis while also sustaining the businesses will influence many and shape the consumer behavior, which will determine the future of the companies.
At Calik Denim, in terms of quick solutions during this time, focusing on virtual operations and keeping the communication sustained with customers is crucial and it was one of our first responses to the crisis. We directly reach our customers and suppliers or reach through our representatives in respective countries. We have shaped our strategy in accordance with country-specific conditions and restrictions. We localized our decisions and connections in this sense. In addition, we were able to turn our mobile application into a more useful tool during this period. It was our chance to have such a mobile technology, which we activated even more. Our mobile application was used for sample requests and we have created another module in which we uploaded our video for the exhibition and started a blog with a group of 4 prominent bloggers and editors who will write weekly on our industry. In new era, adopting strategies that embrace digital solutions and sustainability is key in building more resilience for the industry.
The company has , apart from the above, come out with various initiatives related to chemical management, waste management, climate change and energy .
---