When it comes to denim, Japan is the country which is held in awe by the denim community. Japanese denim artisans have elevated the craft to a new level, inspiring international buyers and designers who frequently travel to Japan for education , inspiration and sourcing . Large corporations and retailers with enormous purchasing power for denim clothing and fabrics for their overseas offices can also be found in Japan. Did you know Japan imports more than 150 million pieces of denim jeans annually? After the EU and the US, it is the third-largest importer of these goods.
So a very exciting time for denim connoisseurs to be in Japan and especially after a break of 2 years! And a very positive time to be in Japan as the country opens up and is now open to international visitors. Make sure to go through through all the grounds on why you must not miss the Denimsandjeans Japan Show on November 1-2.
1.First Denim Supply Chain- Denimsandjeans | Nov 1-2
The first denim supply chain show in Japan which brings over 10 Japanese companies and about 40 other global denim , non-denim , knit etc. companies on Nov 1-2 , 2022. The Denimsandjeans show , which initially scheduled in 2020 was postponed due to Covid 19 and had been rescheduled. We now eagerly look forward to getting the Japanese and Overseas denim community together at the show !
2.WALLS BY JAPANESE DENIM BRANDS
There are some very cool denim brands in Japan and we are happy to bring displays by some of these at our show.
Studio D'Artisan
STUDIO D'ARTISAN & SA established in 1979 by a designer who learned it in France. It was very successful to reproduce and to take over the history of "real Jeans" made by old looms found in Okayama . This is like a symbol of opportunity that Japanese denim became famous in the world in 1990's when vintage replica boom begin with new value of "Vintage" "Selvedge". SDA brings some exclusive products in a wall at our show !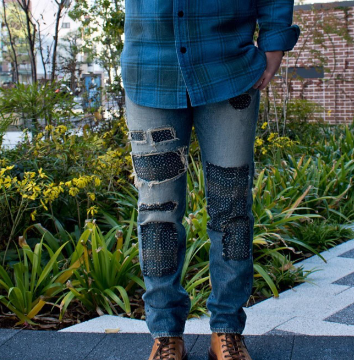 Samurai Jeans
Samurai Jeans was established in Osaka in 1998 based on the concept that jeans ultimately have no value unless the creator and wearer are united in their commitment. In recent years, they have been tackling the enormous challenge of reviving and growing an ancient strain of cotton in Sasayama city, Hyogo prefecture, with the aim of producing high-quality clothing that is "100% Made in Japan" from seed to fabric to finished garment. With the generous help of the local community, this dream is becoming a reality, and since 2020 they have been releasing denim and cut-and-sew items that contain a percentage of our own hand-harvested, local organic cotton .
Yen Jeans
YEN is a denim brand by Michiko Koshino. Born in 1943, she is a fashion designer and has high-end stores in Japan and a restaurant in London. Michiko Koshino was born in Osaka, Japan to Ayako Koshino and has some cool vision for her brand YEN JEANS and you will find a great display by her on the show.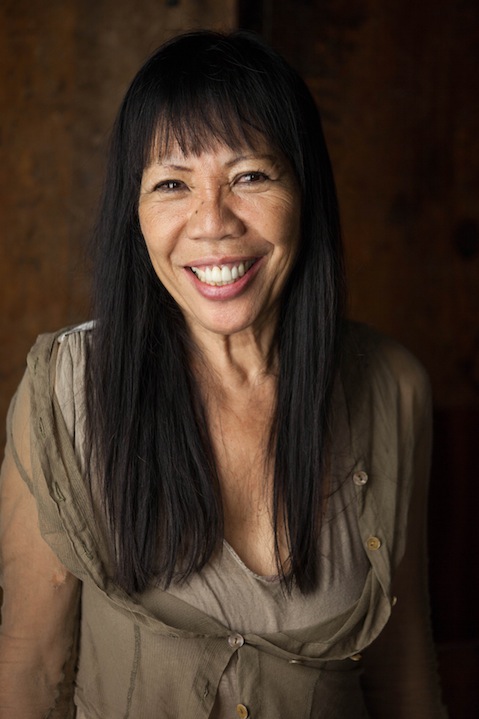 Dr Denim
Dr Yuji Honzawa is a denim connoisseur who has created a number of Japanese denim brands and was also responsible for setting up the denim business of Uniqlo. He brings some cool garments from his collection at our show.
3.JEANOLOGIA WALL & DENIM ART WALL
Jeanologia brings their Tech Artisan wall showcasing how the industry can move towards the "Mission Zero" .
Denim Art Wall by Juan Manuel Gomez from Officina showing special denim paintings using chemicals .There is a constant act of repetition as automatic drawing or pictorial act in the processes of the textile industry; taking this as a visual referent, his artworks are produced as if it were cloth or a garment.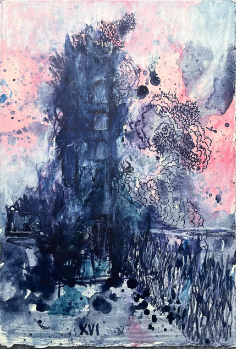 4.EXCLUSIVE TREND AREA
Exclusive Trend Area showcasing global garments with latest Eco friendly and other technologies and styles. The trend wall will have some latest products under the categories –
a) Environmentally Right: Under various sub categories defining different elements of sustainability.
b) Designed Innovation: Showcase of products which have incorporated innovative technologies, materials and procedures to manufacture.
c) Selvedges : When in Japan – don't forget selvedges . We bring out some of the best ones in this category.
d) Japanese Style Collections representing Japanese Culture, Fashion and Style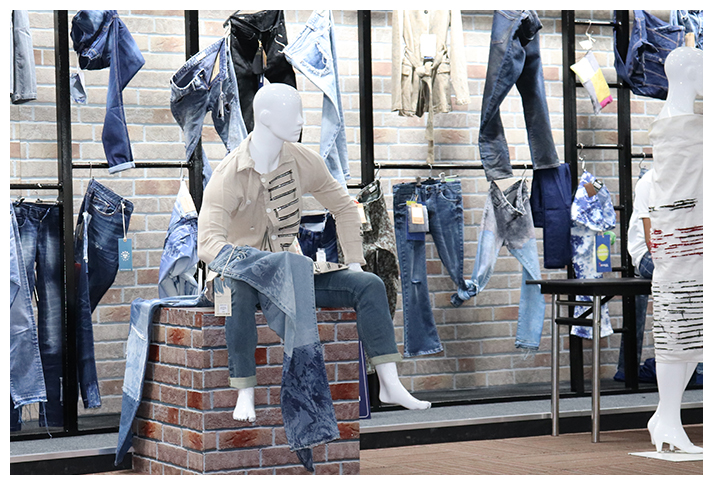 5.JAPAN DENIM DAYS: Oct 29-30
JAPAN DENIM DAYS (JDD) is an event sponsored by the local city authorities to promote denim manufacturing at Okayama prefecture. We have tied up with the JDD so that the visit of few selected visitors ( from brands ) from Tokyo to Kojima (including 1 night stay) would be sponsored by the JDD . Those interested may immediately contact us . More details are given here .

6.DENIM BIZ MEETING IN FUKUYAMA CASTLE NOV 5
Fukuyama is another area with a great denim concentration and they are celebrating the 400th year of their city council (a beautiful old castle) where they will bring some of the companies in this region . More details are given here.

7.INTERACTIVE SEMINARS
Seminars by renowned Japanese denim experts and also international presenters . The presenters' names and the subjects on which they will be expressing their opinions are listed below.
Stefano Aldighieri (President Another Studio) – "A Blue Journey from the past to the future through US , Europe and Japan"
Yuji Honzawa (Founder Dr. Denim) & Kawai Shinji (President Nihon Menpu) – "Vintage-Today & Tomorrow"
Moto Suzuki (CEO Hap co, ltd Japan, Coveross Oy Finland) – "Next generation sustainable and personalized denim technology"
Juan Manuel Gomez (Officina Creative Leader) – " Art & Denim As A Process Of Repetition "
Akhiko Kashino (Jeanologia) – "Simplify The Excellence"
8.DENIM SHOPPING
A great time to go for shopping with YEN at historic low. Probably you will get your favourite denim pair at amazing conversion rates ! Own the Japanese jeans which you found too expensive to wear before .
---