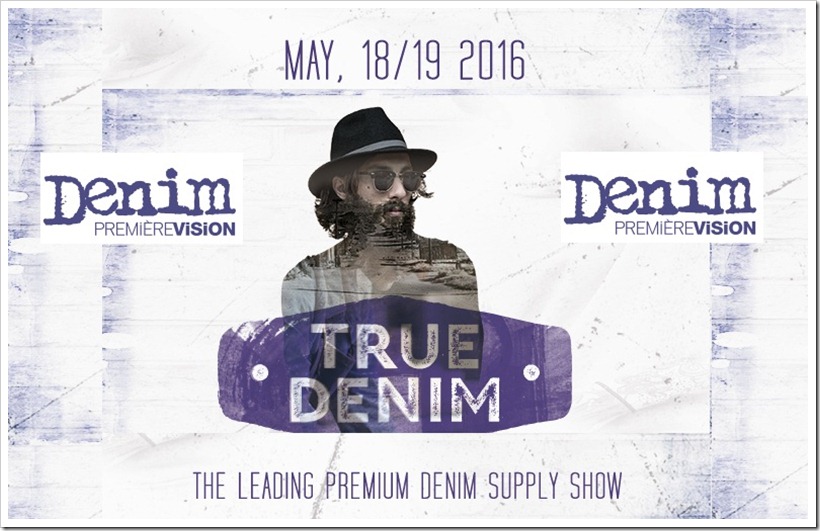 Denim by PV comes with their 18th Edition at BARCELONA, SPAIN on 18th and 19th May. With over 90 exhibitors from around the world, DPV hopes to draw in more than the 4000 visitors who visited their last edition. Denim Première Vision focuses on the nature of denim and aims to define what True Denim is today It explores its DNA and defines its genes The modern building blocks of True Denim . They also want to take a look at the evolution of denim .While respecting the past, a  look at the future is targeted.
True Denim is a tribute to denim A tribute to the know-how To the makers and the innovators To the specialists who are not afraid of pushing limits Who define 21st century standards for genuine denim . They quote Kristina Szasz, Group Vice President of Women's Design, Abercrombie & Fitch who says
"True denim has the versatility and the ability to become all things to all people. It has a social meaning and is the most personal item in everybody`s wardrobe. It reflects the habits of its wearer almost like a painting on a canvas. Recognizable, iconic, reliable and durable.Premium Denim stands for quality, craftsmanship and innovation. Fabric innovation allows a company to set itself apart in the industry through the ability to create fits that are contoured to perfection."
We are giving below the list of exhibitors that will join the show and their respective countries and categories . Enjoy the show !
| | | |
| --- | --- | --- |
| EXHIBITOR NAME | COUNTRY | CATEGORY |
| ABSOLUTE DENIM CO., LTD. | THAILAND | Accessories |
| ADM ARTISTIC DENIM MILL LTD | PAKISTAN | WEAVER |
| ADVANCE DENIM | CHINA | WEAVER |
| AKKUS TEKSTIL SAN.TIC. A.S | TURKEY | GARMENTS & FINISHINGS |
| A14 DENIM BY AKOZBEKLER | TURKEY | GARMENTS & FINISHINGS |
| ALBIATE 1830 DIV.COTONIFICI | ITALY | WEAVER |
| ARCHROMA | Switzerland | TECHNOLOGY |
| ARITEKS BOYACILIK | TURKEY | |
| ARTISTIC FABRIC MILLS | PAKISTAN | WEAVER |
| ARTISTIC MILLINERS | PAKISTAN | WEAVER |
| ARVIND LIMITED | INDIA | WEAVER |
| ATLANTIC MILLS (THAILAND) CO. LTD | THAILAND | WEAVER |
| BAYKANLAR TEKSTIL | TURKEY | |
| BLUE FARM | HONG KONG | WEAVER |
| BLUE 1925 | ITALY | |
| BOSSA DENIM | TURKEY | WEAVER |
| CALIK DENIM | TURKEY | WEAVER |
| CANATIBA DENIM INDUSTRY | BRAZIL | |
| CAPPIO TESSUTI SRL | ITALY | WEAVER |
| CONE DENIM | USA | WEAVER |
| COPEN UNITED LTD | HONG KONG | ACCESSORIES |
| CRAFIL- FIOS E LINHAS | POSTUGAL | |
| CROSSING | MOROCCO | GARMENTS & FINISHINGS |
| DENIM CLOTHING COMPANY (DCC) | PAKISTAN | GARMENTS & FINISHINGS |
| DENIM AUTHORITY | TUNISIA | |
| DERIDESEN ETIKET | TURKEY | LABELING |
| DESERT STUDIO | UAE | GARMENTS & FINISHINGS |
| DNM TEXTILE | TURKEY | WEAVER |
| DORLET | FRANCE | METAL TRIMMINGS |
| DYNAMO DENIM KUMASCILIK LTD | TURKEY | WEAVER |
| ETIQUETAS DEL MEDITERRANEO, S.L | SPAIN | LABELING |
| FASHION POINT TEKSTIL URETIM A.S. | TURKEY | GARMENTS & FINISHINGS |
| FG TEKSTIL | TURKEY | GARMENTS & FINISHINGS |
| FIREMOUNT TEXTILES LTD | MAURITIUS | GARMENTS & FINISHINGS |
| GLOBAL DENIM TEKSTIL | TURKEY | WEAVER |
| ETIQUETAS GRANERO | SPAIN | |
| I.MA.TEX. S.R.L. | ITALY | WEAVER |
| IBERLASER | Barcelona | TECHNOLOGY |
| J-VAL SRL | ITALY | |
| JEANOLOGIA | SPAIN | TECHNOLOGY |
| KASIV LEATHER LABEL | TURKEY | |
| KILIM DENIM | TURKEY | WEAVER |
| KIPAS DENIM | TURKEY | WEAVER |
| KURABO INDUSTRIES LTD | JAPAN | WEAVER |
| KUROKI CO. LTD | JAPAN | WEAVER |
| LANDES LEDERWARENFABRIK GMBH | GERMANY | LABELING |
| LARUSMIANI | ITALY | |
| LAVASSER SARL | MOROCCO | GARMENTS & FINISHINGS |
| LENZING | AUSTRIA | FIBERS / YARNS PRODUCER |
| MACSA | SPAIN | TECHNOLOGY |
| MAFACO | MOROCCO | |
| MARASSI DENIM SIRIKCIOGLU MENSUCAT | TURKEY | WEAVER |
| MAROC EXPORT | MOROCCO | PROMOTION |
| MATESA TEKSTIL | TURKEY | WEAVER |
| MERKOTEKS TEKSTIL SAN VE TIC. | TURKEY | GARMENTS & FINISHINGS |
| MESURA TEKSTIL | TURKEY | GARMENTS & FINISHINGS |
| METALBOTTONI | ITALY | METAL TRIMMINGS |
| MOROCCAN DENIM | MOROCCO | |
| MOU FUNG LTD | HONG KONG | WEAVER |
| NAVEENA DENIM(NDL) | PAKISTAN | |
| NEW WASH GROUP | MOROCCO | GARMENTS & FINISHINGS |
| NIGGELER & KUEPFER TEXTILE SPA | ITALY | |
| NIHONMENPU TEXTILE CO LTD | JAPAN | WEAVER |
| ODO INC | USA | |
| ORTA ANADOLU TAS | TURKEY | WEAVER |
| PANAMA TRIMMINGS SRL | ITALY | LABELING |
| PARIS TEXAS | MOROCCO | |
| POLSAN BUTTON | TURKEY | |
| PROSPERITY TEXTILE (HK) LTD | HONG KONG | WEAVER |
| PRYM FASHION / ECLAIR PRYM | ITALY | METAL TRIMMINGS |
| QUICK SERVICES TEXTILES MAROC | MAROC | ACCESSORIES |
| REALTEKS TEXTILES COMPANY AS | TURKEY | WEAVER |
| RED BUTTON | TURKEY | ACCESSORIES |
| TEXTIL SANTANDERINA SA | SPAIN | WEAVER |
| SELFNATION | SWITZERLAND | |
| SIMSEK-EGE LABEL AND PRINT | TURKEY | LABELING |
| SOORTY ENTERPRISES (PVT.) LTD. | PAKISTAN | Weaver |
| SWIFT DENIM | FRANCE | Weaver |
| TAVEX | MOROCCO | WEAVER |
| TIMAY & TEMPO | TURKEY | METAL TRIMMINGS |
| TORAY INTERNATIONAL INC | JAPAN | WEAVER |
| TURTEKS TEKSTIL ETIKET SAN TIC A.S. | TURKEY | LABELING |
| TUSA DENIM | TURKEY | WEAVER |
| UCO RAYMOND WORLDWIDE DENIM | BELGIUM | WEAVER |
| UTIB – ULUDAG TEXTILE EXPORTERS ASSOCIATION | TURKEY | PROMOTION |
| US DENIM MILLS LTD | PAKISTAN | WEAVER |
| VAV TEKNOLOJI | TURKEY | |
| VELCOREX SINCE 1828 | FRANCE | WEAVER |
| VICUNHA TEXTIL SA | BRAZIL | WEAVER |
| W DENIM BY WHOVAL | TURKEY | WEAVER |
| YKK EUROPE LTD | ITALY | METAL TRIMMINGS |
PS: Get in touch at Whatsapp no. : +919815630600