Ribbontex SRL, based in Italy, is one of the well known manufactures of accessories from Europe. The company produces ribbons, tapes, and patches in various categories.
We've had a brief Q&A with Ms. Gloria Crivellaro from Ribbontex, where we tried to get perspective of the accessories industry in Italy and how they are trying to cater to sustainability requirements in this segment by buyers around the world.
Europe witnessed a complete lockdown due to COVID 19, how's your experience and what did Ribbontex do during the lockdown time?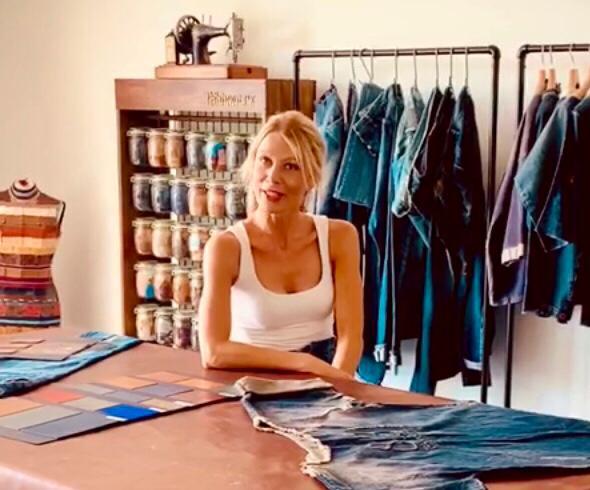 I am proud to say that we took advantage of this time of "greater" calm to grow and improve. It is during the difficult times that you can show your value. So we started to produce even protective masks, we started to work on the new collection and at the same time, we moved to a new and bigger building, able to meet the needs of our customers.

All this, enhancing the concept of digitization and implementing the research for eco-sustainable materials. I always quote Darwin's sentence.. so fitting for these hard times.

"It is not the strongest of the species that survive, nor the most intelligent, but the one most responsive to change".

And as I think that life is a dance between free will and destiny, we have to accept destiny when it is impossible to do otherwise, but without ever stopping to do and choose what we like.
I believe that this experience has had and still will have many repercussions: for sure economically, but also humanly, socially, and emotionally. To be honest, especially in the beginning, it was a very difficult time. For a person like me, used to travel a lot, the sudden and total stop was a real shock.

But, belonging to a Latin people, also the fact of not being able to shake the hands of friends, customers, acquaintances, of not being able to greet each other with a hug, the fact of looking at and talking to each other wearing a mask , was a shock.

Personally I think that those weeks of closure at home and also the change in the habits of each of us forced us to see things differently. It forced us to deal with ourselves, our personality, our deepest, and most hidden fears.
It made us discover unexplored "sides" of ourselves, forcing us to search, to "dig" inside instead of outside, to find new stimuli.

Yes, each of us is a complex set of several and different facets. But I am convinced that this experience has highlighted some that we did not even know we had. And this can be seen as a positive aspect.

Just as it is really positive that we all felt empathy for the rest of the world. We really felt closer despite the distance.
What do you think makes Ribbontex SRL a different company from other accessory companies?
Surely one of the strengths of our company is the top quality of our products, thanks to the raw materials used and the knowledge and the experience of our operators.
Another one is the reactivity to customers' requests. I think we are extremely flexible, proactive, and always willing to find a meeting point to satisfy our clients. This is because human relationships and mutual trust are and will always be extremely important values for us.
How important is sustainability for the accessories companies and how has been Ribbontex contributing its bit towards this? Any specific products would you like to mention?
I can't think of a split between clothing and accessories. In fact, if the first is designed to be eco-friendly, the second must be the same.
Sustainability is not a nice word to use to get more support. Sustainability is a lifestyle, a broader concept that Ribbontex already embraced many years ago. We have such a huge range of sustainable items, that it is practically impossible not to find something interesting and inspiring in it.
Due to this ongoing pandemic, there have changes in consumer behavior and also in the overall buying attitude, What changes do you see in the requirements of buyers in recent times, and how you have adjusted to them?
Certainly there have been many changes in the overall buying attitude and in my opinion many more will be in the coming months.
The demands are more and more targeted and specific. I would sum up by saying that the request was simplified in terms of the number of items but undoubtedly it was articulated in terms of refinement and prestige of the same ones.
What has an extra plus survives, the superfluous has been practically canceled by the new normal. How have we adjusted to these changes? We continued to produce high-quality products and at the same time we enhanced the concept of digitization and we implemented the research for eco-friendly materials.
We want to be ready and prepared, whatever may be required in the near future. And as I think life is a dance between free will and destiny, we have accept things and adapt to them BUT never stopping to do and choose what we like.
Please tell us about your latest sustainable collection?
Ribbontex has always had an eye on ethical and sustainability aspects.
This result , just to name a few examples, in the use of energy from renewable sources, in the use of raw materials with less environmental impact, in the banning of solvent inks for printing and the replacing with water-based ones.
And obviously, in this perspective, our product and style manager, Mr. Raouik, my close friend for almost 15 years, created a truly fantastic sustainable collection. Inside there are amazing accessories produced by using biodegradable materials, hemp, organic cotton, materials recycled from plastic bottles, materials coming from vegetable oils, eco leathers, solvent-free etc…
A really "green" collection.
Need more info. on their products ?
Get in touch with them at gloria@ribbontex.it
Website – https://www.ribbontex.it/
LinkedIn – https://www.linkedin.com/company/ribbontex/
DE-Brands – https://www.de-brands.com/profile-exhibitor/624/