Dilek Erik is a well known denim consultant based in Turkey and has been working with different companies in the denim supply chain for over 2 decades . Her exposure across the supply chain gives her an insight to the working of different segments and she shared the same during the IG Live talk with Sandeep Agarwal. We reproduce the talk below :
Sandeep 
Hi Dilek, How are you? 
Dilek 
Hi Sandeep, I am good, thank you. I hope you're also doing fine and safe. 
Sandeep 
How's the situation in turkey?
Dilek
The situation in Turkey is not that so good, we've had the first case of COVID19 in the month of March and now every day it is increasing and increasing by every day. Over 16,000 people have been infected so far and more than 300 people lost their lives. People here are saying that it's just the beginning, the worst is yet to come. So we are very afraid and not going outside. Most of the places are closed here and the government has advised not to go outside. 

Sandeep
What about the stores and Retailers' offices? Are they operational?

Dilek
Most of them are closed now, only a few pharmacies stores are opened in the malls. Most of the garment stores and offices are closed, even if some are working, they are working for a very limited time.

Sandeep
What are things which are going to be changed post-pandemic, the shopping pattern per se or consumer priorities?

Dilek
I believe the change has already started. Digital solutions were already in our lives but we were not using these or If I may say we were not serious about these options. But now we've realized its importance. Something will change eventually, maybe not very quickly but over a period of time. This is a very good chance for us to reorganize our work, reorganize our time, reorganize the way we've been doing our business. So I think in one day, nothing will be changed but it will be changed very soon over a period of time.

Sandeep
How's the situation going into the Turkish Mills? We've been hearing a lot of news of cancelation from most of the mills around the world, is this so in Turkey as well
Dilek
Of course! It is the same in Turkey as well. If No one is buying what is the meaning of producing? So yes, there is a lot of cancellation from brands and retailers. And most of the responsible companies have already stopped their production because if 500 workers will be working in a factory, they can infect each other or they can take the virus to their families. For example, Sharabati Denim decided to close the factory two weeks ago and most of the other factories including Bossa have already closed down. So every responsible company should stop the production even though there is a demand, priority must be the health of the workers, your communities because when all this pandemic will be over, you may not find right workers for your company as they might have certain reservations or perception about your company. 
Sandeep
I've heard that buyers have agreed to pay for the current orders, what about Turkey? Have  Turkish Mills and Exporters also received such assurance? Also what about the garment workers? 
Dilek 
So far as the brands are concerned, I do not have much information about it. The big companies in Turkey have not announced layoffs yet, they would like to protect their workers as they do not want to lose the trained workers. Also after every health crisis, an economic crisis also comes along followed by a political crisis. Considering the current situation, I do not think the current government would be able to hold its position in the upcoming years.
Sandeep
From the designers' point of view, how are they changing or adapting themselves? What are they thinking about the situation and how are they coping with?
Dilek
I think about 3 years ago in your 1st India show I made a presentation and I talked about how the social changes will affect fashion and I tried to explain (I'm still trying to though) that the big social changes not come in one day, it comes after a long time, maybe after a decade or two. 
These days, we've been living three major social changes. One of them is Women Empowerments or Gender Equality, Unisex fashion let say and it changed fashion. The second thing is Sustainability which is being talked about quite a few times and the third thing is Technology. Whenever we talk about technology, we think about computers or laptops or the internet. We're not using technology in fashion yet, only a few companies and that too in very limited ways.  This is going to change.
We need to develop smart habits and smart fashion. Whoever develops smart fashion and connects it with the right technology and finishing will last for a long time. Smart fabrics, which were developed by Levis in a partnership with Google, and these kinds of innovations will be required in the coming years. So this is the future and creates more and more demand. 
Sandeep
Do you think Globalisation will take a back seat after this pandemic? We hear that the brands and retailers may not prefer to produce 5 thousand miles from their country and will preferably go for regional sourcing or near-sourcing, what do you feel ?

Dilek 
I think so, also there will be a paradigm change in the presentation of the products and also in the ways exhibitions have been happening right now. The concept of online sourcing has already been introduced and much more will come into the picture very soon. We are now doing video shoots of our products and involving more and more digital solutions. We always talk about sustainability, but nobody is stopping their travels which also adds to our contribution to the carbon footprint. I believe that people will now understand this and think seriously about it.
One more thing in global context that I believe is going to happen in the coming decades is the centrality of the power and we could see a Minister of Health or Minister of Textile for the world, not for a state. 

Sandeep 
Are we going to be seasonless?

Dilek
It depends on the development of fabric. For example Coolmax, you can feel cool in summer but in winter it doesn't have any impact. Therefore I again assert that it again depends on the smart fabric. And technology will help the industry to go seasonless.

Sandeep
What are your thoughts on the Homewear category? Are we going to see a spike in its sale as most of us are spending a lot of time at home these days?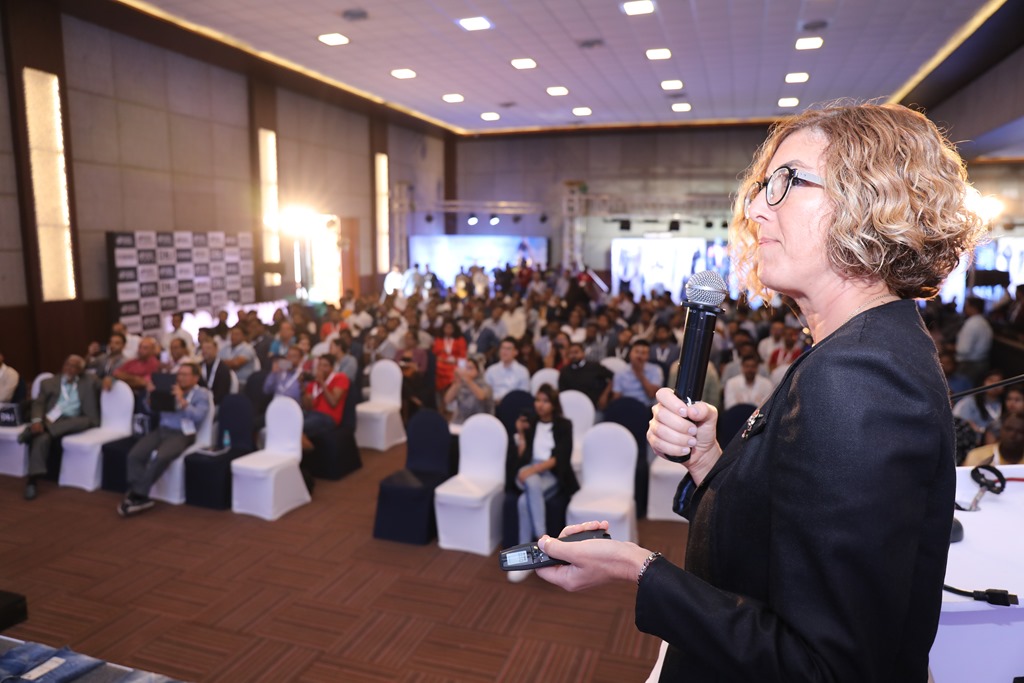 Dilek
I think it maybe it will increase but I believe people are already buying a lot of homewear products as people always want to look good. 

Sandeep
Are we looking at the end of fast fashion?

Dilek
We always say less is more and good, but we do not practice as all the brands push people to buy more and more by offering discounts, so we need to be a little more honest. We talk about sustainability but if we sell like this, I do not think this is a sustainable practice. We should focus more on quality and long-lasting products but I don't think this is happening very soon, it will take time. 
Sandeep 
What are the positive takeaways for you from this pandemic? 

Dilek
I am a very positive person. I feel due to this people start to value their relationships with their families. Also, the use of digital tools will be increased. This is a kind of reset button that was needed for the environment also. There is always a pool of opportunities due to new problems, and people will realize the importance of people around them and the community they are surrounded by. 

Sandeep
Thanks, Dilek, it was a pleasure talking to you. See you soon. 

Dilek 
Same here. Hope to see you soon. 
Video link of talk with her .