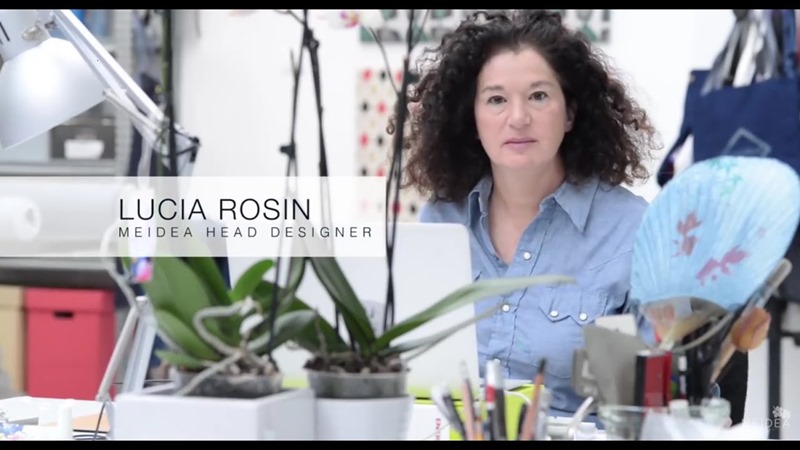 We are all going through unprecedented times. One month back nobody thought that most of the countries would be in lockdown , stores would be closed globally , factories and businesses would be unable to continue and supply chains would be broken. Happening too fast, the sequence of events is forcing us to think hard – where are we, what are we going to do , what is coming next , What effect will be there on our industry and so on.  To have more clarity on these questions, Denimsandjeans started a series of live talks with global denim personalities from different countries to understand their perspective on the situation and how they are coping  and what see in the future. Such live talks can be followed at DENIMSANDJEANS INSTAGRAM and we bring the transcript of the discussions . The first one here is a transcript of talk between Lucia Rosin (LR)  from Italy and Sandeep Agarwal (SA) to get important insights.
S.A : Hi Lucia , How are you here and how's everything at your end .
L.R : Ciao ! Sandeep, We are in lock down and are at home right now since more than two weeks . In this moment, we need to be more connected with the clients and look for different perspective. What we realize is the need for digital presentation and many companies are moving from regular to digital presentation. Now, we have to accelerate everything. There is no other solution and it may change the future of working in a different way.
It is difficult to travel nowadays, therefore we should use our intelligence and ways especially in Italy to overcome the situation and come out in a positive way. It is not easy to work from home because you do not have all the things handy but it contains different value now.
S.A : We have to manage like this because we do not know if this is the new normal.
L.R : We have to understand from this new normality what is going for the future of denim and fashion industry. We have to use this problem to be better and to create a new vision especially for fashion. This is the time to create real sustainability in fashion which is the real problem in environment as the better health needs to have better environment. As we know, there is no passport for virus and it has been increasing alarmingly across the world.
S.A: Many people do not realize the gravity of the situation how it can affect our lives and our work.
From this bad thing to we need to re-start in a different way for fashion. We need to take care of the real value even for garments. We should really react about sustainability with new values like durability, long lasting, traceability etc. I am sure, after all this mass tragedy, the companies that are doing well will get back  if you act in a good and practical way. The new generation is really taking care about that and this will be a new revolution. Many people will be without work but new work will come up with difference. So we should see the positive point.
As most of the stores are shutting down in USA, EUROPE and other countries, most of the orders placed are getting cancelled in Bangladesh, Pakistan, China , India etc. So, what do think will happen to our industry in next few months?
This huge cancellation really creates big problem for the workers. Some brands , retailers , need to cancel because they have no orders / garments in the shop. But on the other hand, for all the poor workers , especially in poor countries like Bangladesh, we have to see deeply the new way to act for their future because it's not possible now to put these people into poverty again. So, for the future, some brands have already started focusing on basic products, well done products. Focus more in long lasting products, non-seasonal products because we have SS currently , we need to be ready for winters but some companies are closed. So , we need to create collection with no season according to my view.
For now, I see big problem for the workers and I hope some big brands take consideration the relation that they establish in many years. If I buy garments from Bangladesh for 10 years , I cannot just cancel like that. May be we can buy 10 % – 20 % and give some money to workers otherwise there will be no company.
Yes , the government support is also very crucial as the damage has to be minimal. But what happens after the things are back to normal. How are we going to change our way of working ? Is it going to change forever?
What we can do is to do our best . We need to be more connected with each other. If something happens to China, the virus spreads and the effect is global. We try to support the company we are working and we try to be positive and create intelligent solutions, be fast to react and react immediately. We have to act quick and think about health and workers first then work comes because if there is no people , then no work. And hence no business.
It seems there might be 2 options post crisis, people might jump for shopping because of the shopping desire or people might change their view and they focus on more important aspects of life and reduce shopping.
Healthy and wellness are the keywords for the future. So, this will be the view of the shoppers as we need to create fashion. When you have partner in some countries, you have to take them as employee. These are going to push retailers to push in fast manner. Also, young generation knows how to use technologies and tools or they will be forced to do it
Consider a worrisome scenario – With orders getting cancelled, factories not working , workers are getting fired and suddenly after 2 months ,things get normal and there is high demand and you restart the whole thing again.
We have to use this big problem as a good way to change otherwise there is no future for new generation. Better and healthy environment is future .We have been working since many years on this topic and now will be more rigid with people. We have to be more careful for the future. Everybody should think better health for all. Its not just marketing tool but a core tool for future. We will have better environment , high quality , we will create more local brands which will be created and designed in Italy with more sustainable products .More local means more quality and more sustainability to create a better future.
Some Interesting Comments During the Talk
Viewers engaged well with the talk and gave various comments which reflects how the opinion of the industry is changing. We share some of the comments which came up during these talks .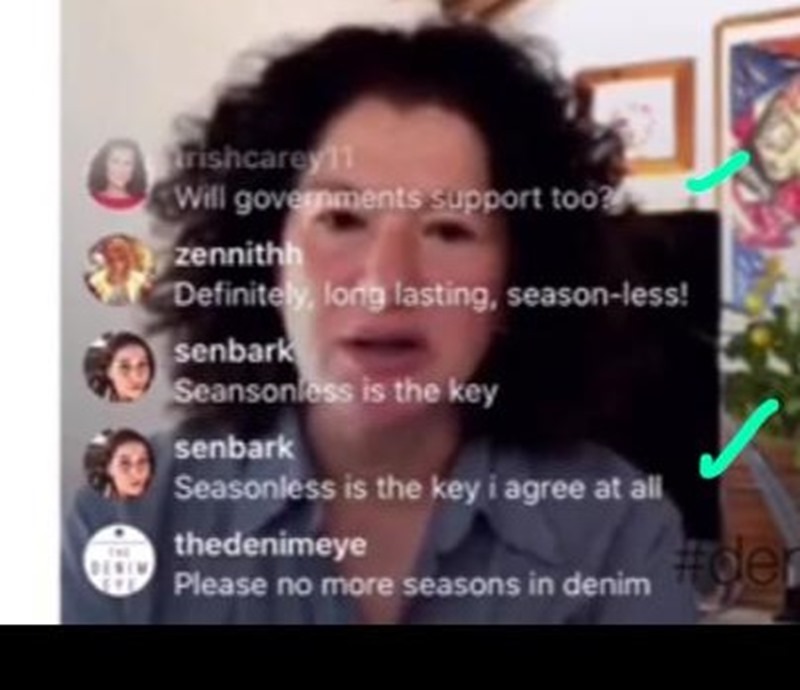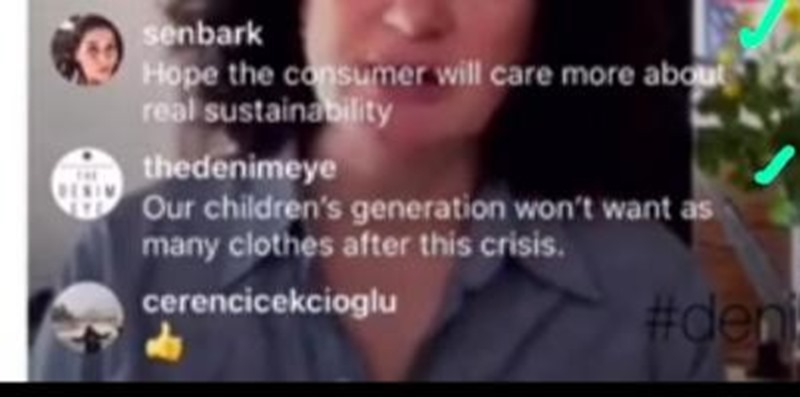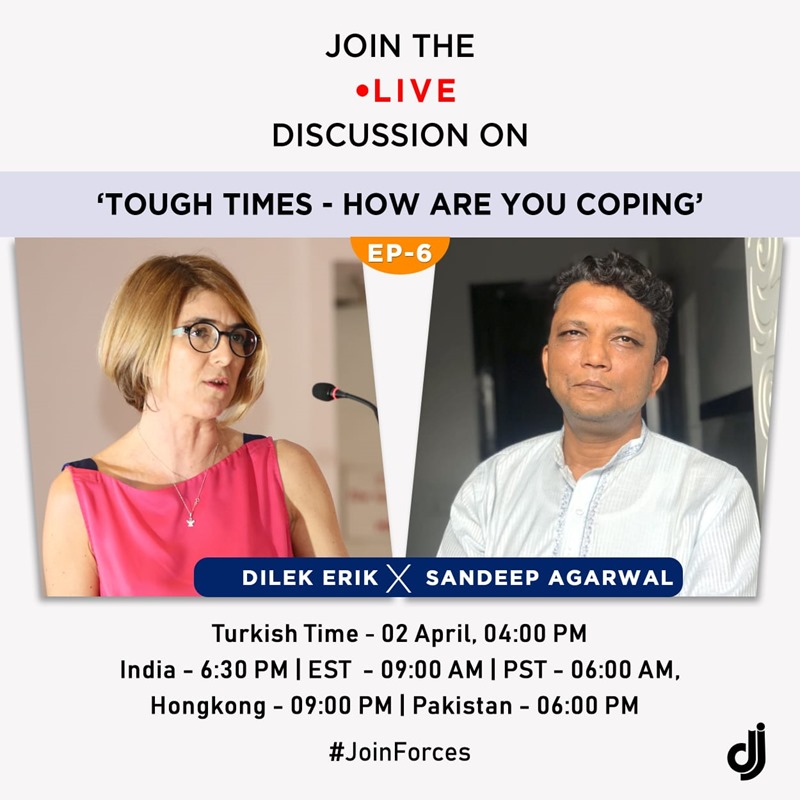 Discussion with Vasco Pizzaro on 3rd April at 3pm Portugal time.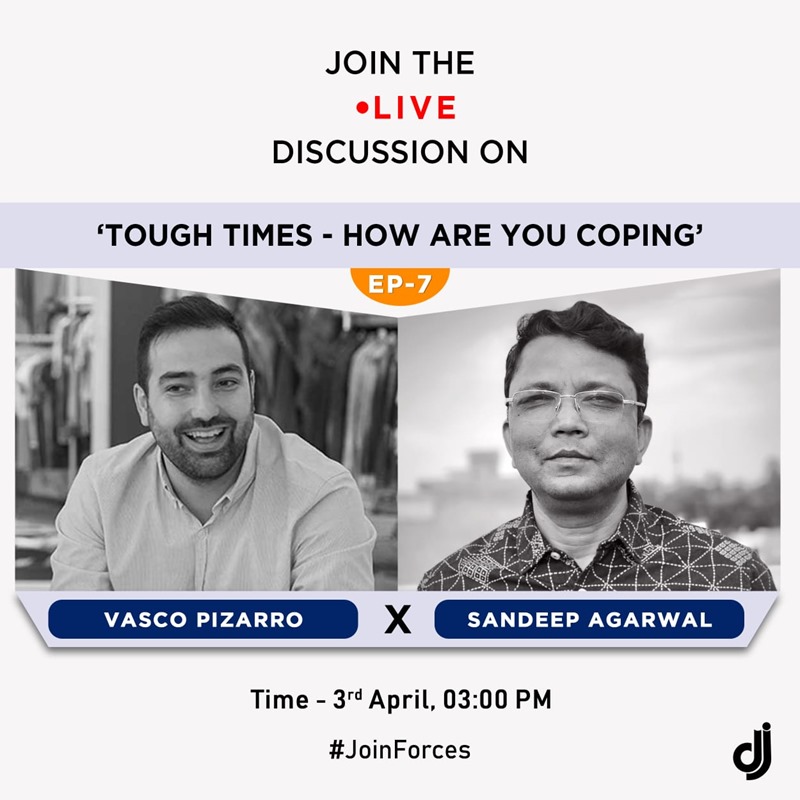 JOIN US AT : https://www.instagram.com/denimsandjeans/?hl=en