I have known Dilek for many years now and have always appreciated her professionalism and her ability to go deep down into details . Besides being a great friend  and a wonderful human being, she is a phenomenal denim expert with over 30 years of experience in some of the top companies of the world. Her insights into the product 'denim' , its intricacies and nuances , trends etc have always been valued. At our shows also, her presentations were very well attended and appreciated and we enjoyed posting her work on our website . Working as a consultant for few years now, she recently joined Sharabati Denim as the Global Marketing Manager . I thought it would be a great idea to speak with her and find why she switched the sides of the table and what lies on the road ahead. Hence a small Q&A with her was in place and here we go.
Congratulations Dilek on joining as Global Marketing Manager at Sharabati. I understand you already had a long relationship with them. Pl share more with us how you decided to make this move.
Thank you very much Sandeep.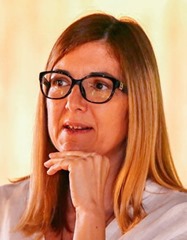 I worked in top denim mills in Turkey for 25 years as a sales and marketing executive. After having my daughter at a later age, I decided to work as a consultant since I wanted to spend more time with my daughter. It was the best decision that I have ever made thus far and I was very lucky to work with companies who needed my help. I started to work with Sharabati Denim 3 years ago; this was at a time when they completed most of the hard work in their production and sales. They just needed to present it to the market. Although my title was consultant, I worked with them as one of their employees. We were always open with each other and I felt very comfortable working with them. They trusted me and we built up a marketing system together. Now, we completed most of the ground work in marketing and we are ready to move onto the next step. It needs a bigger organization and somebody who would commit full time to achieve this goal. At this stage, they offered me the position to join the company as Global Marketing Manager. I have always felt very happy to work with them and I, gladly, accepted their offer.
Sharabati is quite a large company and I understand they are growing very fast. Tell us more about it.
Sharabati Denim is an integrated denim and gabardine manufacturer. It has production facility in Egypt and Turkey. Production capacity exceeds 100 million meters per annum. It has sales offices in Germany, Italy, Morocco, Tunisia, Egypt and Turkey (soon in the USA). It is a family business and they are in that business for over 40 years.
What would be your key focus areas in the company. As I know, you are a very goal oriented person. Any targets you have set for yourself ?
During my consultation period, sometimes I worked with 3 denim manufacturers simultaneously. They never complained about it as all of them had their own DNA and they trusted me to assign each of them a different identity. I am a management and industrial engineer but I worked in sales and marketing for years. Being an engineer helped me to understand the product and production process very well. I used it to have a better knowledge of the company and implement a successful marketing plan. I, sincerely, believe that I know Sharabati Denim very well. In my previous position, I was helping them to create the collections and present them as we intended. Now, we'll do it in a more advanced way by getting support of the marketing auditing and marketing research. I want to implement the best marketing system in Sharabati Denim which will improve by itself.
How strongly Sharabati is currently tuned on to sustainability and circularity .
When I started to work with Sharabati Denim, I was surprised to learn that they have had a Recycled yarn factory for 20 years. They built this factory not because sustainability is a trend, but because they valued the waste and they wanted to make good use of it again. Investing in technology is very important for Sharabati Denim. They always search for new methods, processes, machines to reduce the water, energy, gas, chemical consumption in the production.
To this end:
They use organic cotton, recycled yarns, which are produced in their own factory, and natural fibers.
They have water saving indigo dyeing and finishing processes
They implemented iSaver technology to reduce yarn waste in weaving
They have caustic recovery plant and
They are now making a very big investment to recycle the waste water.
These are just a few examples of their efforts for sustainability.
It must be quite a change moving from consultancy to the current position. What do you think would be the biggest challenge for you?
Actually, there will not be any big changes in my workload as I was already working as a marketing manager capacity despite being only a consultant.
Now, I have committed not to take any other clients. It sounds like a marriage and this was one of the biggest challenges for me:) As Sharabati Denim is an international company, I will continue to work from my home office. The headquarters and half of my team are in Egypt, the sales and marketing director is in Italy and I am in contact with sales offices all around the world. It means I am always in zoom meetings 🙂