Mafatlal Denim is one of the well known denim mills from India.  The company has been present on the Indian denim firmament for over 15 years and were among the first in India  to have  collaborations with established international denim  players like Burlington  .  I recently interacted with the Managing Director of the company – Mr. Rajiy Dayal – to understand more about products and markets of Mafatlal Denim.  Here are some of the questions I asked him.
Can you tell our readers a little about Mafatlal Denim ?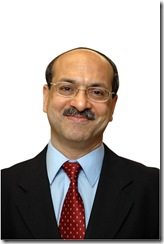 The Arvind Mafatlal Group ( AMG ) had , in year 1996 , formed a 50:50 equity Joint Venture Company with Burlington Industries ( USA ) called Mafatlal Burlington Industries Ltd. The Company commenced production in it's state-of-the-art composite denim plant , located in Navsari , Gujarat , in 1997 , with a capacity of 10 Million meters of denim fabric per annum.Subsequently in 2006 , the Arvind Mafatlal Group bought Burlington's 50% equity in the JV and the Company's name was changed to Mafatlal Denim Limited ( MDL ).
In 2007-08 , Mafatlal Denim increased its capacity from 10 million mtrs per annum  to 20 million mtrs.
What do you think are the main strengths of Mafatlal Denim as a denim player ?
Mafatlal Denim has been in the business of manufacturing and marketing value- added , differentiated denim fabrics now for over 14 years and is a reliable supply chain partner for many Indian and Global brands.
Mafatlal Denim's strength is in its ability to understand Indian and Global customer requirements , as well as fashion trends and offer products / Denim Collections , thru its constant efforts in Product Development and innovation.
The latest denim range of Mafatlal includes a number of theme products  like "Chic " and "Formal Wears" . Can we know more about the same and other new products.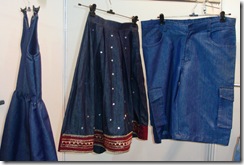 The "Chic Collection" , which we have just launched , is a light weight denim collection , which can be used to make innovative garments for ladies and children , using fashion denim fabrics in conjunction with ethnic Indian work , like zari borders and traditional embellishments. You have seen a few samples of this collection in the form of a denim skirt and a child's dress.
Mafatlal Denim has also launched a Formal Wear denim Collection , which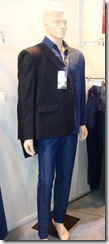 can be used to make garments ( trousers , jackets ) for office wear. This is another effort from MDL to create a new market segment for denims in India.
Where is Mafatlal Denim more focused – domestic market or exports market ?
Mafatlal Denim , presently exports about 30% of its production , the balance 70% being for the very rapidly growing Indian market.Our customers include Indian brands like Levis , Mufti, Spykar , Allen Solly and International Brands like Marks and Spencer , LIMITED, Pepe Jeans etc.
How is Mafatlal Denim addressing the key issue of rising cotton prices. Do you think buyers are adjusting to the situation ?
The prices of cotton have exponentially increased globally from around 70-80 cents a pound a year ago to extremely high levels of 160-180 cents a pound currently ( over 100% ) . As this is a global phenomenon , worldwide producers of cotton fabrics ( including denim ) have had to increase fabric prices .
However , whilst the fabric prices have increased by over 50% over the last 1 year , due to the cotton price increase, the retail garment prices have increased by 10-15% and I feel this increase has been accepted ( though grudgingly ) by the consumers.
How long do you think that cotton prices would take to come back to normal levels ?
A very difficult ….. and a million dollar question …. commodity prices depend on a lot of global factors like cotton sowing acreage , yields , supply ,demand ( specially by China ), stock levels and lastly ,but very importantly , speculation. I hope cotton prices come down during the later part of 2011 and 2012 . But we will have to keep our fingers crossed.
The Indian domestic denim market is simply booming What do you think are the reasons for the same ?
There are several reasons for the rapid growth of the denim market in India :
a. An excellent demographic profile in India , where the median age of the of the population is below 28 years , and the popularity of denim products has grown tremendously in the last decade . One of the other reasons , is Denims popularity with Bollywood Stars like Akshay Kumar and Katrina Kaif !
b. Denim fabric producers , garment / washing producers and designers , have all creatively been able to make a very attractive basket of denim garments for consumers of all ages .
c. Of course, the versatility of denim is one the important factors for the popularity of denim …… Denim is comfortable, easy to maintain and stylish.
d. Besides the urban markets, the rural markets are growing very rapidly, due to the increasing buying power as well as product awareness and availability.
e. A very rapidly growing retail and brand network in India , which allows customers to easily access brands and products of their choice , as well as make shopping a pleasurable experience.
f.. Many Buying Houses from all over the world are now coming to India to source denim garments for their Indian retail business , as well as for their global requirements
There are strong international denim trends like Jeggings which are getting stronger. How is Mafatlal gearing up for these trends?
Mafatlal Denim does have a range of denim products, which are light weight and have the comfort of stretchability. This is very popular , specially for ladies and children's brands.
What are the other trends that you see  in denim fabric  constructions and finishes ?
Popular denim trends currently are light weight denims , coated and mercerized denims with multiple wash effects and clean optics.
What are the estimates of  production and growth in denim fabric and garments production in India ?
The total denim fabric production in India is currently about 650 Million Meters per annum. ( 2011 ) and estimated to cross 700 MMPA in 2012. It is expected to grow at 10% pa over the next decade and had the potential of reaching 1.5 Billion meters by 2020.
The denim fabric consumption in India ( for domestic brands and garment exports ) is about 400 -450 Million meters per year currently -2011 , and is expected to grow in the coming decade at the rate of 10-12 % every year. Presently , 200 -225 MMA of denim fabric is being exported .
Are there any plans for expanding the fabric offering or that of garments ?
Mafatlal Denim has a capacity of 20 Million meters a year and we do not have any plans presently for increasing denim fabric manufacturing capacity. We are carefully evaluating the denim garmenting business and would decide on a strategy shortly.
How is the environmental consciousness among the consumers affecting denim manufacturers ?
I firmly believe that consumers all over the world would like to buy products which are Ecology friendly . Most denim manufacturers are aware of this and are gearing themselves to conform to all environment standards.
Mafatlal Denim is a responsible denim fabric producer and we conform to all Environment Standards and are ISO 14001 and Oeko-tex ( Germany ) certified.
Contact Mr. Rajiv Dayal on  This Email Address