Perhaps the most well known and respected denim professional globally, the Godfather of Denim needs no introduction. We all know about his contributions to the industry in the last 5 decades and are constantly inspired by him . However, what is amazing to see is that 'age is just a number for him' . He is probably more active at 76 than most of us who might be 2-3 decades younger than him. Not only is it his passion to work but a constant endeavor to make this industry and world a better place . In this quest he is leading a new venture – WISER WASH – which aims to change the way how we wash our jeans and the resultant impact on the environment. With Adriano bringing Wiser Wash to our Denimsandjeans Japan show , we were really keen to know more about it and to get insights into what he is doing and why .
Hi Adriano , once again welcome to Denimsandjeans. Its always an honor to speak to you and very excited to be a part of a conversation about a great sustainability project – Wiser Wash – that you are associated with. Please tell me a little about the journey of Wiser wash and how it was setup
It is a kind of Trio, Kevin Youn that was working with me when I started AG is the lucky inventor of the process. Fuat Gozacan understood the potential of the patent and with his company Wiser Globe, he created in Amsterdam Wiser Wash giving the structure, the vision how to operate and obviously putting the money to make it happen. I come in because I really love the wash that I consider a game changer because three main reason
1) Makes superior washes, much better then traditional
2) Because is sustainable more than any other.
3) It is cheaper than traditional.
So we made together a very strong team where i develop new products and research and I using my network to promote the business around the world. I am not a sale person, I promote things where I really believe in
No Stones, no chemicals and only a cup of water to wash a jeans ! How is it possible to wash this way ? What role do electrified water and Ozone gas play in the whole process.
It is just a special use of the ozone machine and I confirm that in the decoloration process, that for others is Chlorine or potassium, we use 200ml of water when the others are using 15/20 liters of water
What kind of collaboration you had with Pepe Jeans and how it has affected them in terms of products , investments, innovation and long term gains.
We gave to them an exclusivity on the process for a certain period of time, we had a co-branding and we co-marketed the product. The most important thing is that we had a very good response from consumers that love the product that is nicer and more sustainable
You already have partner laundries in Turkey, Portugal and USA. What do these laundries need to do to be a part of Wiser Wash ? Does Wiser Wash give them licence to operate.
We own directly the laundry in LA that is our development center and Izmir that is for the training of staff of our partners and production too. In Portugal it is a partnership with Pizarro, The rest of the world the business model is a licence contract. Wiser wash partners need to share the vision and operate with sustainability as most important goal of the company and obviously they have to sign a license contract.
Are new partnerships coming up in other regions ?
We already signed important license deals with Arvind in India and PPJ in Vietnam and Elleti in Italy. I am just coming back from a trip in South America where we are expecting to sign in Argentina, Colombia and Paraguay. We are targeting partners in the near future in Mexico, Pakistan and China with more to come.
Sustainability always has a cost which is more than that of traditional methods of doing things . This gap is probably one of the reasons why many still find a strong urge to stick to the former. Does Wiser wash intend to reduce this gap and make sustainability more democratic ?
Yes, the big game changer is that Wiser Wash is much more competitive than a traditional wash as we save in water, stone and chemicals and the process is much more simple. This will be a booster for sustainability as is making sustainability affordable for everybody.
You keep going on so strongly ! Please do let us know about the other projects you are currently involved in.
I am very involved in many projects that are about innovation and new technologies in the textile segment. I am pushing to make progresses with Tictorium, Smart Indigo and the new dyeing indigo system. I am also a lot in the introduction of new fibers and collaboration with Lenzing. For what is regarding the design the major focus is to make the jean really circular.
Besides sustainability , what do you think are the other major factors which are affecting or will affect the trend direction of denim .
It is true that sustainability , bio technology, saving water and growing new fibers in a smart way are major points but they are just part of a bigger picture where right ethic in business, social respect, livable wages and safe working conditions are very important part of the equation. We have to fight for all of them.
What do you think about the Japanese market and where does it stand in the plans for Wiser Wash .
Japanese market since long time is been leading the indigo and denim business blending the indigo Japanese culture and tradition with the American vintage. The result of this is an incredible and unique denim culture that is been inspiring us all the time and for sure will continue with the generations to come. However the global business is changing dramatically in term of distribution, numbers, innovation, technology and product development. This obviously has an impact also in Japan and requires that the domestic industry and the brands find new answers. Those answers are coming now also from a different method of work, they are not coming any more from one of few brands but from a "work together system where we share research and technology and we bring benefits to all. In particular the sustainability and circularity are a challenge that are in the hands of all of us. For many different reasons I feel that Japan is a little bit behind in the eco projects, So my approach bringing Wiser Wash to Japan is, as a first step, to show the potential of this technology applied to Japanese fabrics and brand and then to develop collaborations that can bring to the traditional strength of denim market a new important segment that will be the future for all of us.
Much younger persons than yourselves like me find it difficult to have the energy and passion that you have at age of 78 . Would you like to share some secrets so that it can inspire us to contribute more to the industry and society like yourselves 🙂
First, I am only 76 ! What is driving me is the passion for the business and that I feel that I have to contribute up to my last minute to inspire people and make our world a better place for the new generations.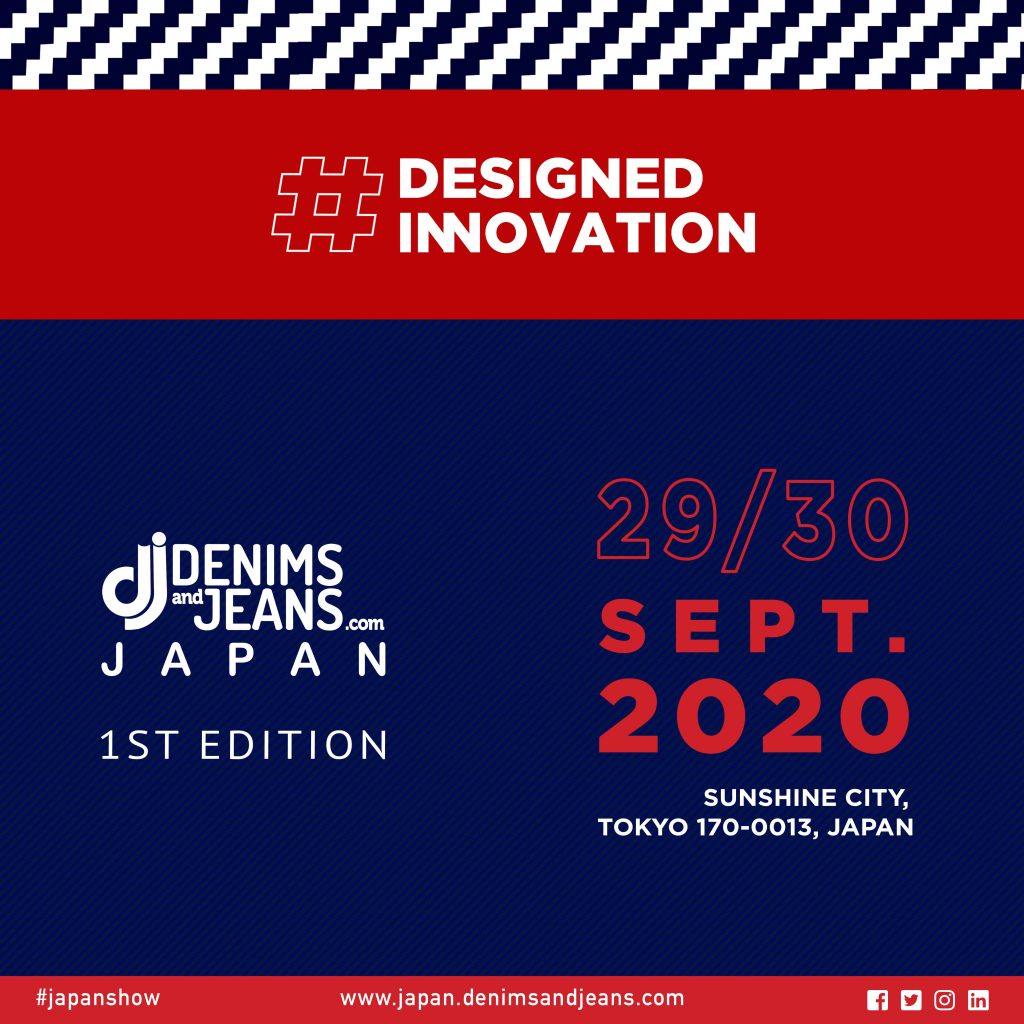 Register for Denimsandjeans Japan and check out most wonderful technologies and products from our exhibitors globally . Follow the link