Capacity of washing 25,000 garments per day
Dyeing capacity – 10,000 kg per day
Finishing and logistics -15 000 Denim + 15 000 Knits/wool/mohair    per day
Printing  – about 10,000  per day
These figures look relevant for washing and finishing houses in countries like China, Bangladesh and other Asian countries with high production capacities . Europe was long left behind in this race as the costs soared and it was unviable to wash  and finish at mass scales  in Europe..Also , washing and finishing on denim is an art that Italians have perfected in Europe and whenever a discussion on this topic comes up, one tends to immediately think of them . Hence , when we come to know that the above figures pertain to a washing / finishing  house  of Europe and that too non-Italian , we need to sit straight and take notice !
Pizarro, based in Portugal,  is a large company doing full package services
for large brands/ retailers and dealing with EU and US markets mainly.  I spoke to the Marketing Director  of the company – Vasco Pizarro – to find out what makes this company tick and enables it to swim against the tide. After the conversation, I could sum up their secret of growth  in a few words – 'Innovation in technology and systems'.. Our conversation goes thus :
1.Hi Vasco! Yours  is a large washing / finishing & logistics/ printing/dyeing  house  in Europe. Can you explain in more details about your company.
This year marks the 30th anniversary of Pizarro S.A. My father, along side my mother, started this company in a small garage with just one machine. We still manage the company in family with my family fully involved in the business. Today we have 650 workers divided in laundry house, dye house, print house and finishing house, although in the most part of our business we work only in garment, for some top level brands we supply full package.
2.Washing laundries/ dye houses in Europe are disappearing . How is your company growing from strength to strength?
Yes you are correct Sandeep, in fact these types of companies are disappearing from Europe. Our company grows through a mix of factors like these: We have a very good balance between scale economy and high level brands. We have a relationship with the Inditex group for almost 25 years and we have adapt our structure to respond very very fast to all our clients. Beside that the finishing & logistcs is of a great value to all our clients because we can receive raw garments and put them ready to go to the stores in 2/3 days. The cost of labor in Portugal is not as high as the rest of Europe and we have a very good financial business that reduces heavily the costs with the whole structure and not only labor but chemicals, machines, etc. We only invest in things that can allow us to evolve constantly, for example for you to have an idea we were the first European company to automatize   the dye house in 1993, then the laundry house We were the first company to have the three levels of certification, Quality, HSW and Environmental.. We are always in the cutting edge technology, but also our team of professionals is one that we are very proud of.
3.Icelite  – achieving the sandblasted look with dry ice is one of the latest technologies. Your company is understood to have  invented this process .Pl tell us something about it . Is it a commercially feasible and future ready technology?

The idea started in 2011 and when some brands responded to the incident in Turkey and the health problems that emerged due to the use of silica in the sand.With that in mind my father start doing several tests with different materials and equipment. He first tested it with a water blast .But the results were insufficient and he turn to a great friend of his that is a manufacturer in Italy. They both start exploring ice. The journey was not easy, but in 2012, in September we receive the first Icelite machine in the world.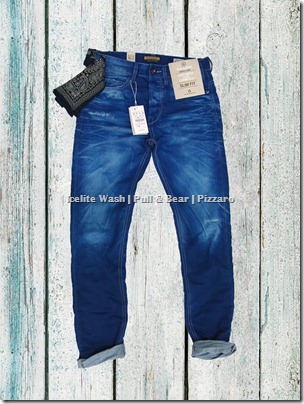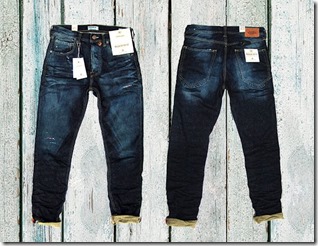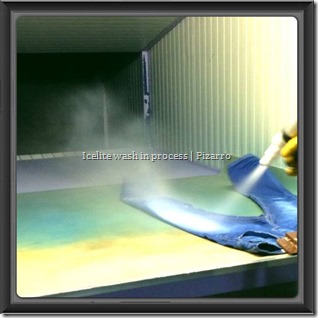 The machine uses CO2 to create ice that is store at -70 degrees.Those small particles are used to create an abrasion blast that gives that vintage look to the garments.It can be used in every type of garment and the savings are significant:
– 70 litres of water per garment
-and 150 grams of chemicals per garment
These effects and final looks that you see in our garments are due, not only with the icelite, but also mixing ozone washes and laser washes. We called it EcoWash.
4. These are big saving.. but do you plan to shift major part of your washing to Icelite technology? It must be expensive..
We have a big project in mind that will revolutionize even more these savings and will allow us to turn the Icelite even more competitive that the sandblast. These will allow almost any company that want to work with us to do garments with Icelite. For now its a little bit more expensive to do so and therefore only the high level and Pull&Bear are doing it..So as you can see its already in a commercial success and we believe it will be the future of Denim.
5.You also print a huge number of garments in your company. Do these include denim garments also ?
We are printing a great deal of Denim garments…the demands of our clients are with vintage prints without touch.Even on jackets, if its Denim these are the prints that are trendy. Specially on vintage looks, total garment laser or just partial is something that our clients are asking a lot. All our prints are done garment by garment..
7.. Do you see any specific trends in denim washes for SS14 ?
For trends we  see that the vintage look (in terms of trying to imitate the  natural aging of garments) its something that is not going to stop. Furthermore the 3D whiskers are also something that is not going to stop. Another trend that we see is the  imitation of leather or glow on jeans – leather coating and  metallic coating.
Here is a video on Icelite  process and some cool pics from Pizarro..