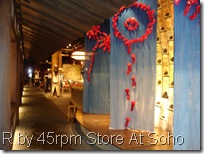 Japanese denim is famous for its attention to detail – like many other things in the Japanese culture. That is the reason the Japanese denim brands stand out and outshine most other denim brands and have cult following  around the world. One such brand is R by 45rpm .  I visited their store in SOHO , New York , last month and chatted around with Ehren at the store and I found that he is deeply knowledgeable on denim matters . It was fun and very  interesting to discuss with him regarding 45rpm and denim in general .
Hi Ehren !  Tell me something about the 45RPM jeans that we can see   here ?
All our jeans are made with Zimbabwe organic cotton. They are all selvedge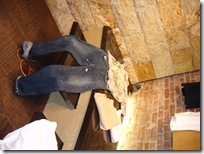 denim. We do all our weaving on antique vintage denim selvedge looms which we have slowed down to increase the slubby texture . We also control the quality of our yarn in order to make sure that instead of a flat machine feel their should be slubby structure. We use a variation of either synthetic based indigo dyes or organic plant dyes . A lot of our organic indigo stuff is dyed by hand.
What is the advantage of dyeing by hand ?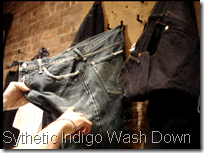 'Advantage' may not be the word – it is the outcome. The advantage of dyeing is the color of course – it is a much richer and very serious blue . The people might call the advantage  to the fact that over time instead of washing  out and color fading very dramatically at certain areas – on your thighs etc – anything like this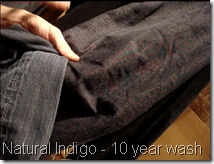 (shows a synthetic washed jeans)  whiskers etc – that is not going to happen that with natural indigo dye . It could happen but it is very very difficult to get there . You have to almost make it happen . If you normally wear  those jeans ,they won't naturally fade like this over time and you will get a more even sort of distribution of color .  Have a look at these jeans I am wearing . After 10 years of use they will  eventually reach this color ( see the comparison in the picture above) . When they started they were this color – you will see that it lines up very evenly over time and still keeps a very intense , very vivid blue as opposed to synthetic blue which fades much more.
Tell me what is so special about your yarns
Most  special thing about our yarns is the way  we control the quality of our yarn . I suppose instead of just making mass produced machine spun yarns , a lot our stuff is done by hands. Even the stuff which is not done by hands, we control it and purposely make sure that it has  a slubby vintage texture to it .
What is the price range of 45 RPM Jeans ?
We are doing $368 and above .
Going up to $ 1000 ?
Our top of the line denim  before tax is in the  $800- $900 range . But you can make it more expensive by adding Silver rivets , custom distressing etc . We offer like 2 years , 5 years , 7 years custom distressed washes.  We have studios in Japan to do these washes.
So that can be done on individual orders ..
Yes,  Bespoke denim  basically.
How many times should denim be washed at home?
There is a sort of a debate on that. And I actually personally fall on both sides of the debate.  There are people who want to wear raw denim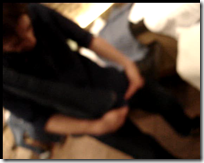 continuing as much as possible without it to get more extreme , more severely individualized color fade and that  looks really really cool and it works . If you don't wash them very often , and then wear as much as you  can  and then wash them , you will notice much more lines behind the legs and much more direct lines above here (near the crotch) .
The disadvantage to that is that Jeans are an organic material – its cotton. Over time bacteria gets into there and starts eating away at the denim . So when you do that , the denim is not necessarily going to last a long time . You could reverse that by patching it up or by washing them often – you could make them last longer. But if you do not wash them , you should expect them to fall apart . Your pockets are going to fall apart , your knees are going to come apart ……
That's your personality on your jeans .
Exactly . Other thing to do is to turn them inside out and wash them after every 2-3 times you wear them . Very short wash , just a very little detergent . You will get a more even fade , you will not get very expressive lines on your jeans  but they will probably last a little longer and still look great . My suggestion is
"If you have natural  indigo denim ,  I would recommend washing it pretty well. If you have synthetic indigo denim ,  I would personally recommend wear them as long as you can  , get some awesome color going and then rock them …"
Thank you so much  Ehren. Our readers really love 45 rpm Jeans .
We are happy. Thanks and have a great day.
Here is a video on the chat with Ehren (Those who are reading this report in email will have to go online to see the video).
Here are some snaps from the store and its location :
R by 45rpm
SOHO STORE
169 Mercer St.
(Between Houston & Prince Sts.)
New York, NY 10012
Tel:917-237-0045
Contact R by 45rpm at this email address