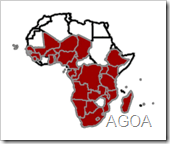 The African Growth and Opportunity Act (AGOA) was signed into law on in May 2000 as Title 1 of The Trade and Development Act of 2000. The Act offers tangible incentives for African countries to continue their efforts to open their economies and build free markets.
AGOA provides duty-free and quota-free treatment into US  for eligible apparel articles made in qualifying sub-Saharan African countries through 2015. Qualifying articles include:
apparel made of U.S. yarns and fabrics; apparel made of sub-Saharan African (regional) yarns and fabrics until 2015, subject to a cap;
apparel made in a designated lesser-developed country of third-country yarns and fabrics until 2012, subject to a cap;
apparel made of yarns and fabrics not produced in commercial quantities in the United States;
textile or textile articles originating entirely in one or more lesser-developed beneficiary sub-Saharan African countries;
certain cashmere and merino wool sweaters; and eligible handloomed, handmade, or folklore articles, and ethnic printed fabrics.
Under a Special Rule for lesser-developed beneficiary countries, those countries with a per capita GNP under $1,500 in 1998,  enjoy an additional preference in the form of duty-free/quota-free access for apparel made from fabric originating anywhere in the world. The Special Rule is in effect until September 30, 2012 and is subject to a cap.
During the 2011 review process, President Obama determined that all the countries currently eligible for trade preferences and other benefits under the African Growth and Opportunity Act (AGOA) would remain eligible and that no new countries would be added as AGOA beneficiaries.
President Obama also signed a presidential proclamation reinstating Côte d'Ivoire, Guinea and Niger as eligible for AGOA benefits. Each of these countries was previously ineligible, but during a separate review process, the president determined that they had met the act's eligibility criteria.
The top five beneficiary countries were Nigeria, Angola, South Africa, Republic of Congo and Chad. Other leading AGOA beneficiaries included Gabon, Lesotho, Kenya, Mauritius and Swaziland.
Denim Apparel Exports– What is the Status ?
How has AGOA region countries been doing when it comes to denim apparel exports ? Lets have a look at the data of the last 10 years of exports from AGOA region to US.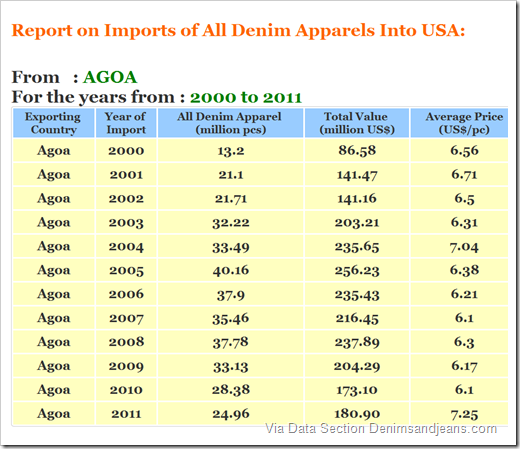 When we look at the data , we find that the exports of denim apparel from AGOA to US actually peaked in 2005 when quota regime was just being dismantled. After that , the apparel exports have been more or less flat. In 2010 and 2011 , the exports have actually dipped substantially – reducing the importance of AGOA as a region for export of denim products. In 2011 alone – there has been a fall of over 15% in exports from this region to US. Almost similar fall was there in 2010 over 2009 .. When we look at specific countries , we find the scenario not too rosy for some countries:
Madagascar : 84% reduction in quantities exported in 2011 over the same period in 2010
Mauritius : 34% reduction in 2011
However, some countries from AGOA like  still remain interesting for denim production.
List of countries that fall in AGOA region
Angola,Benin,Botswana,Burkina Faso,Burundi,Cameroon, Cape Verde, Chad, Comoros,Congo (DROC),Congo (ROC), Djibouti , Ethiopia,Gabon, Gambia ,Ghana ,Guinea ,Guinea-Bissau,Kenya ,Lesotho,Liberia ,Madagascar ,Malawi,Mali,
Mauritius,Mozambique,Namibia,Niger ,Nigeria ,Rwanda ,Sao Tome & Prin ,Senegal,Seychelles , Sierra Leone, South Africa, Swaziland,Tanzania ,Togo ,Uganda and Zambia
Sponsored Link: