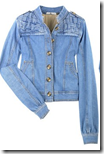 We have been hearing of a revival in the blue denim jackets and that the demand seems to be picking up in the same with some forecasters also suggesting a starting of a trend on Double Denim. But is it really so ?
The figures don't tell the same story. Lets take a look at the total imports of denim jackets in US in 2007,2008 and 2009
US Imports of blue denim jackets in 2007-2009
| | | |
| --- | --- | --- |
| 2007 | 2008 | 2009(Jan – Nov ) |
| 2.9 million pcs | 1.79 million pcs | 1.30 million pcs |
Source : US customs
The imports of Blue Denim Jackets in US has actually reduced over a period of 2007-2009. Though this data may not cover some other jackets which do not fall under the "Blue Denim Jackets" category, their quantity is expected to be small.
Thus, the data belies any expectations of a great surge in denim jackets demand.