Google is not only an ocean of knowledge but it is also the largest reservoir of information (database) on human wants and desires as it systematically maps the searches by keywords, location, time etc. So , if you were to know what the people of ,say, New York primarily look for or what kind of food they most desire, or the sport they are most interested in , Google can tell exactly . And this information would be time sensitive ie it would be easy to find how the preferences have been changing over a time period.
Can this strength of Google be applied to Fashion industry as well ?? Of course- they can also mine important information on any industry and find about consumer likes , changing needs etc ! .
Google has recently released a Fashion trends report for US based on the searches that take place on the behemoth. Their team, Yarden Horwitz (fashion brand strategist) and Olivier Zimmer (Fashion data scientist)  analyzed 6 billion queries related to apparel category from 2012 to 2015 and applied Time Series Clustering to group together the queries based on time series of similar trends or seasonality. The directions are quite interesting and worth noting for the fashion industry  –specially those who are interested in the US market.
The trends from the report have been categorized into following main groups.
RISING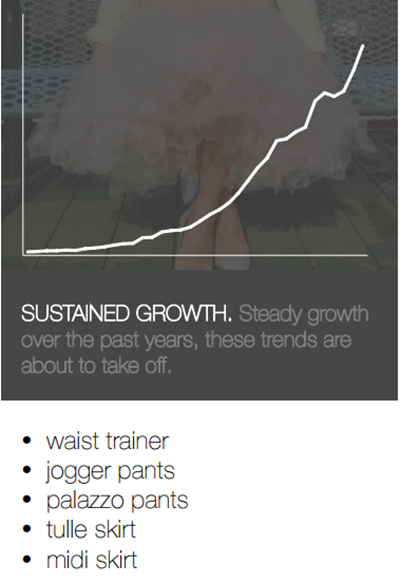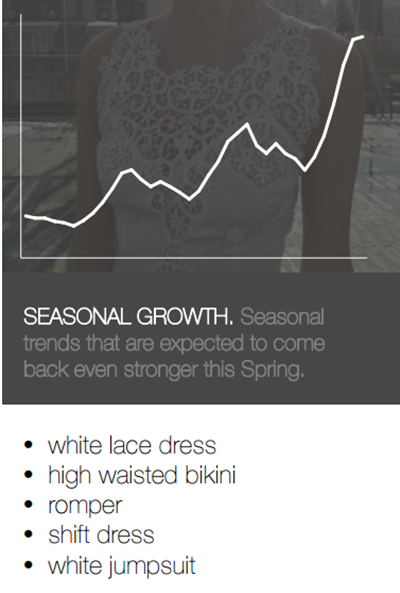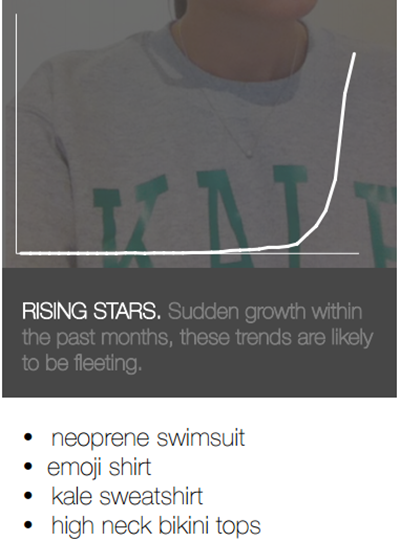 DECLINING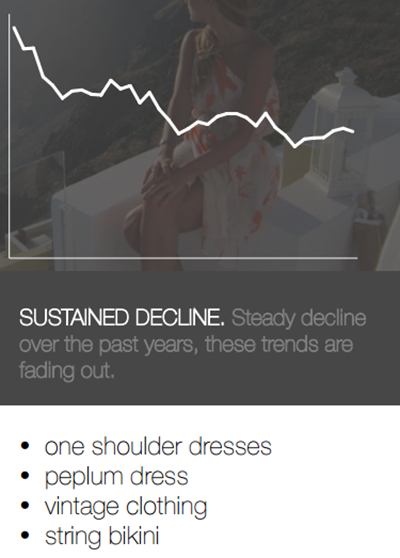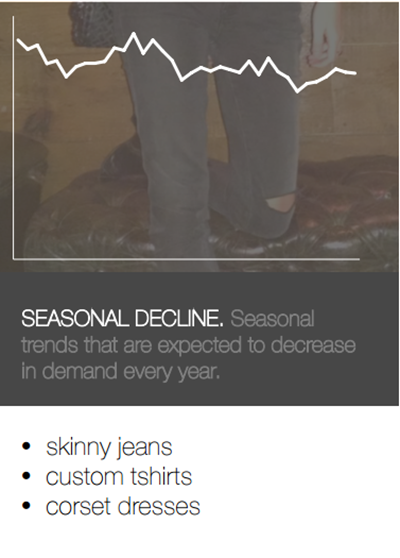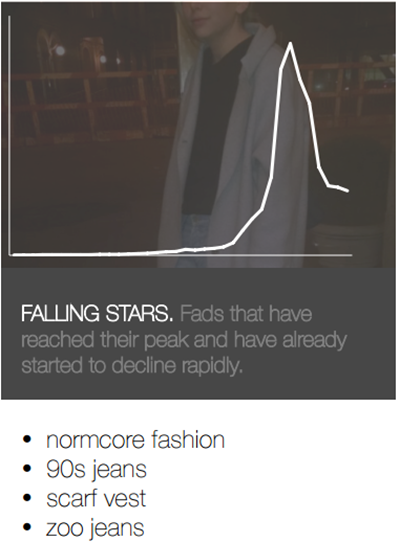 Now we look deep into important product categories that have seen the major changes in getting focus of consumers from the US.
Jogger Pants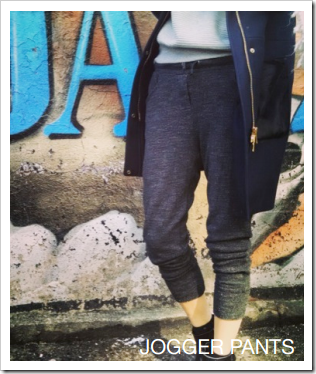 Jogger pants have been growing in popularity for sometime as comfort factor gets more important for the consumers . The searches for Jogger Pants have grown 165% during the last year. The top styles of Jogger pants can be understood from the following image. Each rectangle size indicates the size of the search.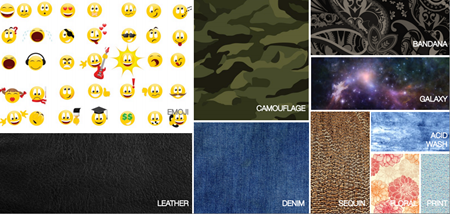 Google says
"Top searches for jogger pants span men, women, boys, girls, and even toddlers, indicating mass appeal for this apparel item. Looking at the terms often searched in conjunction with jogger pants, it seems that consumers are already well-versed in jogger pants and are turning to Google Search to learn more about which brands offer the best selection and deals. Consumers are stepping out of their comfort zone on this trend. The top most-searched style? Emoji jogger pants."
Denim also generates a reasonable size of interest though Emoji, Camouflage and leather look more appealing to consumers. Google analysis says that while Jogger Pants started on the East Coast, the trend is quickly becoming a big hit in the Southern areas of the US as can be seen from the images below.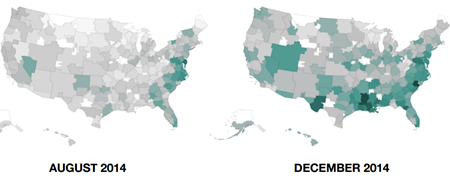 Tulle Skirts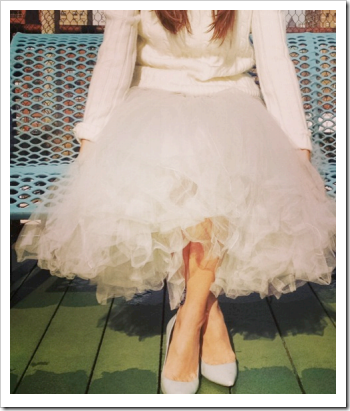 According to trending Google apparel searches, tulle skirts are growing in popularity just in time for spring fashion, up 34% from January 2014 to January 2015.
"Originating on the West Coast, the tulle skirt trend is making its way across the U.S. Consumers are seeking this skirt in all colors of the rainbow (and even in rainbow), but the most popular colors are the classics: black and white. Consumers aren't interested only in buying tulle skirts. Top searches indicate that a majority are feeling inspired to get crafty and make their own. Who says you need to be a ballerina to wear a tulle skirt? said a blog post on the report by Google brand strategist Yarden Horwitz and fashion data scientist Olivier Zimmer.Originating on the West Coast, the tulle skirt trend is making its way across the US, according to Google searches. Consumers are seeking this skirt in all colours of the rainbow (and even in rainbow stripes), but the most popular colours are the classics: black and white."
Midi Skirts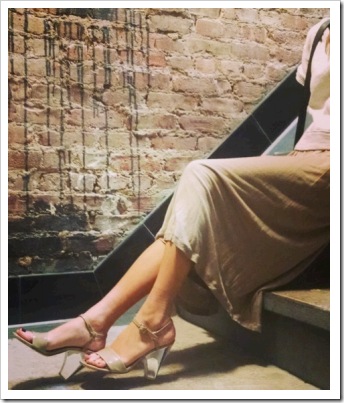 Recently brought back in the U.K. in 2013, the midi skirt is making its way back to the U.S. While lower in search volume than tulle skirts or jogger pants, the midi skirt has seen 9X growth in searches over the past three years—and is still in its early stages of growth within the U.S. market. Top searches for midi skirts, such as "how to wear" and "outfits," demonstrate a lack of education on how to incorporate the trend. Consumers are turning to Google Search for advice and inspiration on styling a midi skirt as part of their daily outfit. Because the trend has been growing in the U.K. over the past couple of years, there are already so many variations of silhouettes and styles displayed on the internet. Top silhouettes include pleated, pencil, A-line, high waisted, skater, circle, and flared, to name a few. With such an overwhelming list of styles, it's no wonder consumers are seeking tips on how best to pull them off.
Below are the top styles searched for Midi  Skirts. Size of the rectangle represents the volume of search.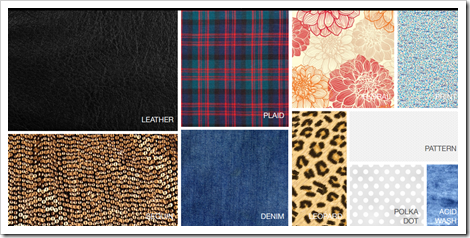 Specific Denim Trends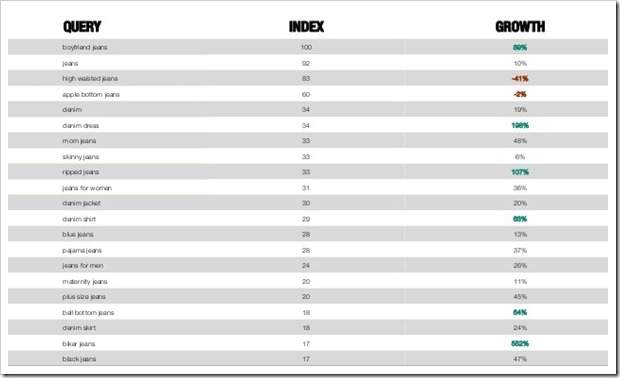 When we look at the specific denim trends, we find that biggest gainers are :
Boyfriend Jeans : +80%
Denim Dress : +198%
Ripped Jeans: +107%
Biker Jeans :+ 552%
Bell Bottom Jeans : +64%
Biggest losers
High Waisted Jeans : –41%
Skinny Jeans :+6% – though in positive , skinny jeans has seen a very dormant kind of response on the Google and fades in comparison to other competing searches like Boyfriend Jeans, Ripped jeans or Bell bottom jeans !
It is not only Google report which is pointing in the direction of reduction of skinny style but a host of other indicators which show that skinny is not the current favourite of the consumers in US. A number of celebrities have been seen in either flares or increasingly in boyfriend jeans indicating that they seem to be switching the sides !. This trend also makes sense from the point of view of brands / retailers and others in supply chain. Skinny jeans have been long in trend and most consumers – mainly females – have a horde of them in their closet. It makes sense to encourage the shifting of the trend to non-skinny styles so that they would open up their purses and again revive the sagging market.
Sponsored link: