The third edition of the Denimsandjeans Bangladesh show shall  be held on 1st and 2nd March'15 at Dhaka. After the successful two editions last year, the third edition again hopes to bring the global denim fraternity to come together at the most promising denim sourcing destination – Bangladesh .
The second edition in Oct'14 saw some cool companies participating and displaying their denim / non-denim and related products in the supply chain from around the world.  The exhibitors had some great reviews about the show.  We are giving below some of them:
Pervheiz – Hameem , Bangladesh – says
"..Show has grown by leaps and bounds. I was here in previous season also, but I feel its definitely increase people are walking in. Its all about adding value, kind of people are walking in are tremendous people. These are people we are working on a regular basis. So its a excellent opportunity for us to present garments. In one single day i meet entire no of people otherwise it take entire year to meet. I met them in two days. It was excellent platform for us. All the best i hopes we have shows again and again…"
Shamin – Arvind, India –  says
"..Great, very good show. Its new platform for denim people. Its great event…"
S.K Sharif – Pacific Denim, Bangladesh-says
".That was a fantastic show and I should say something special. Customers response is high as you can see we can not sit for whole day and last time also.  I thank you for such a nice event.."
Amit Miglani , Oswal Denim ,India-says
"We have very good response. We have new clients also even old clients also very excited about the show and collection…"
Wayne, Imran – Artistic Fabric Mill- Pakistan– say
" Better than expected. It was very interesting and we have some very good customers and they have great interests in our fabrics. Its been a great show. We have some new markets, new buyers are coming in. Its very exciting thats exactly we are looking in for paticipating in this show, so we can expand our portfolio of customers…"
Mujib – Prosperity Denim,China – says
"..Excellent and I give special thanks from Prosperity. Your overall whole organization is excellent. In Denimsandjeans show prosperity will be there…"
Prabir Bandhopadyay – LNJ Denim, India-says
"..Excellent ,we got a good platform. We meet so many our present and new customers. We hope after attending these fairs our business will increase…"
Farrukh – Artistic Milliners, Pakistan – says
Very good!.  All the customers came from the local industry we were missing. Most of the times we go to Europe to directly meet with the customers but not with the vendors in the Bangladesh because 80 percent of textile garments are exporting from Bangladesh. So we were thinking to come and go to every place but due to shortage of time we can not go everywhere but due to this show every person is coming here so we feel very good with this show.
Abdlekader Amouche – Vicunha, Brazil – says
"..We got great response from the clients we already knows but Its very encouraging to push even more here from this country take advantage of capacity of denim consumption. Its great thing to be here and we will back next year for sure…"
Rashid Iqbal – Naveena Denim Ltd, Pakistan– says
" The show is very good. Its very interesting. Its outstanding beyond expectations and we wish you good luck. Its really nice to be here and we look forward to participate in your upcoming fairs…"
Abdel Khaleque Kazi – Indigo, Pakistan – says
"..Its going up every day. We hope third one is even better…."
Manish Khanna – Envoy , Bangladesh – says
"..It was a wonderful experience. I think last show itself  was great and this been a continuation to it. People's expectation were higher and I believe you have been lived up to the expectations…"
Md Fazle Rabbi –Vav technology , Germany – says
"..It was very nice. Lots of customers, buying houses and others  are visiting the show. Really we are very much impressed. We thank you. All our team is very very happy…"
Ahsan Zia – Siddiqsons , Pakistan – says
"..Show was perfectly great. Participating in this show made us face to face contacts with customers and buyers and it will help us to forge the business and these type of events are great place for networking and we looking forward to participate again in this . Thanks to you for organizing such a wonderful event that is really help us to forge  our business in Dhaka Bangladesh
We cannot cover all the comments here but can be seen online in videos here – link below: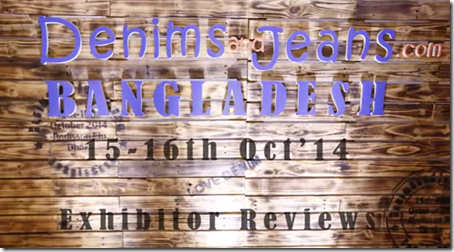 The invite only show had some of the great buyers and visitors from Bangladesh and around the world . With over 460 companies visiting the show and over 1450 visitors attending , the show had the right mix of Top Executives of retailers and brands, country managers of important buying houses , designers, buyers, sourcing heads, merchandisers and other relevant people in the buying area to give our exhibitors the right exposure to their company and products. Some of the companies which visited the show included major retailers and buyers from around the world many of whom travelled from Europe, Russia, Hong Kong, US , Turkey , India , China etc to attend the show
C&A , Carrefour , Coolcat , Celio , Charles Voegele , Cortefiel , Debenhams , Dewhirst ,El Corte Ingles ,El Corte Ingles , Esprit , Gloria jeans , Grouppo Coin , H&M , HEMA , Hermes , OTTO , O'stin, Inditex , Kappahl , Kmart , LCWaikiki(Tema) , Levi Strauss & Co , Li & Fung , Lindex, Marks & Spencer , Mondial , New Times , Next , Perry Ellis , PVH , Redpoint , S. Oliver , Sainsbury`s , Target , Tesco , Tom Tailor , UNIQLO , VF , Wal-Mart
The above do not include the names of a large number of factories and buying houses in Bangladesh who participated enthusiastically in the show . Some of them were Ananta Group, Asmara, C.I Intl., Comtextile, Dekko Group, Fx Import, Gina Tricot, Indesore, Standard Group , Misami- Bitopi, Regency, Shanta Denims, Sterling Group, Tex Design, Tusuka and many many other important companies working in denim and related products.
For our third edition, look forward to some interesting seminars, events, talks , trends and just more denim !!