The 10th Anniversary edition of International Premium Denim Show – Denim Premiere Vision , is set to  kick off on 14th Nov . The show has been bringing global denim community together for last one decade and constantly re-inventing itself to offer something new to the stakeholders . Around 80 companies from the globe including  Japan , Italy, France, Bangladesh , India, Pakistan, Morocco , China , Spain are participating to unveil their latest collection and innovations. Beyond the latest denim products, the visitors will get to see the  innovations, techniques, expertise, services, R&D: the very soul of indigo at the show.Pure players, premium brands, star designers, luxury houses, major retailers, denimistas, iconic personalities are expected to visit this show which is happening on Nov 14-15 at rue du Vertbois (n°14 to 30) – Le Marais – Paris 3ème.
DENIM POP UP STREET
A new introduction – The Denim Pop Up Street – has been dedicated to celebrate the denim culture and fashion.A pop up event to celebrate denim culture featuring inspiration, shopping & demonstrations with a dozen of boutiques has been scheduled to highlight the theme of the show. There will be series of events happening at the show on both days .
Avant-garde designers shops , Denim Brands and Art & Design Installations
Internationally acclaimed fashion designers ad designing house from different parts of globe will be showcasing their latest offerings at the show including Knorts (Los Angeles) ,Fade out Label (Berlin) , Ampersand Heart (New York). Denim Brands Including Marithé+François Girbaud X Jeanologia , LEBL Studios, Atelier Tuffery, and arts & design by Galerie Gam ,Florian Bonniord, Federico Ferrarini will be showcased for the visitors .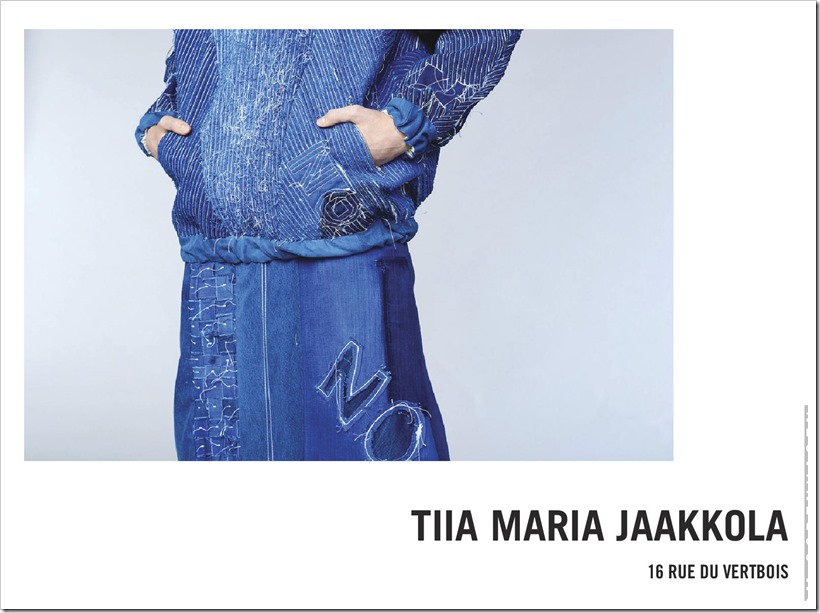 Denim Brands
Art and Design installations
Talks , Seminars and Presentations
At the show, benefit from 8 workshops & talks sessions dedicated to 5 crucial issues: new socio-styles values, fashion, products, circular economy,and value chain.
14th November | TUESDAY
Time
Topic
Description
11.30 AM
DENIM THROUGH THE EYES OF GENERATION Z
The generation born between 1995 and 2015 is exciting the entire fashion industry. Influent, free of loyalty and obsessed with style and brands, Gen Z has an opinion on everything, and freely shares it. Let's examine this generation's relationship to denim by looking at their sources of inspiration and tastes.

Conference powered by Pascal Montfort, REC Trends Marketing Agency


01.00 PM

DENIM TREND TASTING SPRING SUMMER 19

An exclusive moment to have a look at the latest creative products from the Denim PV exhibitors, and fully decode Spring Summer 19 through the analysis of the Denim Première Vision fashion team.
02.00PM
CIRCULAR ECONOMY: THE ACTUALITY IN THE DENIM INDUSTRY AND BUSINESS OPPORTUNITIES
What is the meaning of Circular Economy? What is the actual status in the denim industry? What are the opportunities in order to improve the production standard and what are the business opportunities? What is the role of design in this process?This talking is organized in collaboration with BLUMINE.
Talk
Marco Ricchetti – Senior Editor Sustainability-lab.net
Filippo Servalli – Corporate Marketing Director Radici Group
Helene Smits – Business Development Manager – Recover
Carlota Vicente – Institut National de l'économie circulaire, Paris
Moderator: Fabio Adami Dalla Val – Denim PV

03.30PM
FUTURE IS COLLAB. HOW TO CREATE A SUCCESSFUL DENIM CO-BRANDING?
Collaborative collections are one of the most galvanizing ingredients in the contemporary fashion industry. Discover from experts and through recent success stories how  "collabs" became such a fashion phenomenon.

Talk
Jonathan Barban – Design manager Lacoste L!VE (collab Lacoste X Supreme)
Fabien Allegre – Brand Diversification & Merchandising PSG (collab with Levis)
Moderator: Pascal Montfort, REC Trends Marketing Agency
15th November | WEDNESDAY
10.30AM
DENIM TREND TASTING SPRING SUMMER 19
An exclusive moment to have a look at the latest creative products from the Denim PV exhibitors, and fully decode Spring Summer 19 through the analysis of the Denim Première Vision fashion team.
11.30AM
DENIM CULTURE, WHAT'S NEXT?
The Denim culture is constantly churning. It reflects what's driving the fashions of the times, and societal evolutions. Join us for a review of new trends (fashion, music, media, sport, etc.) impacting the present, to shape the future of denim.Conference powered by Pascal Montfort, REC Trends Marketing Agency

01.00PM
LONG LIVE DENIM! ENTERING THE NEXT PHASE FOR RECYCLED DENIM

This seminar we will bring you up to date on the latest developments in Post Consumer Recycled Denim and highlight the work of the Denim Alliance. We will provide you an overview of how the recycling process works, what it means in terms of environmental impact, which challenges still remain and what are the key opportunities for the future. A panel of weaving mills and brands will reflect on their experience with recycled denim so far and will showcase several examples of recycled denim products.

This seminar is organised in collaboration with the Alliance for Responsible Denim.

Talk
Helene Smits – Alliance for Responsible Denim
Murat Aydogdu – Sales Manager Kilim Denim
Chimo Lacomba – Product Development Manager – Tavex
Ethem Isik – Business Development Manager – Orta Anadolu
Moderator: Fabio Adami Dalla Val – Denim PV


02.00PM

DIGITAL STORY TELLING: MEASURE OF SUCCESS FOR DENIM.

Fashion communication is being completely reinvented. Traditional messages are overtaken by new forms of 'story telling' communicated exclusively via social networks or digital channels. Experts tell us how they develop and measure the success of these new messages.

Talk
Florence Willaert – Editor in Chief Vice Media France
Barbara Malewicz @malebicth – Journalist & young culture digital influencer
Moderator: Pascal Montfort, REC Trends Marketing Agency

3.30PM
FASHION INNOVATION: THE EVOLUTION OF THE DENIM VALUE CHAIN
HOW the role of the actors of the value chain has changed in the last 10 years and how that has influenced the looks of the denim.

We will look inside the fashion industry analyzing the challenges and the transformations through the eyes of the actors of the value chain.

Talk
Matteo Urbini – Managing Director Soko Chemicals
Luca Soligo – Managing Director Everest Lavanderie
Alessio Berto – The Tailor Pattern Support
Moderator: Fabio Adami Dalla Val – Denim PV
Exhibitors At The Show
Exhibitor Name

Category

 

Booth #
Country

Turkey

Thailand

Morocco

China

Turkey

Pakistan

India

Pakistan

Hong Kong

Hong Kong

Turkey

France

Pakistan

Hong Kong

Korea

Morocco

Pakistan

Pakistan

Turkey

UAE

Turkey

Spain

Turkey

Spain

Italy

Mauritius

Italy

Italy

Mexico

Spain

Turkey

Pakistan

Turkey

Turkey

Turkey

Japan

Japan

Morocco

India

Bangladesh

Turkey

Morocco

Turkey

Morocco

Turkey

Morocco

Pakistan

Pakistan

Pakistan

Morocco

Japan

Morocco

Turkey

Bangladesh

Italy

Morocco

Turkey

Hong Kong

Morocco

Pakistan

India

Turkey

Morocco

Spain

Hong Kong

Italy

Pakistan

Morocco

Italy

Japan

Turkey

Turkey

Turkey

Pakistan

Turkey

France

Italy

Brazil

Turkey

Italy
Show Map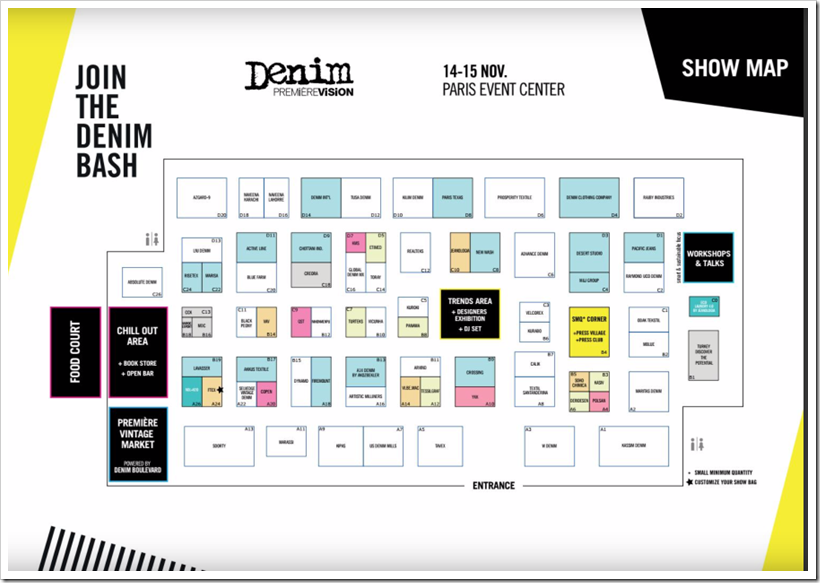 Image Courtesy : Official Website of Denim PV