Munich Fabric Start is set to kick off next week on Jan 29 at the MOC Munich and in the Zenith Area with over 1,000 suppliers of  fabrics, additionals, denim & sportswear who are going to exhibit their latest product and trend developments in 1,800 collections from 29 to 31 January 2019. The Denim Suppliers will be exhibiting their products at the Bluzone ( Dedicated space for Denim Companies). The organizers are bringing one more segment named B.L.U.E.C.H.A.I.N 4.0 in order to bring more focus on transparency, resource-saving process solutions, and conscious consumption. Companies like SC Ready Garment Technology, Lotus Garments, Denim Authority, and Pagada will be presenting their Spring Summer 2020 collections.
Other highlights include the 'FUTURISTIC CUSTOMIZATION GALLERY', a joint project by denim specialists MYR from Italy and Fimatex, as well as the presentation of the Capsule Collection developed by PG Denim in cooperation with Jonathan Christopher, the Denim Award winner 2018. Artist Anna Weber, @artworks.and.denim will present her very personal 'Denim Art Exhibition'.
'With MUNICH FABRIC START we have laid the foundation in the past for a future-proof trade fair format thereby creating an optimum point of departure and platform for being able to respond to current market developments with the flexibility demanded time and again.'Wolfgang Klinder, Managing Director MUNICH FABRIC START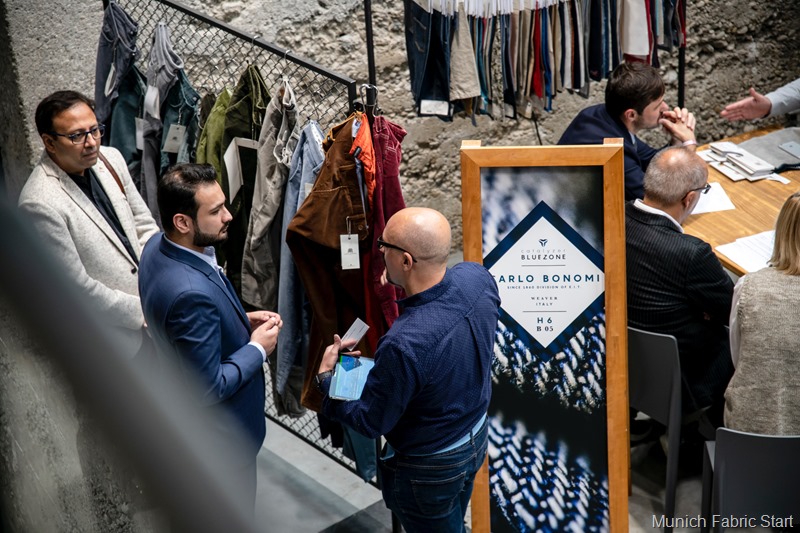 KEYHOUSE, one of the most talked about space, has been developed with companies cooperating on these future themes, start-ups, experimental research projects of leading colleges and universities as well as projects for unconventional resourcing into a think tank for progressive fashion technology. Its current focal themes include the extended area for installations related to SUSTAINABLE INNOVATIONS. The development of new technologies, the efforts made for developing sustainable products and assuring transparent processes and supply chains are recognized by MUNICH FABRIC START with the HighTex Award. Awarded for the fifth time now, this innovation prize will again be presented as part of the trade fair at the KEYHOUSE on 29 January 2019 and the award winner will be on display during the trade fair
With SUSTAINABLE INNOVATIONS, the HighTex Award as Innovation Award of MUNICH FABRIC START as well as dynamic interactions and a strong line-up of high-calibre lectures and seminars we are providing a unique preview of future-proof materials and manufacturing processes at the KEYHOUSE.'Frank Junker, Creative Director MUNICH FABRIC START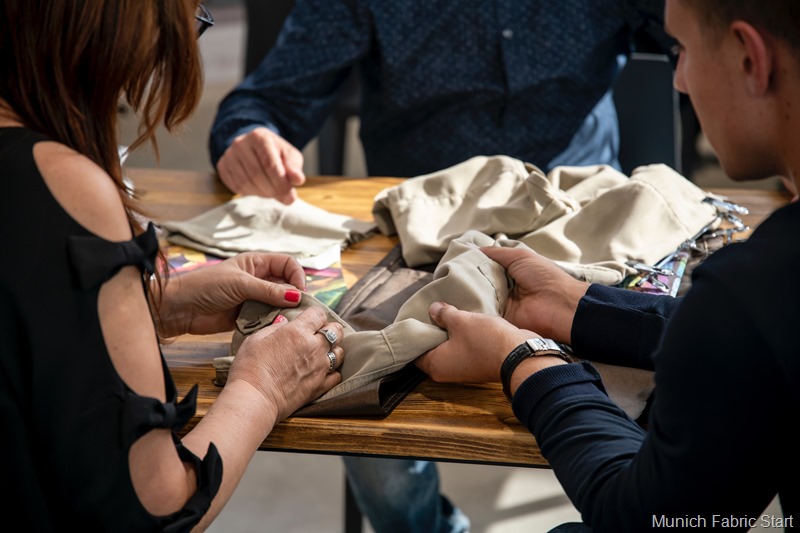 DENIM TALKS AT THE SHOW
Seminare, Workshops, and Talks on the latest developments in the denim industry, about consumer needs, Blockchain, sustainability and techno denim all feature on the agenda of the DENIM DOCK in Hall 7.
The idea and concept of New Heritage, the Festival for All Things Timeless, will be introduced by the masterminds of the event at the New Heritage living room staged at the Reception Lodge of the BLUEZONE outdoor premises. Furthermore, denim experts and influencers will inform visitors about perspectives and their interpretations of current denim innovations.
PARTICULARS

SPEAKERS/PANELISTS

TIME

SPORTSWEAR INTERNATIONAL TALKS: IT'S A CONSUMER'S WORLD – DEFINE THE DEMANDS AT THE VERY END OF THE SUPPLY CHAIN.

Sabine Kühnl talking to Kelly Harrington, Maria Hunstig (Vogue), Charles Bahr (Tubeconnect Media) and Gen-Z

Tuesday, 29 January 2019 from 3.00 pm – 4.15 pm
Wednesday, 30 January 2019 from 2.00 pm – 4.00 pm

INSIGHTS INTO CURRENT DENIM TRENDS

Tilmann Wröbel, Monsieur-T.

Tuesday, 29 January 2019 from 2.00 pm – 3.00 pm

RECAPPING TODAY AND KNOW DENIM'S FUTURE – THE POTENTIAL OF CIRCULAR FASHION, NEAR-SOURCING, NEW NEEDS IN THE SUPPLY CHAIN AND AUTOMATION.

Panel discussion with Angela Velasquez (Rivet & Jeans) and industry experts.

Wednesday, 30 January 2019 from 11.00 am – 12.30 pm
Over 90 exhibitors from Denim Supply Chain from different parts of the globe will be exhibiting at the show, to check the exhibitors' list .The timings of Bluezone are as below:
29 January 2019 | 9.30 am to 6.30 pm
30 January 2019 | 9.30 am to 6.30 pm
Further information about MUNICH FABRIC START can be found at www.munichfabricstart.com.