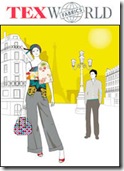 Here is a brief denim report on the Texworld fair held in Paris from 14-17th September  .
The theme of the fair was  ECO-FRIENDLY TEXTILE Fair-trade. However, I  did not find this theme back in the stand of the exhibiters. Here are some points related to Denim that I noted in the fair..
The key players for denim were in the first place from  PAKISTAN and in less numbers from  India and Bangladesh and Vietnam.
General trend was given to the DENIM FABRIC and less emphasis was given  to the washes!!!
Denim Mills – some propositions:

ADM(Pakistan): proposed the stretch comfort 360°

SOORTY(Pakistan): had a good collection and was very aggressive  

        in  selling.

Many exhibitors showed Tencel/ Lycra and Polyester blended fabrics. However, for Fabrics blends with tencel the washers should pay special attention and be careful. A Special washing recipe is required ,but the representatives of tencel know the recipes and can support the washers if needed to overcome problems.
The fabrics are very soft ,good drape and slightly shiny, and not to0 heavy ( mainly around 11OZ).
Also visible were black denim  and color denim ( by  companies like Raymond UCO).
Prices of the denim fabrics were not a secret anymore, some of the Asian producers use it as an advertising picture!!
The heavy washes disappeared ,,, back to the dark and only rinsed washes.
There is a growth of 30% visible in the Asian denim market, but the European market is down for 20% as people are saying..May not be exact figures but indicative of the trends.
Some other denim fabric types/finishes noted :New faded organic wool/cotton blends/ natural dyes/ waxy cottons Black magic/ glossy techniques/ rubber coating/ perfect bi stretch…….
This is a guest post by Rik Vanniewenborgh who has over 30 years experience in Denim Industry. He has worked over 25 years in the VF Corporation (Belgium) in various capacities (including quality control)and has travelled over around the world living and breathing denim. This post is from his recent visit to the Texworld Fair at Paris..