How did some of the top retailers  selling denim perform in 2013 ?
We have, in this report tried to bring out the financial results from some of the large retailers worldwide who are selling a good number of jeans. Of course this list does not include all of those whom we wanted to include, neither it shows the figures pertaining to only denim segment of these companies. The figures give consolidated view of the six companies – H &M, Gap, Levi's , Fast Retailing , VF, Fast Retailing (Uniqlo)  and Guess and gives an idea on their growth movements in 2013 .
In the table  and graphs below below, the consolidated figures from these brands are given. in terms of their sales in 2013 and 2012, their % growth in sales and income and also the number of stores in 2013. Though the retailers cannot be compared on the basis of these parameters alone as each has its own strategic focus, distribution strategy, market penetration priority  bunch of products , we  are still inclined to put them together for an analysis . Sales and income figures for H&M and Fast Retailing and converted to US$ from SEK and Yen figures.
Financials of Top Denim Retailers in 2013 vs 2012
Brand Name
Net Sales in 2012
Net Sales in 2013
Sales growth %
Profit 
2012
Profit
2013
Profit growth %
No. of Stores

H&M

18,500

19,689

6.43

2,583

2,626

1.66

3,132

Gap

15,651

16,148

3.18

1,135

1,280

12.78

3,539

V&F

10,879

11,400

4.79

1,085

1,210

11.52

1,100

Fast Retailing

9,104

11,213

23.17

702

885

26.07

2,449

Levis

4,610

4,682

1.56

144

229

59.03

2,800

Guess

2,688

2,658

-1.12

265

178

-32.83

1,690
Note : 1.All sales and income figures are in Million US$
            2.1 usd = 6.59 sek considered for H&M sales figures
            3.1 usd =102 yen considered for Fast Retailing figures
As we can see from above, H&M tops the chart out of the above mentioned retailers.  GAP, VF and Fast Retailing follow .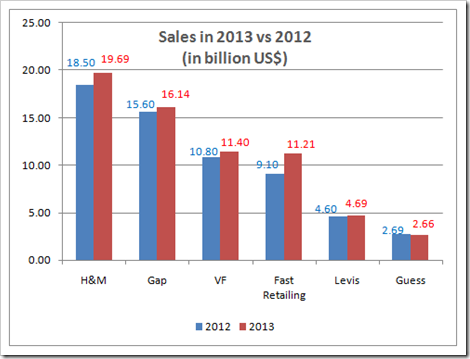 What is interesting to see that the highest growth is achieved by Fast retailing – over 23% – while even H&M has a growth figures of over 6% on its large base.  Guess came out to be the only company to have shown a negative growth figure. . A large part of growth for the retailers came from push and entry into non-conventional markets of Asia, Middle East and South America. Some retailers like H&M also experienced decent growth in US where they opened a large number of new stores.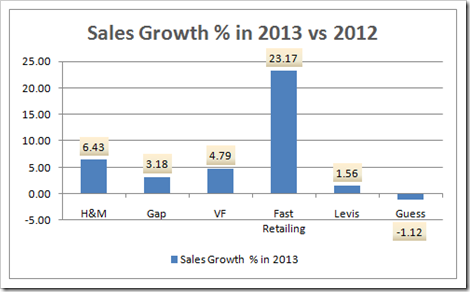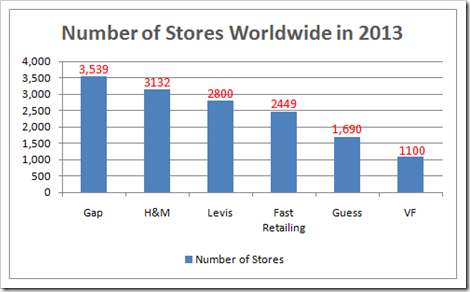 We can also have a look at the number of direct stores operated by each company. Though this number is not directly indicative of strength of market penetration of a company as (eg in case of VF) large part of sales can also occur through other retailers and shops , it still shows how a company is growing.
Some notes on each retailer/brand
Gap
Hungary, Peru,Brazil, Costa Rica and Paraguay are the markets Gap entered in 2013.China is home to more than 80 Gap specialty and outlet stores after just over three years. expanding into Taiwan this spring. 3,539 Company-operated and franchise store locations.opened 190 Company operated stores Opened an additional 17 Old Navy stores in Japan for a total of 18 stores.
Online sales for fiscal 2013 increased 21 percent to $2.3 billion compared with $1.9 billion for fiscal 2012 and grew 2 percentage points, as a percentage of total net sales, to 14 percent compared with 12 percent for fiscal
2012.
Guess
In fiscal 2013, together with their partners,  opened  226 new stores worldwide, consisting of 98 stores in Europe and the Middle East, 80 stores in Asia, 33 stores in the U.S. and Canada and 15 stores in Central and South America. They also closed 121 stores worldwide, consisting of 63 stores in Europe and the Middle East, 33 stores in Asia and 25 stores in the U.S. and Canada. Net increase in stores comes highest in Asia. In fiscal 2013,also acquired 26 stores from one of their  European licensees.
Fast retailing
Consolidated net sales rose 23.1% year on year to ¥1.14 trillion. The ¥214.3 billion increase in sales breaks down into ¥98.0 billion from UNIQLO International, ¥63.2 billion from UNIQLO Japan, and ¥53.2 billion from Global Brands. Global Brands in fiscal 2013 included: GU, Theory, Comptoir des Cotonniers, Princesse tam.tam and J Brand. Global Brands reported large gains in sales and income. Sales expanded 34.8% to ¥206.2 billion and operating income rose 20.1% to ¥17.4 billion
H&M
The Group opened 399 (339) stores and closed 43 (35) stores during the financial year, i.e. a net increase of 356 (304) new stores. In the fourth quarter, 184 (158) stores opened and 16 (11) stores closed. The total number of stores in the Group as per 30 November 2013 thus amounted to 3,132 (2,776) of which 2,936 were H&M stores, 85 COS stores, 79 Monki stores, 21 Weekday stores, 8 & Other Stories stores and 3 Cheap Monday stores. 110 of the Group's stores were franchise stores. H&M's growth target remains intact. The growth target is to increase the number of stores by 10-15 percent per year with continued high profitability, while at the same time increasing sales in comparable units. For full-year 2014 a net addition of around 375 new stores is planned. Most new stores in 2014 are planned to open in China and the US. There are also still great opportunities for expansion in markets such as Russia, Germany, Italy and Poland. Five new countries were added: Chile, Estonia, Lithuania and Serbia and via franchise, Indonesia.. (Figures in brackets are for 2012).
VF
VF Produces about 500 million units of apparel and footwear every year — about 1.3 million a day — and that number is growing. With over  $11 billion in annual revenues and over 300 dynamic lifestyle brands and approximately 57,000 associates working in locations across the globe their brands are sold in more than 150 countries through 47,000 retailers in all channels of distribution, from mass to department to specialty retailers. In addition,  own and operate more than 1,100 retail stores. The group had brought in a small figure of $215 million in online sales in 2012.