An annual report detailing emerging retail markets recently put India at the top of the list, beating out China for the first time. India's expanding economy, booming consumption rates and growing middle class all make it an especially attractive prospect for retailers, the report explained. As retailers struggle in the U.S.and UK , a new report suggests India could be the next bright spot for the industry.
A.T. Kearney's annual look at emerging retail markets puts the country at the top of the list, ahead of China, which has been a longtime index leader. The report gauges the best opportunities for retail investments globally and ranks the top 30 developing countries based on the firm's findings for market attractiveness. Population, GDP per capita, national retail sales and country risk are a few factors taken into consideration.In this year's "Age of Focus" report, Asia houses five of the top 10 countries, including India and now second-place China.
India's expanding economy, coupled with booming consumption rates, urbanizing population and growing middle class, are what moved the country to the top spot, A.T. Kearney explained. Luxury brands such as Armani Exchange, Kate Spade, Cole Haan and Muji all entered the Indian market in 2016.
Meanwhile, China fell on 2017's list as its market is maturing and GDP growth has lagged, but the country's size and e-commerce opportunity remain strong, the consulting firm went on.
Top 5 countries for global retail development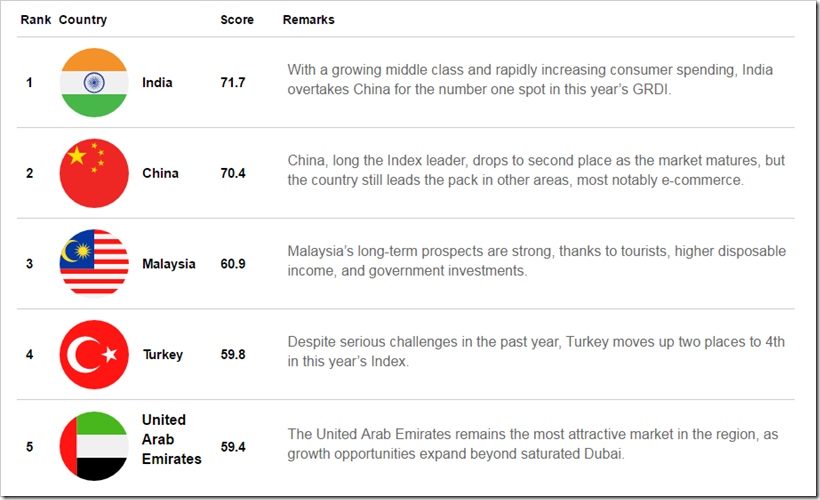 Source: A.T. Kearney
This confidence by AT Kearney in India's retail, specially fashion retail, is reflected by the steps taken by  various global brands , including denim guys, who seek to further their footprint in the country.
LEVI STRAUSS & CO.
Levi Strauss & Co. has its eye on India. On a recent visit to the country, LS&Co. CEO Chip Bergh discussed the company's plans to grow the business here, open  Levi's® stores and launch an e-commerce platform. Although India currently commands a relatively small slice of the LS&Co. business, the country's large population means there is massive untapped market potential. The country's growing middle class and robust economy make it an increasingly attractive market for retailers.
"One of the company's growth strategies is to expand into countries like India," Chip said in an interview. "Our business could be twice the size of what it is now in the next five years. Investments in e-commerce and retail will help us do that."
Although denim remains a core part of the business, Chip said another global growth opportunity for the company lies in growing its tops and women's businesses. In the second quarter of this year, LS&Co.'s global women's and tops businesses grew 24 percent and 39 percent, respectively, and there is still a lot of opportunity for even more organic growth by expanding our reach in key markets like India. Although the Levi's® brand has room to grow, it already enjoys a strong presence in India. Recently, the Levis® India marketing team teamed up with eight strong women across the country – influencers with diverse backgrounds but a common message of empowerment – for the successful #IShapeMyWorld campaign. And LS&Co. isn't the only company feeling the lure of India these days.
LEE COOPER
The British Retailer – LEE COOPER has also announced their expansion plans for India recently . Their total sales turnover in India in FY16-17 was Rs 500 crore or about USD 80 million. Hetal Kotak , CEO Future Lifestyles Fashions (Lee Cooper and aLL) says in an interview that – "Our brand has a shop-in-shop presence of more than 1,200 doors and has initiated a pilot of EBOs in smaller towns over the past one year. Their total retail space – including EBOs and SISs is 3,00,000 sq. ft in India and their same store sales growth rate is at a healthy 50 per cent.
"We believe that the fashion aspiration in Tier II & III towns is continuously growing and is moving closer to acceptability levels of a metro. The youth in these towns aspire to have international brands in their wardrobe. Hence, to cater to the needs of our customers, we have recently strengthened our presence on various online portals like Jabong, Myntra, Amozon and Flipkart to cater to areas where we do not have brick-and-motor stores," explains Kotak.
The recent development in Indian Apparel Market has been very encouraging and attracting major international retailers to India . The International Retailers have also kept a very close eye on this and many of them have  already entered   the market as well . Approx. 50 International retailers will open 3000 stores in India in this year , as reported by Economic Times a month ago . The new entrants including H&M , Massimo Dutti etc are breaking records in terms of Sales . The Swedish Apparel Retailer – H&M has sold worth USD 75 Million in its first year with only   10  stores . The retailer has announced to open more than 50 stores in this year under their expansion plans . Other existing retailers like Zara , Gap , Adidas have been making good mark up over their sales over the years . You can check some recent developments about Indian Apparel Retail Market on this page here .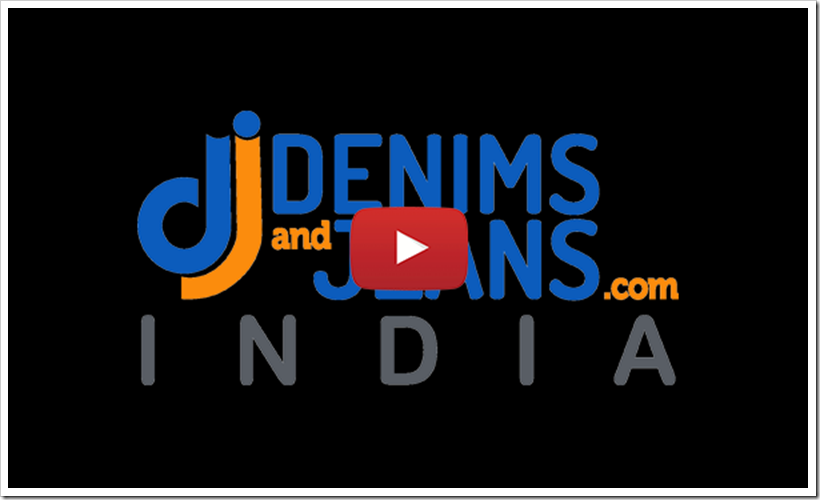 ---