Cotton Inc. conducts surveys on usage of various apparel items in different countries and regions around the world. These surveys include details on consumption trends, patterns, likings , demand etc for different apparel products including denim.
In a recent survey on Italian apparel consumption (including denim)  , Cotton Inc came out with some interesting findings:
A majority of Italian consumers say that they love or enjoy wearing denim. As can be seen in the image below, denim is much more popular in the age group 15-34

Italian consumers report owning about 13 denim garments , younger ones have 15 while older ones have 11 .
The wardrobe of Italian consumers is very diverse  as they dedicate less part of their wardrobe to jeans and more to other garments . Shirts /shorts and jackets are some of the other popular apparel items in Denim.
Purchase Drivers –The most imp purchase driver for Italian consumers has been "Quality". Other factors like fiber content (96%) , price (95%) , performance features etc come next. Even in tough economic times, 73% of Italian consumers say they would be willing to pay more for a better-quality garment, and eight out of 10 Italian consumers are willing to pay a premium for natural fibers, like cotton.
It is interesting to see that "Environmental Friendliness" coming at 5th level and "Brand Name" – much lower in the list of purchase drivers.
It is also interesting to see where the Italians buy their apparels from .
Unlike other developed markets, department stores and hyper markets are not as popular as Boutique Independent and Speciality shops. Though the share of independent shops has been going down in the last 4 years, but still they hold the major share of the Italian apparel market. Speciality stores are on the rise as can be seen in the chart below.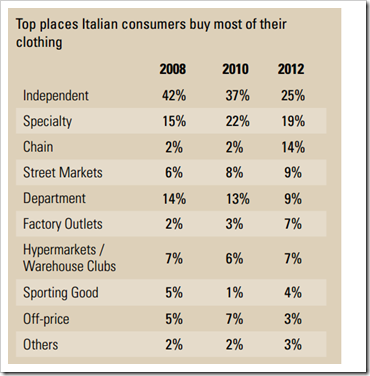 About the Survey
This issue is part of a special series of Supply Chain Insights reporting results from the Global lifestyle Monitor survey, a biennial consumer research study sponsored by Cotton Council International and Cotton Incorporated. In the 2012 survey, 5,000 consumers (approximately 500 in each of the 10 countries surveyed) were surveyed via telephone, face to-face interviews, and online. Respondents were male and female, aged 15 to 54.