China has been ruling the manufacturing industry for the last more than 2 decades on the basis of its economies of efficiency, lower labor costs and huge supply of manpower and of course right policies of the govt. However, much of this is likely to change in the coming future as demographic change take place in China . A recent WSJ report shows how the demographic dividend might turn into a drag on the economy and actually make it difficult for many international companies to remain cost effective in their productions.
Looking at the history of Chinese Denim Market ,Thirty years ago , denim giant Levi Strauss & Co. began producing its iconic jeans in China , eager to tap a evidently endless lot of workers willing to work for few cents an hour which now apparently is starting to vanish. Believing on the economic statistics and market research , over the coming decades , a labor crisis like situation may evolve which will force Levi and other global brands to reconsider their operation in China or even lead to a situation of pack and leave.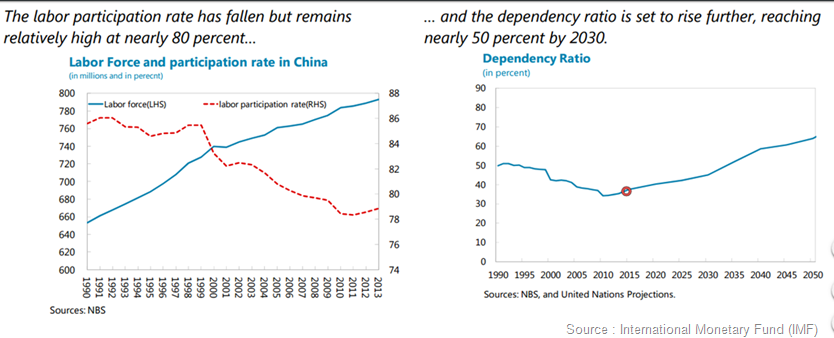 Recent developments in the Chinese labor market apparently pointing towards a much bigger crisis for which proactive measures needed to be taken and that too within reasonable time frame. The report mentions about  manufacturing units have already started using alternatives and the recent example is an apparel factory in Zhongshan , where lasers are replacing dozens of workers who scrub Levi's blue jeans with sandpaper to give them the worn look that American consumers find stylish. New Digital printers are being introduced to make intricate patterns on jeans , earlier the workers used to do the same with a mesh screen.
China is also trying its bit to ensure the adequate supply of workforce for the future and therefore announced the abolishment of its one of the old policy which restrict most couples to one child. However , it won't be able to change much as very few Chinese prefer to have more than one child.

The end of very cheap labor in China is giving a push to many advances in technology resulting of which it will put more emphasis on capital intensive rather than labor intensive techniques of manufacturing but this will make China apparently less central to global manufacturing. But changing consumer tastes—enabled by the same technological change—are diminishing China's role too.Logistics, taxes and marketing may become more expensive compared to labor costs which could make China less attractive.
Levis began production overseas in Hong Kong in 1966 and later on expanded its production also in Mexico ,Europe and Asia. During the early 1980s, demand for jeans declined, and the San Francisco company laid off a third of its global workforce, according to a Harvard Business School study, and moved more aggressively overseas to cut costs.
In 1986, Levi started to shift its production to China. China's rise to the world's No. 2 economy relied on a huge increase in the country's working-age population, which expanded by 380 million people between 1980 and 2015. In one of history's greatest migrations, hundreds of millions of rural Chinese headed for cities for manufacturing jobs that were a step up from peasant labor, even though the work paid poorly by global standards.
But China's working-age population recently peaked, and its so-called demographic dividend has started to turn into a demographic drag. By 2050, the working-age population will decline by 212 million, estimates the United Nations—roughly as many people as live in Brazil, the world's fifth most-populous nation.

Wages and benefits have already been rising in double-digit percentages for the past decade as workers can command higher rates. Although wage growth may ease this year because of the economic slowdown, the pressure is bound to increase in coming decades as the number of workers plunges.Adding to the shortage, many factory workers will be drawn back to their hometowns to take care of the growing ranks of Chinese older than 60, whose share of the population is forecast to double by 2050 from 2015, to 36.5%. Already, China's rising labor costs—now $14.60 an hour on China's coast, adjusted for productivity, compared with $22.68 an hour in the U.S., according to the Boston Consulting Group—have diminished China's competitiveness. Adding energy costs, China is now a more expensive place to manufacture than Indonesia, Thailand, Mexico and India .
None of this means brands like Levi is going to abruptly pull up stakes. Levi still lists about 200 Chinese factories where it does business, five times as many as any other country. Levi is adapting its laser technology so it can etch different patterns to create the right wash look , avoiding usage of too many workers.  Levis is however, using this and many other techniques to bring down its costs . These also include reducing the number of fabrics used in a line and cutting the number of suppliers. It is said to have reduced number of fabrics by 40% in last 3 years and number of suppliers by 50%. But automation is the key which China is going to target. It is already expected to be the largest automation market in the coming years.
China's loss is becoming gain for many countries including Mexico, Bangladesh, Vietnam and others where the Chinese cake is now spreading out. Factories in Mexico seem to be upgrading productions to take the advantage of new situation and are modernizing and investing.
Still , we need to wait and see how the Chinese govt. aims to handle the demographic changes. However, its unlikely that sectors like apparel will remain lucrative for long as the govt. focuses on hi-tech sectors to get better growth with existing population.