Sri Lanka is an important  apparel manufacturing and export center in South Asia . The nation has been exporting quality garments to major markets like US and EU over the last few decades. However, over the years, the apparel exports have reduced – while in 2000 the apparel exports were about 49% of total exports of Sri Lanka, in 2011 , the figure dropped to 38%.
Also, the last 2 years have not been very good for Sri lanka . On the one hand it lost the GSP+ facility to EU due to disagreement over certain clauses and as a result lost over $ 1 billion (estimated)  in exports, , its exports to US have also dropped. When we look at the exports of denim apparel, the scenario has worsened in 2012  with a fall of over 34% . Lets look at the chart below :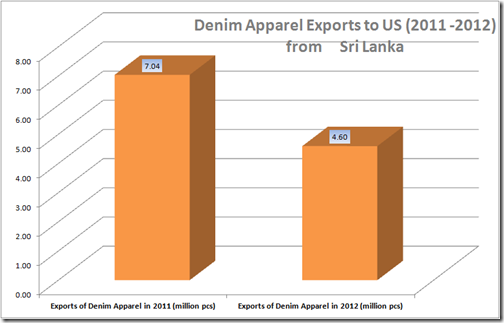 In a single year 2012 , as compared to 2011, the exports of denim apparel to US fell about 34% . While a number of reasons have been attributed for the same – including rising labour costs and economic situation in US , the exact reasons are still to be explored. If we look at the average prices, it is surprising to see that the same to have fallen by about 5 % .
The average prices for these years were :
2011- $8.47
2012 – $8.07
In a following article , we will explore the causes of this fall in Sri Lankan denim exports and what are suggestions from Industry leaders. Do send us your comments regarding the same if you wish to…