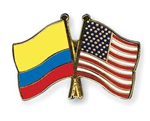 More than 80% of U.S. exports of consumer and industrial products to Colombia become duty-free as part of the U.S. – Colombia Trade Promotion Agreement which came into force on May 15,2012. This includes agricultural and construction equipment, building products, aircraft and parts, fertilizers,textiles, information technology equipment, medical scientific equipment, and wood. The United States remains the largest supplier to the Colombian market, with Colombian imports from the U.S. in 2011 totaling $13.7 billion, or one-quarter of Colombia's imports.
Other top Colombian import markets include China, Mexico and Brazil. The U.S. is the largest market for Colombia's exports, representing nearly 40 percent of the Colombian export market.
Between 2001 and 2011 U.S. goods exports to Colombia quadrupled, growing from $3.6 billion in 2001 to $14.3 billion in 2011. U.S. goods exports in 2011 were 19 percent higher than the previous year.  
Colombia has grown from being the 33rd largest market for U.S. goods exports in 1991 to become the 22nd largest market in 2011.
Manufactured goods represented 92 percent of U.S. goods exports to Colombia in 2011. 
Increasing exports to Colombia has benefits at the local level as well as the national. In 2011, more than half of U.S. States (26 total) reported merchandise export shipments to Colombia above $75 million.
In 2011, the largest state exporters of merchandise to Colombia included Texas ($5.1 billion), Florida ($2.8 billion), Louisiana ($894 million), California ($534 million) and Illinois ($454 million).
Impact On Textiles Trade
Lets see how this act would impact the trade of textiles between the two countries. Many of Colombia's textile and apparel inputs, including fibers, yarns, and fabrics, are purchased from U.S. suppliers. Until the entry into force of the U.S.-Colombia Trade Promotion Agreement (TPA), these inputs have been subject to duties of up to 20 percent, with the exception of inputs used in apparel qualifying for trade preferences under the  Andean Trade Promotion and Drug Eradication Act(ATPDEA). The Andean Trade Preference Act (ATPA) was enacted in December 1991, to help four Andean countries (Bolivia, Colombia, Ecuador, and Peru) in their fight against drug production and trafficking by expanding their economic alternatives.
With the TPA in place, tariffs will be eliminated, reducing costs, and providing greater incentive for Colombian firms to buy U.S. fibers, yarns, and fabrics and for U.S. firms to invest in Colombia.  It's a win-win for both the U.S. and Colombian textile and apparel industries.
In addition to duty-free benefits, the TPA contains several important flexibilities and protections to make sure that the U.S. industry is not harmed by the flow of imports from Colombia. For example, the TPA contains a textile-specific safeguard mechanism that allows most favoured nation (MFN) tariffs to be temporarily re-imposed if a surge in duty-free imports from Colombia is shown to be causing or threatening to cause serious damage to domestic industry. The TPA also includes specific customs cooperation language for enforcing measures affecting trade in textile and apparel goods to help prevent the circumvention of the agreement's rules on the origin of inputs and finishing processes.
Current Status of Denim Trade And Likely Impact
What is the status of export of  denim apparels from Colombia to US since 2008 to now ie March 2012…. ? What are the quantities , values and prices of such exports ?
Is this trade showing an uptrend ?
Lets have a look a the table below :
| | | | |
| --- | --- | --- | --- |
| Year | Qantity (million pcs) | Value(Million USD) | Av. Price (USD/pc) |
| 2008 | 7.80 | 75.38 | 9.66 |
| 2009 | 5.07 | 51.34 | 10.12 |
| 2010 | 6.69 | 73.72 | 11.01 |
| 2011 | 3.24 | 40.14 | 12.38 |
| 2011 (Jan-April) | 1.04 | 12.46 | 11.96 |
| 2012(Jan-April) | 1.03 | 12.23 | 11.82 |
The exports of denim apparel from Colombia to US have consistently decreased over the period of 4 years. The reasons are varied including the current economic situation in the US. However,  lately there have been efforts by some retailers to shift the sourcing to South / Central America given the increasing costs of production in China. This has already given fillip to near sourcing and this is also going to help increase the trade between US and Columbia .
Sponsored Link:
Fall/Winter Denim Collections '13/14 (video)