What are the factors that influence the purchase decision of a consumer when he/she is buying denim jeans?  Is it the quality or the fit or the  color, wash, fabric, price, feel etc which influence  the decision of a man or woman when he is in a store selecting jeans..
While we know that all of these factors in some measure affect the purchase decision , but which factors are more important compared to other factors?
Cotton Inc USA did an annual survey  of US consumers in 2011 to work out a report on the factors affecting the purchase of denim by Men and Women. Here
What factors are important for women to purchase denim jeans in USA?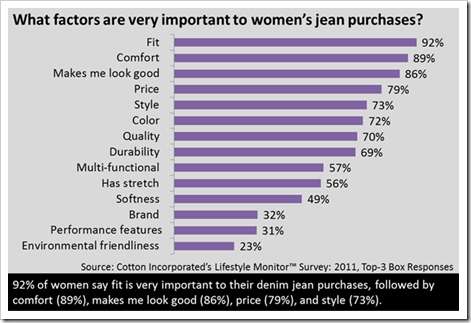 As we can see from the results of   Cotton Inc survey in US ,for women FIT IS THE MOST IMP. Attribute.  Over 92% feel that fit is very important to their jeans purchase decision. Comfort comes second  and -though very important – falls behind the fit . Other important factors are 'Makes me look good' (of course ! ) , price , style etc..
Stretchability as a factor which is showing low in the rankings seems strange because women jeans are almost 80%+ stretch. However, the biggest loser is the ENVIRONMENTAL FRIENDLINESS factor – which comes in the last and does not seem to be very  important for the women in US while purchasing denim.. Environmental consciousness is actually conspicuous by its absence in most of the markets around the world where the buyers are not really aware of the actual damage that jeans production is causing. However, I am sure the importance of this factor is increasing slowly everyday and in the near future this factor coming up . Already initiatives like Organic Cotton, BCI and others are gaining in strength and harmful production processes like sandblasting are being controlled to some extent and water saving in jeans manufacturing encouraged. However, at consumer level, the awareness is still very low.
What factors are important for men to purchase denim jeans in USA?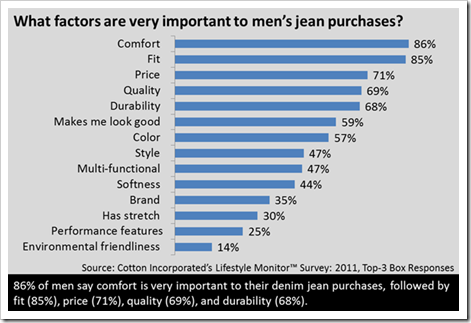 Men are most concerned with comfort with FIT coming close second. And of course they are more concerned about price than women !!  For them multi functionality of denim is not as important (compared to women) – seem happy if the jeans performs its normal function of feeling comfortable. Brand consciousness is more than women while stretchability is not really very important. Last , but not least , their environmental consciousness is much below that of women (kudos to women !! )…
Finally , the message for the denim brands – if you have great FITS , the consumers may ignore other factors to some extent. !!!