Enrique Silla is the founder of globally known technology company Jeanologia. He is considered one of the world authorities in the Science of Finishing and has contributed significantly towards growth of sustainable principles in global apparel industry. Sandeep Agarwal spoke to him on Instagram to know from him about what he feels about the impact of current crisis on the industry. He shared his views during the IG Live talk with Sandeep Agarwal during our #Covidtimes series. We reproduce the talk below
Sandeep:
Hi Enrique, How are you ?
Enrique:
Everything is okay, It is a pleasure to be with all of you.
Sandeep:
Thank you and it's my pleasure and honor that you are joining us. So welcome again and first of all our wishes to everybody in Spain. Things are getting better now, and we hope everybody in your company, friends and family are okay. 
Enrique:
Yes, everybody is okay till now in my family and Jeanologia family. We are living a terrible time around the world , but so far we are all good.We hope that your family and everybody's family joining this conference is okay.
Sandeep:
Yes, we are pretty okay here and I hope everybody who has joined us is also okay. So, I believe that Spain is now in the process of coming back to normal in a few weeks. The peak is over and normal situations can be seen now. Can we hope for that?
Enrique:
As you know COVID 19 has hit very strongly in Europe, especially in Italy and Spain.We have seen 17k deaths in Spain and we can't say we are going back to normal. Most of the people are still at home. Our company Jeanologia has been nominated as an essential company by our government against COVID –19 but non-essential companies will come back to work tomorrow.
Many activities like concert, restaurant, hotels will be closed at least till July . We don't know yet as we are not told by the government, but  if we follow what is happening in China , they have started going back to normality but probably it will take them 3-4 months to come back to normal life. Europe and the USA are in the middle and after this comes countries like India, Bangladesh, Pakistan. I guess the shops will not open till June. Spanish companies are providing masks and other equipment which is a good thing to protect from the crisis.Advanced companies have already started understanding the short term effect and creating a vision of what is going to be the future.Most of the companies are in phase 2 where we have to protect each other and keep alive.I think most of them will go in phase 3 that is trying to mug in the future.
Sandeep:
So, I saw some information on your company playing a very big and important role in terms of helping the government, in treating sanitization,preparing masks and other equipment.So can you tell me a little about how it works and what you are doing?
Enrique:
This is a beautiful history and we are so proud in Jeanologia.You know our company has been named ,as I mentioned before , as an essential company by the government of Spain in the fight against COVID-19. What is happening is that most of the hospitals around the world are not having the screen protected masks.These are the masks which the fire department and army used to protect their face , eyes . So together with Valencia Polytechnic University and school of engineering , and with collaboration of other makers Spain , masks has been designed. We follow protocol of sanitization to sanitized them before delivering to hospitals- so they contacted and Jeanologia have started manufacturing machines to wash jeans without using water.We have started in 2005 and we have 1000 equipment around the world that are today processing jeans without the usage of water and with zero emissions. But now we had 15 Jeanologia engineers working 24 hours a day for 4 days including software engineers, mechanical engineers , chemical engineers. We have been working to transform our denim washing machine in a sanitizing box that sanitizes the screen facial masks. We started the production 10 days ago . 
We are producing and sanitizing 15000 masks every day . We have already delivered 150,000 masks to the Spanish hospitals. This donation by the Jeanologia team will continue to help our country and our people and we are honored to do that. The main thing here is that we have built it in the modular system that means that only in 4 hours , we can transform the old 1000 G2 denim machines that are around the world , in a sanitizing box. Together with the team , we have developed a wide room campaign for the conversion into sanitizing boxes . 
So , now we are contacting our customers and explaining to them how to do it. We are also giving the instruction of how to build a mask to them . So , they can offer these to their communities and I think we will have a beautiful history and I invite all the people joining this conversation.We can globally make a contribution to the world in these difficult moments. So , this is what we are doing and it is a great initiative and I am so proud of all the Jeanologist that are working here. I invite all the industries to join this action.
Sandeep:
I think this is a great initiative and you deserve applause from all of our visitors and people who are here. It's an amazing thing what you're doing. Now in terms of as you mention the company's having a machine can convert it into a sanitizing box. So is it they need some extra hardware or software?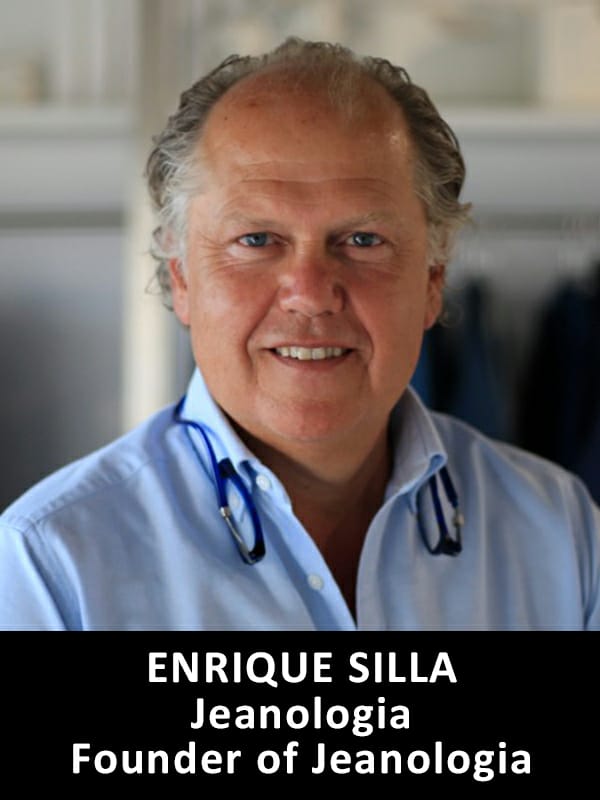 Enrique:
We need to connect with the software for 10 minutes. Then, we need to send them drawings of how they can stop or turn the drum and very important, we need to send them the protocols that are decided by the health authorities and are approved . But we have very strong experience because we are in production every day. So, in only one day they can be ready to serve their communities.
Sandeep:
That's really wonderful and amazing.Now in terms of the masks, what about the mask itself you know how let's say by just pain you're doing it but how can countries produce that mask? What is the protocol for that?
Enrique:
Well , there are 3 ways. One way is that we can send the ways of how to print a 3D printer, so if they can have 3D printers in their countries, they can do it. For eg companies in Spain , car companies etc are all using 3D printers.The second way to do it is through plastic injectors and by the plastic mold injectors company.We can also sell all the drawings and if they use plastic injectors in their company,they can do it. 
And the third, there are companies in Spain with winter production capacity of 80,000 a day that are ready to produce at a cost so they are ready to produce how to send this at a price of only 1 euro per mask which is their cost because their aim is to contribute to the world. So , we can help them to get the mask and the mask needs to be disinfected and sanitized in the countries because it's not that we are taking this back from the hospitals , its that sanitization and disinfection is the last step of the production process before arriving to the hospitals.Because then the doctors are going to use the mask during one month and they will clean it themselves every day.
Sandeep:
And are the masks packed afterward? Are they put into something or packed in some kind of way?
Enrique:
That is a complete protocol. We do not touch it and we pack them in the net into a machine. After that , we put it without touching it in a special box that is also thermoflossed. We are just following the protocols decided by the health communities. So, we are already training other people how to do it.
Sandeep:
That is really amazing, and I think if we somehow get all these people who have these machines to do the same what you are doing, that would be an amazing contribution to the community.
Enrique:
Yes and that is we hope after this conversation, I will share a small video with you in which you can be at Jeanologia  at 2 pm , we change the shift because we are producing in a safe environment. What is the ambient , what is the strong motivation that our people have in this critical moment . But, imagine the jeans community through this technology that is spread all around the world. 
We can make a contribution , but we want to tell you that we are not doing this donation in the name of Jeanologia but in the name of all the denim community, in the name of all the brands and in the name of all the manufacturers in the world. So, we are ready to help anyone who comes in contact with us. we are working every day, we have not stopped even one day . This was our first priority to help our nation, to help our hospitals and to save life. Now, we are all ready for our second priority and the second priority is to avoid the mistakes.
Sandeep:
In terms of protocol, since this is Spanish Government protocol. If we want to do the same thing in India, probably we also want to get approval here or how does it work ? Or this is WHO protocol or only Spanish Government protocol?
Enrique:
This is a protocol that has been defined by the Spanish Government but obviously we are talking about European governments that are in touch with European authorities and other countries also , will be having their own legislatures and rules .
But in Spain , which is having advanced sanitary system in the world, this is what we are doing and I think this is something every country must do according to their laws. What we can do and serve is our experience how to do it , how to follow the protocols , how to transform G2 denim machines into sanitization box. This is something we are ready with and we have a team of people prepared for that.
Sandeep:
That's wonderful! Now we come to our industry because that is one of the main points which we currently have in our mind. So what is really going to happen to our industry?  What do you see in the coming times? Right now we know that it is in a big disaster. Stores are closed, mills and factories are closed.What is the next step you see ? What is going to happen?
Enrique:
For sure we are going to suffer a lot. I anticipate that 50 % of the brands and retailers will disappear. This is our calculations. I anticipate that 50 % of the manufacturers will disappear and we will face a very strong, very strong consolidation. This means the survivors will be much stronger. But apart from that, I don't think that the business is going to change. What I think is we are going to face a tremendous acceleration of trends that were already there before COVID-19. So, what we were suspecting that is going to happen in 2005, 2010, now will happen in 2021 and 2022. 
There were 2 main trends that were there before COVID –19. The first one is Sustainability. Before COVID-19, sustainability means any toxic discharge to the ambient, to the water and atmosphere. Sustainability was an advanced manufacturing capability. From now on, Sustainability is a must. Now its not an advanced capability but a basic capability. Consumers will not buy again a product that has been manufactured without taking care of our rivers, our sea and our planet. 
Nobody will be loyal to a brand which is not respectful to our environment. So I anticipate that all these companies that are forced to close by the government, when they will open, they will never start again the scrapping lines, the potassium permanganate lines. This will never reopen again. If someone reopened that, he is crazy because consumers are not going to accept that. 
So, the way we manufacture jeans is already cost change and it will change, it will only be an acceleration. Everything needs to be sustainable now. The second thing is about digitization. It's about digitally designed, digital sourcing, it's about virtual design in 3D, it's about digital showrooms. these are already there but we need to accelerate because the losers after the COVID-19 will be the physical stores. Europe it is 10 % online, China is 20 % , but after this China will be 40-50 % online. We need to sell online and we need to completely change our operational models. We need to change the way we produce. So in Jeanologia, we have software named e-Designer where we 3D design and render the photographs. We have created a software that is called Digital Wash that gives you the formula how to produce. 
We are already working online with the main brands around the world by making tests  and working with them .The results are fantastic because we can create a collection without the physical garment and we can extract the process. It is in the initial stage but we have already launched a project last week with main brands and companies and we are working on that. No matter what we do , what people are doing , 3D design is the next thing. The third thing is that the way we sell is changed. The way we produce needs to be changed. So we are strong believers and this trend also there before COVID-19 .
The main problem in the market is now inventories. We anticipate that 10% of the production will come from the urban factories with automation to the USA and EUROPE. We anticipate that some countries will be winners like Turkey , Mexico , Portugal. 
We anticipate the new opportunities in the world. The USA and EUROPE sure will be the part of it but Bangladesh and Pakistan having big manufacturers will win . Working for it , we already launched a program on demand manufacturing . We really believed that COVID-19 had accelerated that. This was going to come slowly but now we strongly believe that these 3 main things are not about the product but it's about the way we manufacture the product. We believe that product is going to be more simple , more minimalist but the way we produce is the key. 
So now it's about how we produce and manufacture, it's going to be Sustainability , Digital Design and On Demand Manufacturing. These are the 3 keys for the trends and this is the acceleration of the trend which was there before COVID-19.
Sandeep:
Are we expecting this acceleration which was to be done over 10 years now will be done in 1 year due to COVID-19?
Enrique:
In 1 year or 2 , we are going to face a very strong economical crisis.But at the end of the day , it will balance the demand and the offer. The relationship between the brands, retailers and the manufacturers , it's not going to be a 10 year relationship. It's going to be a strategic partnership that you can see in the future. So, Yes I agree the acceleration which I defined was going to happen in 10 years which will now happen in 1 year but at a small scale because the market is going to shrink. There is too much to offer in terms of manufacturing capabilities and brands to consumers. So, this is going to re-balance everything. Consumer demands with brands and retailers with manufacturers, this will save the same to a much better industry. But , unfortunately it will be with a lot of suffering.
Sandeep:
So do you think we are looking at demand reduction by over 40% going ahead?
Enrique:
Let's see what is happening in China, according to the Chinese government from December. So, from December to April, that means 4 months, they have been closed. Then in April, they start slowly to open. I will say that in the first of May, all the stores will be open. But reality, if we speak to our customers in China, a lot of shops in China are reporting, they are around 35% down. So, it will take till December, to come back to normal levels. 
So, the first consumer needs to buy again. In New York as well, things will take till July to September to come back to normal. But after that also, if you go to a shop , your temperature will be measured before entering and then you are afraid to touch the garment and afraid of going to the try room because you don't know how many people have tried that before you. Some people will not buy because they feel afraid and uncomfortable. So, this is the problem and we are also working as a technology company to help the retailers and consumers to win trust in the product again. To tell them, when we open in June or July, they tell them not to be afraid as this product is safe for you. That is why, all the experience that we are gaining through sanitization or medical material, with experts from medical army , we are now going to use all this experience to help our industry. 
We need to make the consumer trust the product so that it is safe, and they can shop again. They need to be sure that this textile material cannot harm their health. This is the main thing and the short-term solution on which we all need to concentrate. There is no sense in opening the stores if no one is going to buy. And if no one is going to buy, then all the manufacturers and our customers will not have orders and if they are not going to have orders, we are not going to have orders. So, our first thing is to recover the trust of the consumer in the health and safety of textile pros. With this focus, we have a team of 15 engineers that are working in masks sanitization are now working in textile sanitization. All our innovation teams including 40 people are working on this project. We have invested a substantial amount also in this project because we think for us people on the planet is first, but the textile industry is in our heart. 
We think that in this moment, we should help the brands and retailers. Without them, there is no industry , therefore we need to put all our efforts.. Some people criticize and cancel all the orders, but we should think that stores are closed, and they might not open and we need to help them.
Sandeep:
Do you think it is possible to have at the retail level that there is some machine that can sanitize the product and give them again so that the consumer is assured that whatever he is touching is safe?
Enrique:
I still don't know what the model is because in their minds it seems simple but in reality, it is not so simple. As COVID-19 is a killer, so we need to be sure that whatever we do is 100% perfect. It is not about fast, now it's about fast and better because we are playing with the health of the people. So, I don't know if there is a system like that but believe me the one thing I learned from this experience is that a development project that normally in Jeanologia takes 6 months, we make in only 1 week. How is that possible? Just because our people are working 24 /7, they were highly motivated, they were focusing on only one thing. So, I learn that we can do things faster and better. So, our team is working and within a month, we will be having some answers and will be making some presentations.
Sandeep:
This is amazing because this team effort at this time with your inspiration and the feeling to help a community is so strong and your team is working so fast and so hard for this.
Enrique:
I know everybody is suffering and the economic disaster is everywhere. Everyone is trying to survive, but this time we need to not only protect our castle but also the spirit of humanity. For this, we need to do good things. It is the time of the companies who put the people and planet before profit. It is the time for collaboration of the companies and trusting our customers. We are at Mission zero right now and as a company we will refuse to work with the companies that will contaminate. It is the time to react all together.
Sandeep:
That is an amazing and a visionary statement to take a stand of this kind which you are taking.
Enrique:
One more thing I would like to mention, clothing is very important, but material is very important too and fabric is important as well. This is very important. It is going to be how we manufacture the fabric. It's not only for 4 months, I want to make sure that when I start in my factory, I should have the right fabric for manufacturing. The fabric is going to help the Mission zero to succeed. We need all the powerful minds together to work on this in the denim industry. We are working with G2 Dynamic and with collaboration with different companies to take the fabric finishing to another level.
Sandeep:
So now, one more aspect is the health and wellness of the product. So, when we are talking about fabric, do you think the basic character of the fabric also needs to change in terms of adding some features like antimicrobial and other treatments? So, do you think these kinds of treatments at the fabric level and the washing level should be increased for the health of the people?
Enrique:
As I told you before there are 2 things – short term and long term. In the short term, there is only one priority , recover the trust of consumers . If all these treatments help in recovering the trust of the consumer, they are welcome. Target is to recover the consumer. 
Don't think about yourself, or what you are doing, think about the final consumer, what they need. Number 1 , they need to feel safe and number 2 , they need to make sure they use the product from the machine which is safely producing them .In the jeans community , we want to be the first industry to tell the world that we are 100% mission zero with zero emissions.
Sandeep:
The issue I see here is that companies are already financially weak due to this crisis whether they have funds to invest for sustainability or not because this has always been the issue why sustainability was taken properly earlier ?
Enrique:
The moment is perfect because the company who was producing 40000 jeans per day will now reduce to only 10000 per day. So , you don't need to do anything to reduce pollution you just need to start on a small scale. 
If you want to re-start your business the same way as it was before COVID-19, there is no way that can happen and it's not realistic. You need to invest in the private investors, consolidate to be competent in the market. 400 denim mills in the world is not sustainable. The biggest manufacturer , Crystal , is not even producing 1 % of the jeans consumed in the world. Big brands like Levis, is not producing more than 4-5 %. So, this is not consolidation. We have to start as small, and then we have to grow from there but do it in the right way. Now we need to gain the consumer's trust through sanitization and through sustainability.
Sandeep:
The apparel and textile will be high tech as compared to the present scenario.
Enrique:
Yes , absolutely . The first thing we can see in the future is no 12-month planning or a 6 month planning. It's all about on demand engineering, about quality, sustainability.
Sandeep:
So it is a refined form of fast fashion where the weaker parts of it are removed and we are looking at fast creation of products with good quality and sustainability.
Enrique:
YEs, it's about reacting fast to a consumer trend and on demand manufacturing is about producing rather than selling. But occurring fashion is about understanding what the customer buys before they buy. But this is the long term but now we have to concentrate on the short term.
Sandeep:
So before we finish , let us take a few questions from our Instagram viewers. First one is "What is your idea of laundry business?"
Enrique:
Stop the discharge, the potassium permanganate, a combination of technology , in a complete way , try to connect to new technology.
Sandeep:
The next question is from Grandtex, "How Jeanologia is taking the part of the circularity denim forward?"
Enrique:
If we define circularity in denim, we need to think first that 15 % of the products from the manufacturers are never sold, never go to anybody's wardrobe. So, the first thing to remove this is on demand manufacturing. Then upcycling and recycling is very important. As a technology company, we are working on how can we help sanitization to process like , upcycling , recycling , design garments that can be recycled in a simple way.
This is not a big problem with cotton because it is biodegradable, but polyester is something that is killing our planet. We are trying to work on that. First we will stop emission and second, we will re – use. But if we will still make the things which nobody wears , then it makes no sense.
Sandeep:
We all really got the point and first of all I would really like to thank you for all this initiative that you have taken for helping the global community in terms of this crisis. Making your contributions to keep people safe and secure the future. That is an amazing contribution by you and your Jeanologia family. So, we thank you to all the large no of people who were a part of this conversation. Thank You once again and it's been a great pleasure.
Enrique:
Thank you and please don't forget that we at Jeanologia, we are doing this not in our name but in the name of all our customers and all the people in the denim community. Thank you all of you.