WINDOW DISPLAYS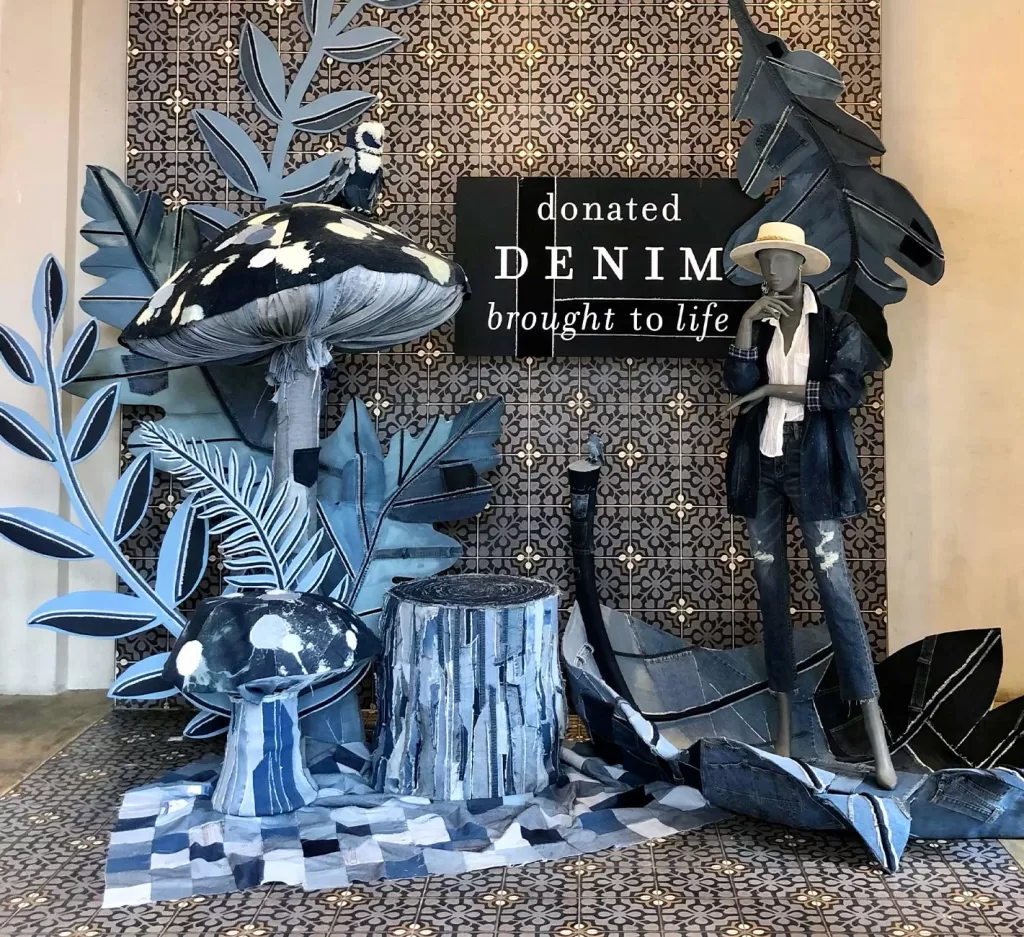 American Clothing Retailer Anthropologie announced the release of Pilcro, a new inclusive-sizing denim collection. With one foot in the historical roots of denim production and the other in the future of planet-friendlier production methods, Pilcro offers style with a story. To exhibit their initiative, the brand devised window displays on their selected storefronts titled "Indigo Wonderland," which invites people to step outside of their day-to-day chores and dive into a whimsical denim dreamscape. Select storefronts of the brand are all set to incorporate surreal, storybook-inspired elements into their facades including think larger-than-life toadstools, sweet-singing songbirds, and fabulous foxes.
This time the artists crafted their sculptural props of the window from community-sourced upcycled denim. Anthropologie's Display Director Erika Lavinia told that their team took an autumnal idea and paired it with the notion that they could highlight Pilcro's sustainability efforts. To accomplish this intention, invitations were sent to their staff and community to participate in the displays by donating used denim. These denim pieces were later used to create the elements of the forest.
"Indigo Wonderland is based on the idea that the forest is composed of all these elements of nature, the flora and the fauna all working together. That's when you get the beauty of something like a medley, or a symphony: The wind rustling through the leaves, the birds chirping, the squirrels running through. It's all about the harmony that results." said Anthropologie Display Director Erika Lavinia
One could easily see the seams, the pockets, the details that come from the original life of the denim itself in the upcycled one. The assortment highlighted the materiality of authentic, high-quality denim while emphasizing the planet-friendlier practices at the root of their newest Pilcro pairs. With a community-focused approach and an eco-conscious ethos at its core, the window transformations were unlike any other that the world has seen. The brand also invited its customers to engage with the folkloric fabrications themselves at its interactive installations in Chicago, Nashville, Devon Yard, Rockefeller Center, Newport Beach, and Chelsea Market shops.
THE PILCRO DENIM COLLECTION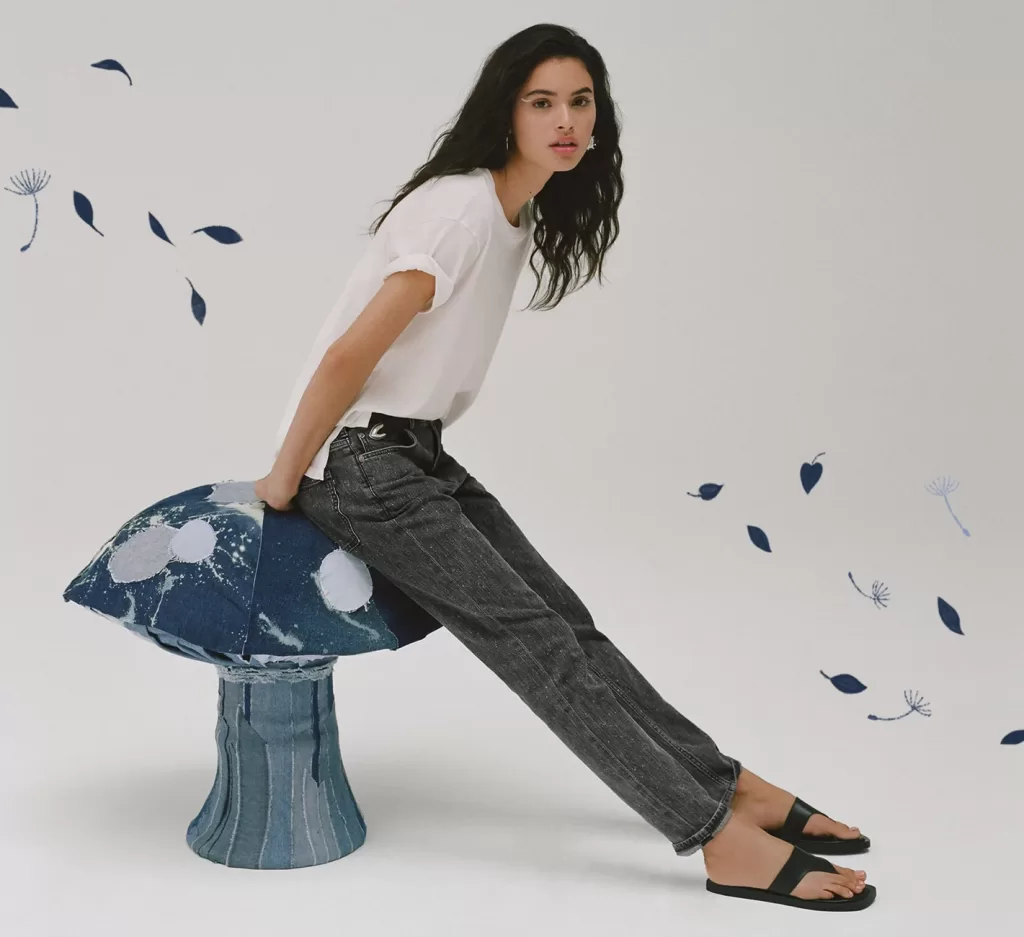 The new only-at-Anthro collection from Pilcro features premium-quality denim crafted using more sustainable practices and materials, and the brand being thrilled to turn this cleaner, greener page. The brand strives to approach denim in its traditional manner, so it's rooted in authentic, historical indigo. It starts most of the design processes looking around the world for garments from the last 200 years. Anthropologie aims to translate beautiful vintage garments that wildly beat up from the 1950s into something that still has the soul but with Pilcro's hallmarks of femininity.
"While there's no such thing as perfection, our philosophy is to try to let sustainable principles inform each little decision throughout the day. The key for us is to try everything and always be open." Said Anthropologie's Senior Designer Nick Hathaway who surveyed vintage garments to find inspiration for the new Pilcro collection.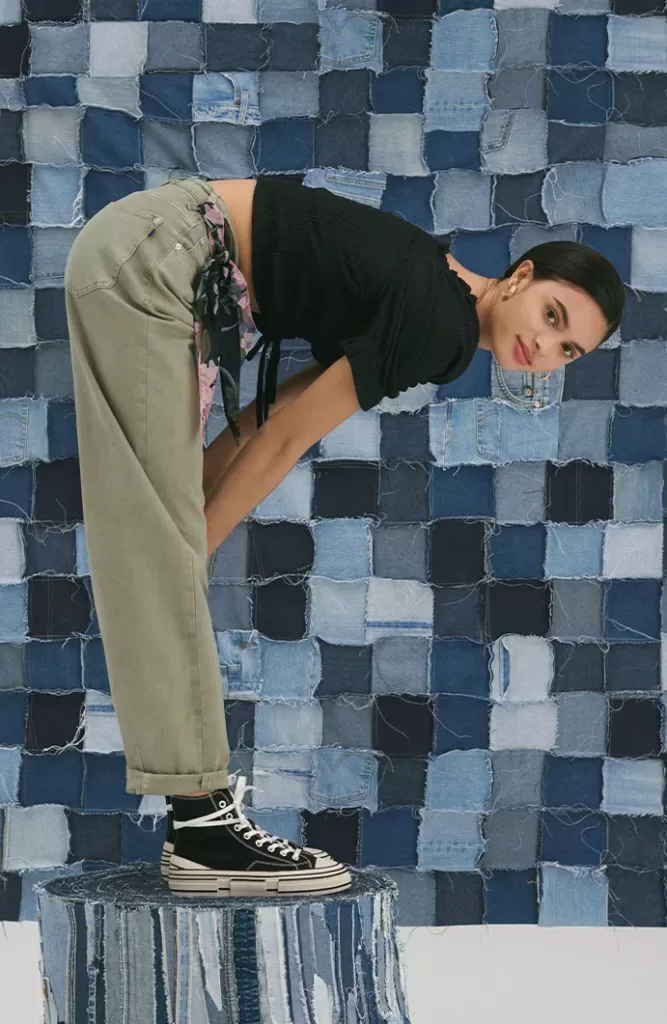 Denim for Pilcro gets sourced from several mills. Among them are sustainability-minded Candiani in Italy and Orta Anadolu in Turkey. The production process for Pilcro uses either non-toxic or water-saving indigo-dying technology. Hathaway told that he is also a washing specialist. Hence, all of their denim washes are created on their canvas, and with their favorite factories, developing something truly unique.
Beyond fabric and dye, however, Pilcro also points out the metal hardware on the garments and showcases another sustainability practice centering on metal. According to Hathway, electroplating hardware is typically a highly caustic and hugely detrimental process to the environment. It uses a lot of water, and it's highly chemical-laden, so the runoff or the excess of that water can enter local ecosystems. To prevent this harm caused to the environment, the brand uses metal finishes that are either water-free or use no electroplating whatsoever and the bases of these metals are either recycled or recyclable.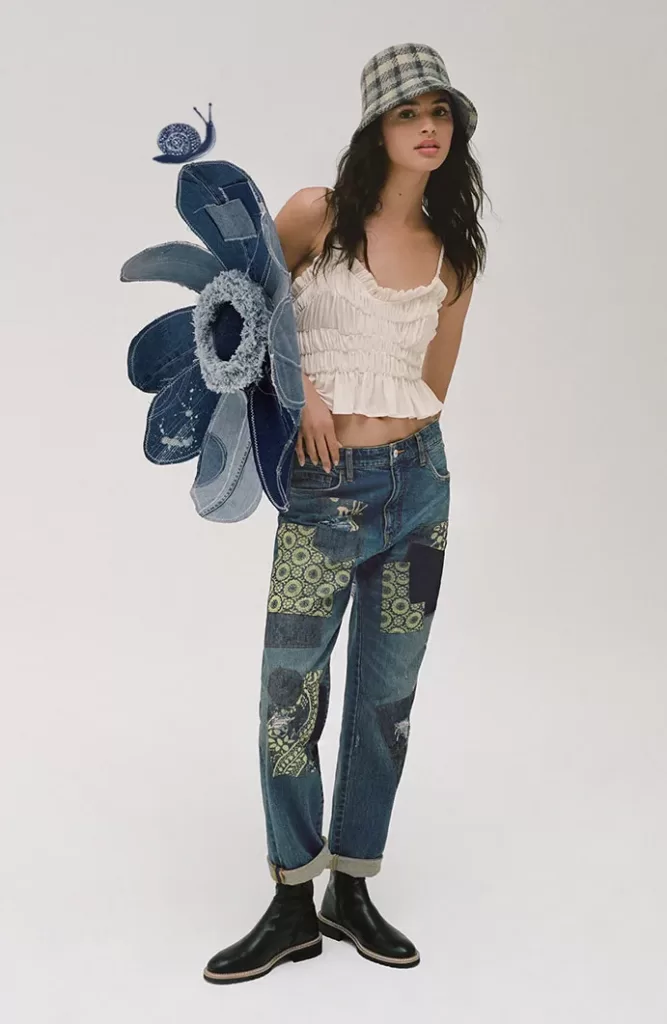 For some of the fits from the Pilcro collection, the brand approached the denim itself from a range of avenues like organic cotton, recycled fibers, or recycled cotton blends. It also used a pocket fabric that's partially recycled. Plus, it has significantly cut down our polyester usage and implemented indigo-dying technology that is either non-toxic or engineered to require less water.
Anthropologie is working with Factory One Studio in Los Angeles to produce Pilcro. The denim range is available exclusively at Anthropologie and offers pieces in sizes 00 through 26.
"It's a joy to be making jeans back in the US. Very few brands are doing it, and it's cool." Says Senior Designer Nick Hathaway
The brand looks forward to experimenting with alternative fibers. It believes in hemp denim usage for its future collections. Hemp is a very coarse, stiff, and tough fiber. Traditionally, hemp needed to be 'cottonized,' or softened, to be comfortable to wear. That process consumes a huge amount of water and energy. Anthropologie has joined hands with French hemp-denim producers for using hemp that can be cottonized by nature. They believe this attempt would help lessen the impact caused on the environment.
TAKEAWAY
This fall's Pilcro launch is distinctively Anthro, with the brand's creative and design teams working together to make it a one-of-a-kind experience. By integrating handcrafted touches and thoughtful design flourishes into their artwork and displays, the brand empowers the consumers to see just where their imaginations can take them.