Consumers have taken a big dig to recycle all sorts of waste but when it comes to clothes the speed of adaptation is very slow. Abandoned clothes lead to landfills causing a threat to the environment. The incipient fashion trend of thrifting or reselling second-hand clothes is now more productively being used by retailers. Consumers, especially Generation Z are becoming more mindful and are moving towards thrift stores and second-hand clothing.
To be a part of this new business opportunity, US denim brand Madewell partnered with resale giant ThredUp to launch a new second-hand fashion platform "Madewell Forever".This online resale platform is a stand-alone digital store curated by Madewell and stocked by both ThredUp and Madewell stores.
Madewell Forever is an exclusive microsite and an extension to Madewell's official site. It can be accessed via a 'pre-loved button' on the brand's main site. Jointly operated by ThredUp, it will offer a curated selection of used or "pre-loved" jeans. The project's principal aim is "to collect 1 million pairs of jeans by 2023 and double the life of each recirculated garment," the companies said in a press release. The effort as Madewell claims "has diverted over 500 tons of denim waste from landfills."
The RESALE-AS-A-SERVICE
The alliance operates on ThredUp's resale-as-a-service (RaaS) to give used jeans a new life. Launched on Tuesday, the platform currently has over 3,000 products, with new styles added hourly. The prices range from 35 dollars to 50 dollars. ThredUp's "resale-as-a-service" technology is available to third-party retailers since 2018 and is an expansion of the companies' 2019 collaboration of selling secondhand jeans. The company claims to have processed over 100M unique clothing items to date and displaced 1Billion lbs of CO2.
Over the past two years, San Francisco-based ThredUp has procured partnerships with famed brands like Abercrombie & Fitch, Reebok, and Rent the Runway. But this is the first time that one of ThredUp's RaaS clients ( Madewell) has launched a resale platform that allows customers to both clean out their closets and shop for second-hand fashion.
The companies said that Madewell worked closely with ThredUp to develop a unique, white-labeled resale channel including a digital shop, the first of its kind enabled by the service.
HOW DOES IT WORK?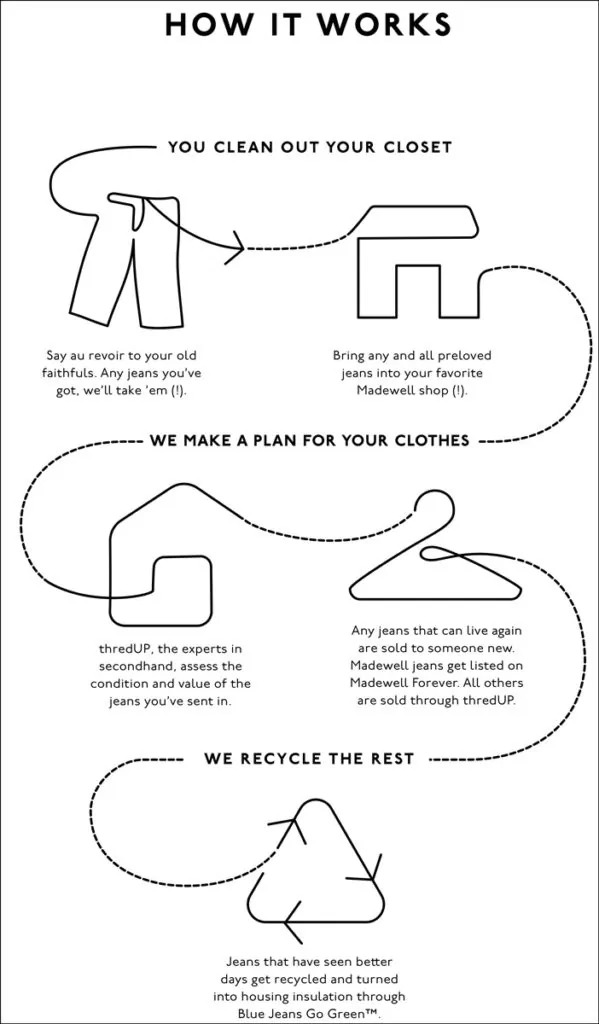 Customers are encouraged to bring any brand of pre-worn jeans into Madewell stores and earn 20 dollars towards a full-priced pair of Madewell jeans. Progressively, jeans dropped off at the store in a satisfactory condition are put up for resale and assembled with the brand archives. The site is continually updated with more inventory. Jeans that are truly worn out and are unsellable get passed on to the 'Blue Jeans Go Green program' that then recycles denim for housing insulation.
"It's exciting to see a beloved brand like Madewell working to extend the life of their clothes and commit to a more circular fashion future. We are proud ThredUp's operating platform will enable and scale a meaningful resale channel for Madewell through 'Madewell Forever'." Says ThredUp co-founder and CEO James Reinhart.
ABOUT THE BRAND: MADEWELL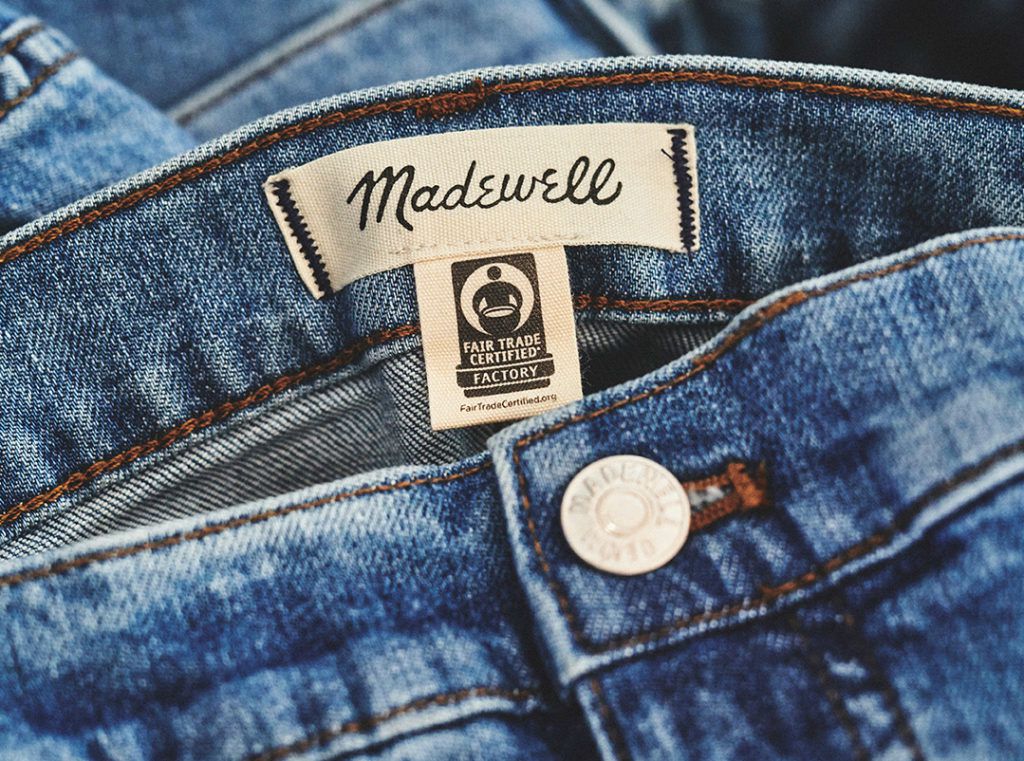 Founded in 2006, Madewell has a reputation for high-quality denim and is the bright spot in parent company J. Crew Group's portfolio. Earlier being a casual women's wear line, the brand expanded into men's clothing in 2018. Retailer of apparel and accessories in the United States, the company's products include denim, shirts, sweaters, dresses, coats, shoes, and bags, providing customers with the latest design in fashion.
As Madewell lays down a pristine outlook for the fashion industry through its sustainable attempts, it spurs the interests of other companies to inculcate second-hand apparel platforms and reduce the retail impact on the environment.
EMERGING DENIM RESALE PLATFORMS
"Thrifted denim is generally a smart purchase because of the durable nature of the fabric, which often lasts longer than other fabrics, and gets better with wear. People typically love the distressed look of worn denim, which makes it easy to be resold again and again," said Natalie Tomlin, a ThredUp spokesperson.
As consumers turn more sensible about the environment, sites like Depop, Poshmark, ThreadUp, and The Real Real are their go-to destinations for better denim deals.
ThredUp
Founded in 2009 and based in San Francisco, ThredUp is an online consignment store that allows you to combine the joys of online shopping and the great prices of shopping thrift. It operates with the mission to inspire a new generation of consumers to think secondhand first. By making it easy to buy and sell secondhand, ThredUP has become one of the world's largest resale platforms for women's and kids' apparel, shoes, and accessories. ThredUp's mission is to extend every garment's life and keep as many textiles as possible in use and out of landfills.
Depop
Based in London, Depop provides a marketplace that enables individuals to buy and sell their items on mobile platforms. The application has attracted celebrities to open stores, with some donating proceeds to charitable causes. Depop is especially popular with the Millennial and Generation Z audience because it provides a way for them to recycle second-hand items. Depop's popularity is attributed to its push to support sustainable fashion sources.
Poshmark
Poshmark is a marketplace for those looking to sell modern clothes and accessories, often secondhand. With more than 60 million users within North America and approximately 100 million items for sale, this platform is a great option for anyone looking to sell mid to high-end products.
Poshmark is more oriented towards Millennials. Sellers have good luck when posting brands like Madewell, Zara, Coach, and Banana Republic. On Poshmark, one can earn a premium for selling brand new items but shoppers aren't concerned about high-value vintage pieces.
The Real Real
Founded in 2011, The RealReal is the world's largest online marketplace for authenticated, resale luxury goods. With a rigorous authentication process overseen by experts, the company provides a safe and reliable platform for consumers to buy and sell their luxury items. A sustainable company gives new life to pieces by hundreds of brands, from Gucci to Cartier, supporting the circular economy. The reseller is also seeing sustainability-focused brands like Re/Done, a brand is known for its upcycled vintage denim garments, the trend in the market.
While the cost-effective benefits for consumers shopping resale are present, denim is also proving to be a reliable business for the resale sites. With household closets serving as a supply to this market, resale platforms are offering consumers an opportunity of joy with a consistent rotation of new pre-owned products for less. As Second–hand fashion contributes to both business and environmental concerns, it brings about a revolution of thrifted denim which will be relished and fancied by the new age customer more in the coming years.