With over 30 participants from the global denim industry, Denim Reunion & AW22 Talks by Denimsandjeans virtual concluded on March 31, 2021. This limited-time show which ran for 3hrs on 1st day and 5 hrs on the 2nd day brought participants from more than 10 countries who joined the show and presented their latest innovation and designs at the show for buyers and gotten an opportunity to meet their buyers virtually who joined the platform from Asia, Europe, and the USA. The complete list of participants is here.
The show ran on the lines of a new theme which was – Denim Reunion . The show had all the elements which a physical trade offers, the exhibitors were allotted a virtual booth and some companies and designers/consultants were offered virtual tables, a few of our visitors felt nostalgic as it reminded them about the physical trade shows as all seem to be missing them! This edition of Denimsandjeans Virtual Show had some interesting new features which helped participants to cater to multiple buyers at the same point in time.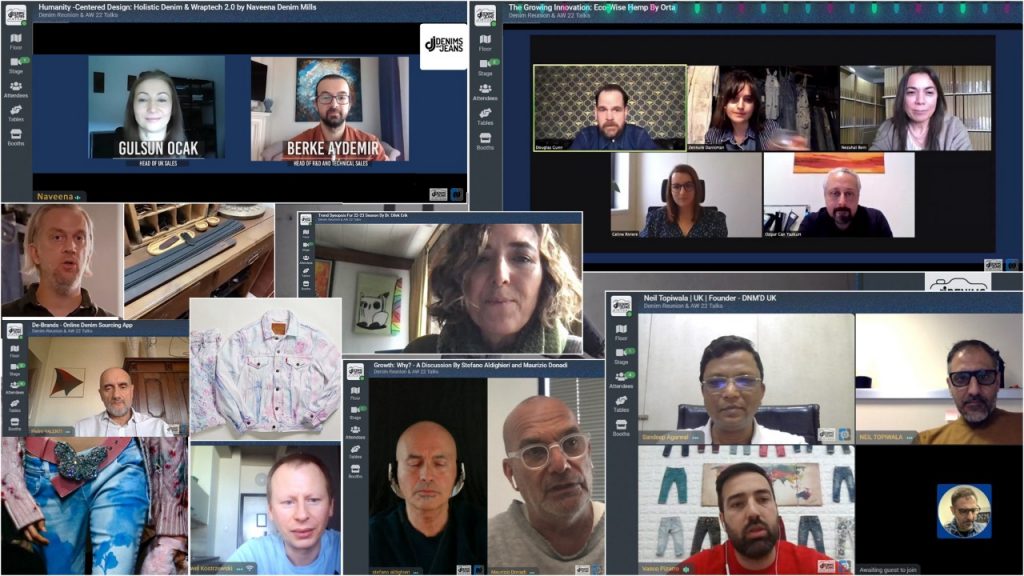 Likewise the Denimsandjeans Virtual show's previous editions – Denim Reunion tried to offer all benefits to the users at par with a physical trade show in the simplest way. Being a boutique and niche kind of b2b virtual trade show, a limited number of suppliers and international designers and consultants from around the globe were invited to showcase their products and services. Buyers primarily from the USA and Europe joined the show besides some other locations.
Representatives from many US, SEA, and EU brands, factories and retailers including Woolsworth, Levis, Marks and Spencer, Next PLC UK , Myntra, Reliance Retail, Levis, H&M, Group Kaybee, Shahi Exports, Gokaldas Exports, Espirit, Epic Group, Columbia Garments, C&A, Bestseller, and Aditya Birla Fashion have visited the show along with their team.
Talks and Presentations
At the virtual event, 7 different sessions and talks were organized in a two-day show. Leading denim experts including Stefano Aldighieri, Dilek Erik, Beau Lawrence, and Maurizio Donadi shared their insights during their sessions. Apart from that, three leading names in the denim industry presented their talks on different topics. These companies were – Orta, Naveena Denim Mills, and Coats.
On day 1 – March 30, Coats representative Mr. Halil Demir presented the 1st session titled – "Redesigning Thread For A Green Future" where he talked about the latest products of Coats and how's they are contributing to Sustainability. You can watch the entire presentation here.
The next presentation was by Orta Anadolu from Turkey, titled – " The Growing Innovation: Eco-Wise Hemp". This presentation had five panel members including Zennure Danisman (Marketing and Washing Manager), Ozgur Can Yazkurt (Product Development Manager), Nezahat Boni (Asia Region Sales Manager), Céline Riviere (Fibres Sales Manager at La Chanvrière). The panelists discussed some pertinent issues of sustainability and the relevance of Hemp in the same. To watch this insightful presentation, click here.
"Humanity Centered Design: Holistic Denim & Wraptech 2.0" was the topic of our next denim discussion moderated by Sandeep Agarwal and presented by Berke Aydemir (Head of R&D and Technical Sales) and Gulsun Ocak (Head of UK Sales). The complete discussion is available on the official youtube channel of Denimsandjeans.
Stefano and Maurizio Donadi came together to raise a question about whether we really needed growth ! "Growth: Why?" was an intriguing topic which generated certain important points to ponder over for the industry. This session was the last session on Day 1 and can be watched here.
Day 2 started with the most awaited denim talk by Dr. Dilek Erik where she presented the "Trend Synopsis for 22-23 Seasons ". The presentation brought out some interesting perspectives on the trends to watch for in 2022-23 . Check out the presentation here.
De-Brands, the world's first denim B2B sourcing application and platform, has introduced a lot of new features on the platform to make it more engaging and user-friendly in the past few months. In an extension to this, De brands introduced a new concept of Denim Fabric Sustainability Calculator to rank the denim fabrics of different denim suppliers. It has been long felt that the complete sustainability aspect of denim fabrics have not been brought out in a unified manner for the buyers to understand the entire environmental footprint of a fabric. With DE-Brands' new Calculator , this missing gap has been tried to be addressed. Sandeep Agarwal, founder of Denimsandjeans & De Brands presented an insightful session, click here to watch this.
Another very interesting presentation was by Beau Lawrence of his store in Santa Barbara, USA. He took Sandeep Agarwal on a tour of his shop and explained how he was trying to create a 80s service experience for the jeans buyers . Beau is a well known denim expert and runs his ACE RIVINGTON brand for quite some time now and his session "Retailing Like It's The 1980s" (when service was a thing)" brought out some important aspects of customer service orientation in current times ! Watch the complete talk here.
The platform and the new engaging features had been appreciated by all the participants and most of them found this a helpful tool to connect with their buyers. There were a number of feedbacks from exhibitors and visitors and these will be worked upon to make the next show even better.
A session was dedicated to present the latest SS21/AW21 Denim look from different brands .Alongwith some well known retailers , the designs by some upcoming designers caught attention..
We'd like to thank Cotton Web Limited From Pakistan, one of the leading denim garment manufactures, for being a supporting partner to the Denim Reunion & AW22 Talks.