Though the domestic denim fabric market in India is very strong, still a decent quantity of denim is exported to different countries around the world. The fabric is exported to Far East, Bangladesh, EU, South America etc. To analyse this further, we will see  in this special report :
Some figures of shipments  of denim fabrics made to countries like China, Cambodia, Colombia ,Hong Kong, Egypt etc. We will cover other countries in another report.
There will also be average prices of shipments made to each of these countries on a monthly basis
First five months of 2013 are covered.
[private_special]
Disclaimer: The data given in this report has been collected from various sources including customs deptt. Though we have taken high amount of  care and caution in presenting this data, we do not guarantees that it covers all the shipments made are covered or the data is 100% accurate.
Denim Fabric Shipments to China
China is a growing market but still denim fabrics shipped from India are mainly nominated fabrics only ie fabrics shipped for conversion against orders of different brands and retailers. For local consumption,  Indian exporters still have to work hard as cheaper denim is available in China and furthermore there is duty on import of denim into China.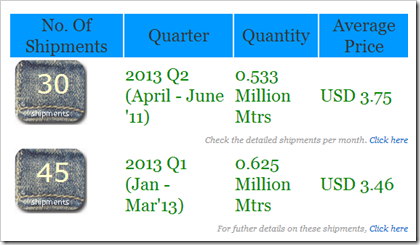 Note: The figures in April-June'13 quarter currently shows figures of April and May .
We see that the denim fabric shipped to China from Jan to May '13 is about 1.15 million mtrs. This is not a huge quantity and , as mentioned above, most of this fabric would be shipped on nomination basis. The prices averaging about $3.60 per mtr are decent and do not reflect sales of low grade material or to low grade buyers.
Denim Fabric Shipments to Hong Kong
Fabric exported to Hong Kong is , most of the times, diverted for conversion in China or other nearby countries. Hence the figures for China (mainly) would have to be seen taking into consideration figures of Hong Kong also.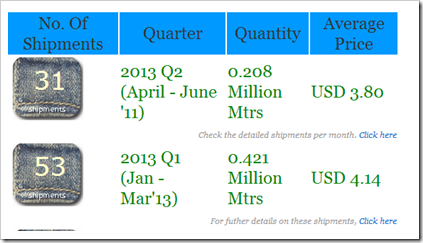 The prices for shipment to HK are higher than many other destinations  as we can see in the figures above. The averages are around $3.90/mtr  The shipment quantities of about 1-1.5 lac mtrs per month are ,however, small .
Denim Fabric Shipments to Colombia
Colombia is an important country in the Central  America and is an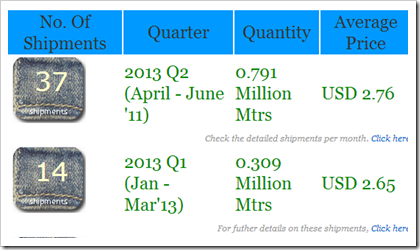 end users market where a number of local brands and retailers buy the fabric from around the world. About a million mtrs of denim fabric was shipped to Colombia in Jan-May'13 . But the remarkable thing to note is the sudden increase in fabrics shipped in the months of April and May which was much more than the first three months of 2013. However, the prices that we can see for exports to Colombia do not seem very encouraging. They are quite low and range around $2.70./mtr .
Denim Fabric Shipments to Egypt
Egypt is also one of the good markets for Indian denim fabric exports. The volume of exports to Egypt is not too low. Lets look at figures below :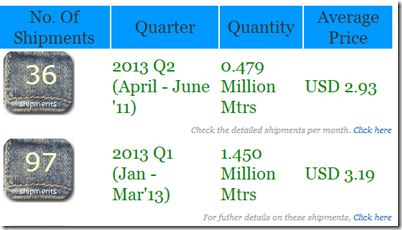 With an export of about 1.5 million mtrs in the first quarter, exports to Egypt are decent in comparison to exports to other countries. Though in the months of April and May, the volume has gone low, it might be a temporary change as exports to Egypt have been consistent for some time. The average prices are in the range of  $3-$3.10 . Egyptian market is a mixture of nominated shipments and non-nominated shipments. [/private_special]