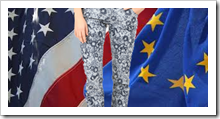 EU has slapped, effective from 1st May 2013, a duty of 26% in addition to 12% existing duty on women's jeans from USA  taking the total  duty to 38%.
The increased duties come from the EU's World Trade Organization dispute with the United States over the Continued Dumping and Subsidy Offset Act, also known as the Byrd Amendment.This duty rate hike on jeans and other U.S. exports is a continuation of sanctions authorized by the World Trade Organization in retaliation for the U.S. failure to fully comply with a WTO ruling against the Continued Dumping and Subsidy Offset Act of 2000. Commonly referred to as the Byrd Amendment, this law allowed the U.S. to distribute the additional duties collected on imports of unfairly traded goods to the U.S. industries affected by such practice. The law was found to be a violation of WTO rules and despite a repeal of the law its effects were allowed to continue. As a result, the WTO allows other countries to raise tariffs on goods imported from the U.S. up to a certain amount, which varies each year.
This duty imposition will affect the Californian apparel industry the where a host of premium denim labels do their productions including those from True Religion, AG Adriano Goldschmied,  J Brand  and many other denim brands based out of LA. Most of the brands have European markets where they sell jeans at a premium prices. Women's jeans are ,of course ,an important component of these exports .
Will this duty slap make a big impact on the US exporters ? It will , only if the quantities of women's jeans shipped are large and the average prices are high.  Lets analyse the figures for the year 2010, 2011 and 2012 for the quantities shipped from US to EU 27 countries , their average prices and values in the table below. With the change in duty structure, the impact on the imports is also analysed and its final effect on retail prices.
Table for Women's Jeans Exports From US to EU 2010-2012
 
Rest of the report is visible to our paid subscribers. In case you wish to contact us for more info at , send email at mktg@balajiinternational.com . To see all protected reports titles,visit this page http://www.denimsandjeans.com/subscriber-only-reports-3