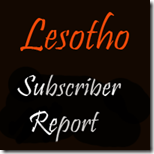 The Kingdom of Lesotho is a unique country in Southern
Africa. Completely surrounded by its only neighbour
South Africa, land-locked and geographically small, Lesotho
is classified as a Least Developed Country (LDC) by the
United Nations. Together with Botswana, Namibia,  South
Africa and Swaziland, Lesotho forms the Southern African
Customs Union (SACU) – the oldest customs union in the
world. 
Historically, Lesotho's export capacity has been small, and
most of its exports were traditionally destined for the
South African market. However, over the years, Lesotho
has pursued an export-led development strategy as part of
its overall goal for economic development and eradication
of poverty. Part of this strategy involves utilisation of trade
preference arrangements such as the United States' African
Growth and Opportunity Act (AGOA) and the European
Union's Everything But Arms (EBA) initiative. These have
contributed to the diversification of export markets,
especially to the US.
Rest of the report is visible to our paid subscribers. In case you wish to contact us for more info at , send email at mktg@balajiinternational.com . To see all protected reports titles,visit this page http://www.denimsandjeans.com/subscriber-only-reports-3