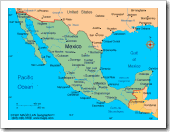 Mexico is one of the important countries when it comes to denim and jeans manufacturing.  Before the MFA phaseout, it was the largest exporter of jeans to the US but over the years, it has lost its premier position to competition from Asian countries.
However, the industry is still big and caters to US , some nearby countries and its own growing domestic market. The country still imports a sizeable qty of denim fabrics from US and other countries in the world for conversion into garments. We had previous seen the details of such imports till 2011 and in this report we will see the details of the years 2012 and 2013.
Total imports of denim fabrics in 2012 and 2013
Countrywise break up of quantities – giving the top countries which are exporting to Mexico.
Share of these countries by volume.
The value of such exports from each of the country.
It would be seen that some of the countries dominate the import market of Mexico and the prices vary very much from country to country.
Rest of the report is visible to our paid subscribers. In case you wish to contact us for more info at , send email at mktg@balajiinternational.com . To see all protected reports titles,visit this page http://www.denimsandjeans.com/subscriber-only-reports-3