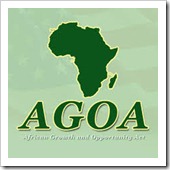 AGOA is a U.S. preferential trade program established in May 2000 that provides duty-free access to the $3 trillion U.S. market for thousands of products from eligible sub-Saharan African countries.   One goal of AGOA is to support sub-Saharan African economic development through trade and investment.  The program offers tangible incentives to sub-Saharan African countries for undertaking difficult political and economic reforms that promote long-term growth and development.  Madagascar was removed from AGOA on January 1, 2010 following a 2009 coup d'état by which the democratic govt. was overthrown.  Swaziland , has however, been removed from the beneficiary list of AGOA countries.
Successful elections in late 2013 led to the formation of Madagascar's first democratic government since the 2009 coup.  The United States has taken steps to normalize relations with Madagascar, lifted all coup-related restrictions on direct assistance to the Malagasy government, and invited President Rajaonarimampianina to attend the U.S.-Africa Leaders Summit in Washington in August.
Swaziland
The decision to withdraw Swaziland's AGOA eligibility comes after years of engaging with the Government of the Kingdom of Swaziland on concerns about its implementation of the AGOA eligibility criteria related to worker rights.  After an extensive review it was decided by the US govt. that the country no longer should be included in the list of beneficiary countries.
The latest updated list of AGOA countries includes the following names :
Angola,Benin,Botswana,Burkina Faso,Burundi,Cameroon, Cape Verde, Chad, Comoros,Congo (DROC),Congo (ROC), Djibouti , Ethiopia,Gabon, Gambia ,Ghana ,Guinea ,Guinea-Bissau , Kenya , Lesotho,Liberia ,Madagascar ,Malawi,Mali ,Mauritius ,Mozambique , Namibia,Niger ,Nigeria ,Rwanda ,Sao Tome & Prin ,Senegal,Seychelles , Sierra Leone, South Africa ,Tanzania ,Togo ,Uganda and Zambia
The inclusion of Madagascar in the list of AGOA countries will enable it to import fabrics from outside AGOA and use it for manufacturing garments for duty free exports to US. This should enable the country to regain its exports to US which had been stalled for last 3-4 years and could push up the exports of all apparel (including denim) from AGOA to US since Madagascar had been an important constituent of this region.  Exports of denim apparel from AGOA had peaked in 2005 when the country used to export sizeable qty of about 40 million pieces and thence it has only declined its volumes of exports to less than half with increasing competition from Asian countries.
Exports of Denim Apparel From AGOA to US from : 2000 to 2006
Exporting
Country

Year of
Import

All Denim Apparel
(million pcs)

Total Value
(million US$)

Average Price
(US$/pc)

Agoa

2000

13.2

86.58

6.56

Agoa

2001

21.1

141.47

6.71

Agoa

2002

21.71

141.16

6.5

Agoa

2003

32.22

203.21

6.31

Agoa

2004

33.49

235.65

7.04

Agoa

2005

40.16

256.23

6.38

Agoa

2006

37.9

235.43

6.21
But really, would this change make an immediate impact for Madagascar. We spoke to few people in the AGOA region to understand whether it would really help the country to work up  its exports to US.  Denim Specialist Vinay Narisimlu from Mauritius says :
"With the withdrawal of AGOA benefits, many export units in Madagascar had closed down. Those which did not , started exploring the European markets and  in the last 3-4 years have completely oriented their productions and systems towards these higher margin but low volume region. The companies to again focus towards the US markets may not be easy and the US markets may be better served by reopening of some of the units which closed down before…."
It remains to be seen if Madagascar really gets any benefit from the decision of the US govt. But surely , it will be helpful for the buyers from US to again relook at this country with interest.