Mexico is one of the important centers worldwide producing both denim fabrics and garments. Its proximity to US , benefits of trade agreements like CAFTA and its strategic location between the two Americas also contributed to its growth as a textile and apparel centre  .
While we all know that Mexico is a large exporter of denim apparel to US, next only to China (it was first for many years till China took over)  and consumes denim fabrics which it produces to enable it export the garments, it is not well known that Mexico is also an exporter of Denim Fabrics . It is shipping fabrics to many countries around the world and in decent volumes too.  We will have a look at the table below which gives the following details :
Top 14 countries to which Mexico shipped denim fabrics in 2011.
The Volumes of those shipments and the average prices of these shipments.
The total denim shipped in this period.
A bar graph which shows the different markets of Mexico .
A brief note on the top top two  countries where Mexico has exported and what's happening on denim scene there.
We will be publishing report on imports of denim and info on some buyers in Mexico shortly.
[private_special]
Denim Fabric Exports From Mexico – worldwide in 2011
Country Name

Quantity (million sq. mtrs)

Value
(US $ Million)

Av. Price (US$/ Sq. Mtr)

Colombia

14.93

33.67

2.25

Nicaragua

12.28

28.91

2.35

United States

5.06

11.57

2.29

Dominican Republic

3.10

7.89

2.54

Peru

1.73

4.58

2.64

Guatemala

1.21

2.95

2.43

Venezuela

1.08

2.16

2.00

Egypt

0.47

1.20

2.55

Uruguay

0.38

1.06

2.80

South Africa

0.22

0.59

2.74

Equador

0.21

0.27

1.27

Turkey

0.17

0.65

3.78

Bolivia

0.16

0.46

2.87

Chile

0.12

0.24

2.05

Total

41.78 sq mtrs

$97.79 million

$2.34/ sq mtr.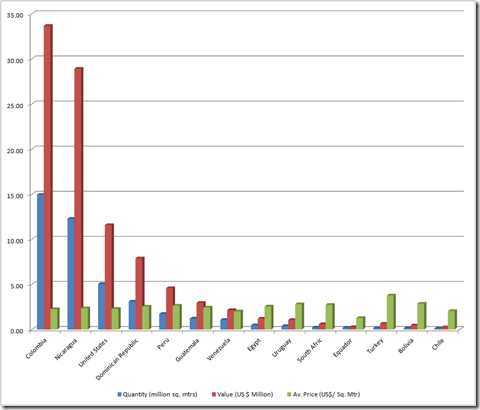 From the above table, we can see that the prime markets for Mexico are Colombia, Nicaragua and US. Colombia is one of the most important markets in South America and it is no wonder that Mexico should be shipping there . It is also for this reason that the Kaltex Group in Mexico bought the COLTIJER denim mill in Colombia.  Even many other countries export to Colombia and there are some good brands and buyers in Colombia .
Nicaragua is the latest country in South America which is showing promise of new growth story. The denim industry there is showing very good signs of growth and the exports to US have increased significantly in the last 2 years touching almost 24 million pieces of denim apparel  in 2011.  There is also a denim unit in Nicaragua which belongs to ITG – Cone group. The unit has been closed due to losses , but there are now frantic efforts to open this mill now.
The price at which Mexico is exporting denim fabrics are good prices given the costs of production in Mexico.  These prices are in square meter, so the actual price if the average width is 160 cm would be about $3.66 per meter which is a very decent price for the country as a whole. It shows good realisations by the companies in these markets.
[/private_special]