A green heart beats in the Bluezone at Munich Fabric Start: Start to Measure launches the green revolution. M&J Group from Bangladesh returns to Munich to confirm that it is time to change perspective and bring sustainability  back in fashion. Launched last year,  the  Start to Measure concept  is a hardware/software system designed and developed by M&J Group which is able to trace the production of each pair of jeans step by step, as well as to develop reliable data about the resources used in the finishing phase (specifically water, electricity, chemicals and labor). At the moment M&J Group ended the first phase and the second phase will be completed soon to enable them to monitor all the data 'any style any time'. The company feels that Start to Measure could set  a new standard for the whole fashion industry in the near future.With the words of Munir Ahmed, co-owner of M&J Group,
"Only with the knowledge of the actual status of the art we can set up a target for our improvements and define the limits of our challenge. We need to measure where we are."
After the teaser presentation of the project in the Greenzone at MFS, this year the M&J Group stand in the Bluezone is extensively dedicated to Start to Measure, highlighting a nearly five-years-long work, which is available today for all brands that truly want to make a difference by constantly working in the direction of actual sustainability. "Today, like never before, it is important to invest in technology because of the increasing audience's awareness of the environmental issues" – explains Fabio Adami Dalla Val, R&D Head at M&J Group – "The denim world must change pace and sustainability needs to become fashionable again."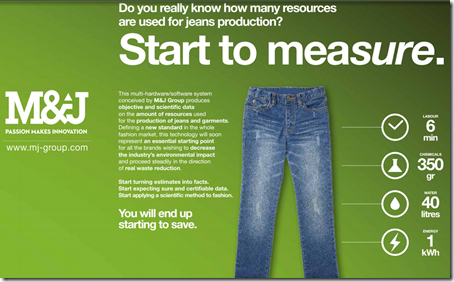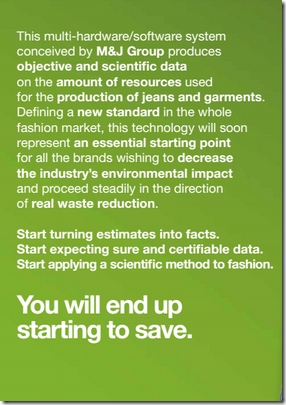 In 1989 M&J Group entered the world of textile manufacturing and fashion. It has now been 25 years and M&J Group has become an important and reliable manufacturing group , producing top-of-the-range denim garments and working in partnership with major fashion brands ( H&M, C&A, J&J, GAP, Celio etc). The company produces  8 million garments produced in 2014, with an estimated 75% growth by 2016. .
In order to be true to its mission as innovator, in 2015 M&J Group has decided to launch HUB25 this project is aimed at promoting a new way of looking at the supply chain. Working with raw material manufacturers and fashion brands, M&J will act not only as the promoter of a great change, but also as a point of contact between various players all along the denim supply chain. In January 2015, the first edition of the project, involved Calik Denim – Turkey and ITV Denim- Italy.
ECO Pro
Eco Pro is a part of their SS 16 collection, now presented in Munich, characterized by low environmental impact finishing due to innovative biO3 technology, shined with a style of pure denim using imaginative creations from laser designers, combined with latest interpretations of the fashion market.
Some images from their SS'16 collection developed in collaboration with its two partners Calik Denim and ITV.