Scott Morrison, founder of reputed denim brands like Earnest Sewn and Paper Denim delivers a new denim-focused concept shop, 3×1,  in SOHO area of New York , that looks to push the boundaries of limited edition clothing. Named on the 3×1 twill weave of denim fabrics and also represents Morisson's third founding of a denim label , the  new store for 3×1 flagship produces on-site most garments sold in the store. The in-house production is limited to between 8-24 pieces of any given style, and less than 25 pieces are made per day. 
Besides the limited edition jeans, a bespoke denim service is also offered, allowing patrons to work individually with Morrison and his pattern-maker to create his or her own pair of jeans from start to finish. Customers can select :
Fabrics – over 100 to chose from mills in Japan, US , Italy etc
Select an existing cut – though bespoke its not 100% custom made jeans.
Chose buttons , rivets , stitching thread and other accessories
It is probably the most unique denim store around the world with a gallery , retail store and a jeans manufacturing unit all combined into one 4000 sq feet plus store in the expensive SOHO shopping area of  New York.  Shoppers can watch jeans being made behind the glass walled panels where sewing units are installed.  It is going to be a great experience for visitors to see the 'magical' process of making the jeans. The retail space is open to the public on Wednesday – Sunday (11am – 7pm), while bespoke appointments are typically reserved for Monday and Tuesday.  However,  one must be ready to be set back by $300-$1500 for  purchasing denim from the store!
The store will also make denim bags in limited edition – really limited ! – with  a new design being made after every 24 bags are done .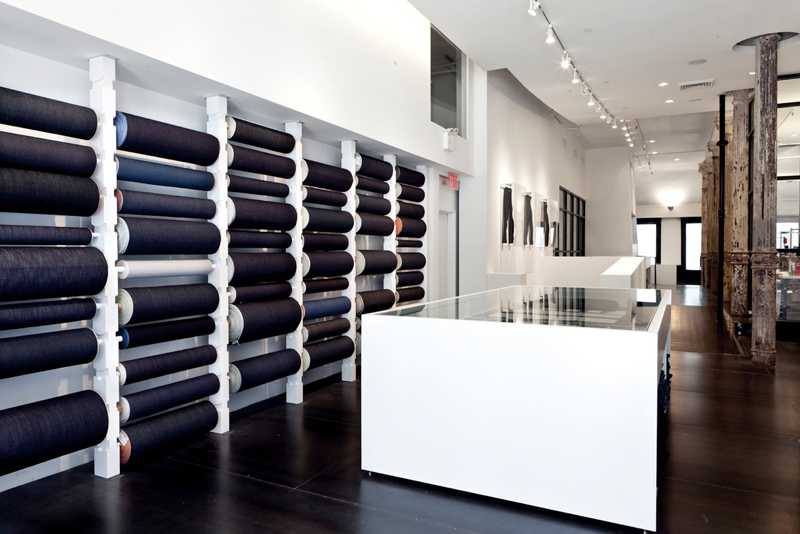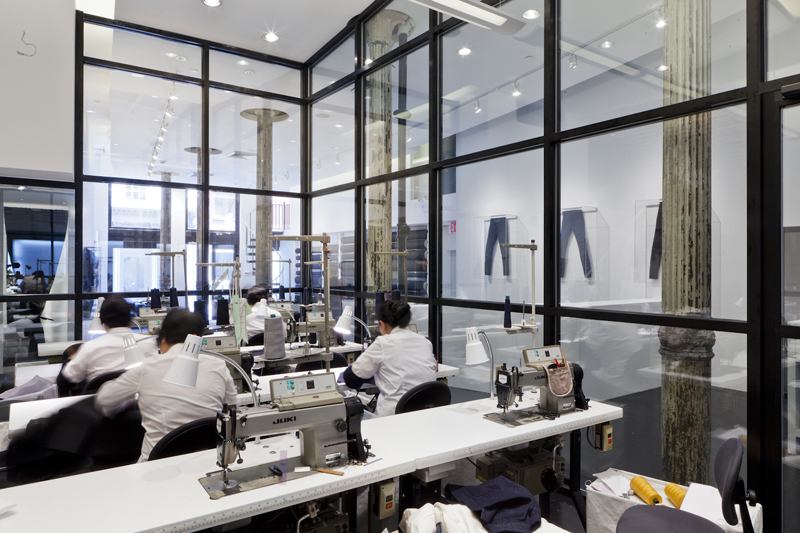 3×1
15 Mercer Street
New York, NY 10013
+1.212.391.6969
Contact them on email by clicking here
About Scott Morisson :

In 1998, at the age of 25, Scott was hired to oversee a new denim division of Mudd Jeans, based in NYC. Jack Jeans, as it would be known, struggles to find its place in the better jeans market, and in an attempt to bring the failing concept to life, Scott developed a new idea for an American made denim collection that would compete with the likes of Diesel and Replay. His vision was realized in 1999 when the Jack jeans division was closed, and the company instead chose to invest in Morrison's new concept: Paper Denim & Cloth. Over the next 4 years at Paper Denim, Scott's reputation in the industry grew. As co-founder and designer of Paper Denim & Cloth, he quickly established the growing operation as one of the world's preeminent denim brands. Inspired by that growth he began incorporating other areas of personal and cultural interest into the budding lifestyle concept. Morrison also published, personally, a limited Edition retrospective of emerging underground artists, in a book called Boredom 2003 which further fused his 2 great loves, underground art and innovative design. He also worked as  the creative designer at the famous Japanese denim brand ' Evisu'.