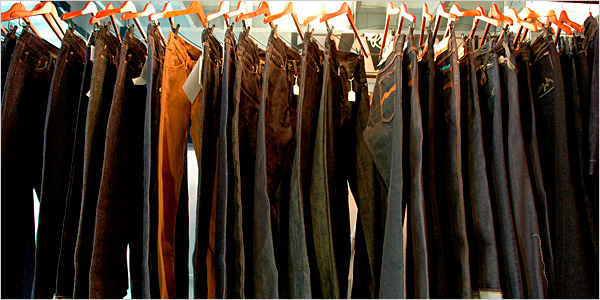 Though most of the denim afficionados might be aware of this store, I think its worth a post on this blog because of its importance to denim lovers.
Self Edge is a store in San Francisco and is not the typical retail store where one goes and buys out the apparel. As you enter, you can feel that it has that 'air of denim' which is full of passion and history.As New York Times mentions
,Self Edge is "something between a premium specialty shop and a museum dedicated to a yearning for past quality — a sentiment easily detected in the antique wooden furniture and Persian rugs that decorate the shop".
Most of the denim labels found here are of Japanese origin made with Selvedge denim, though some other brands are also found.Brands like Iron Heart,Sugarcane,Nudie Jeans,The Flat head are found here(some of them exclusively).It becomes difficult for newcomers to understand why these brands here are retailed for prices like USD 200 and going up to USD 500 and sometimes more. But, the passion that goes into the building of these jeans also goes into retailing of these brands at stores like Self Edge..
Keep Going Self Edge………..