Adding to the continuing mission to challenge the status quo , the Premium Italian Denim Label brand – Diesel  has recently unveiled its SS'17 collection. The company is promoting its SS'17 campaign through the concept of   New Season = New Denim .With rich blends  and rich texture treatments, they've once again pushed the peddle on fabric innovation. Apart from bottoms, the collection has one 11 Oz bleached Denim Jacket which has distressed finish and looks very rich. The leather collar of this jacket gives it a distinct view and makes it classy. Diesel goes for clean looks in this collection with very minimal distressing . Jogg jeans continues to be a major part of the collection, while black color and skinny fits dominate.
Below are some of our picks from the collection:
ELSHAR
Having two chest pockets with distressed finish ,this 11 Oz. bleached denim made of with the combination of  55% of cotton and  45% of lyocells.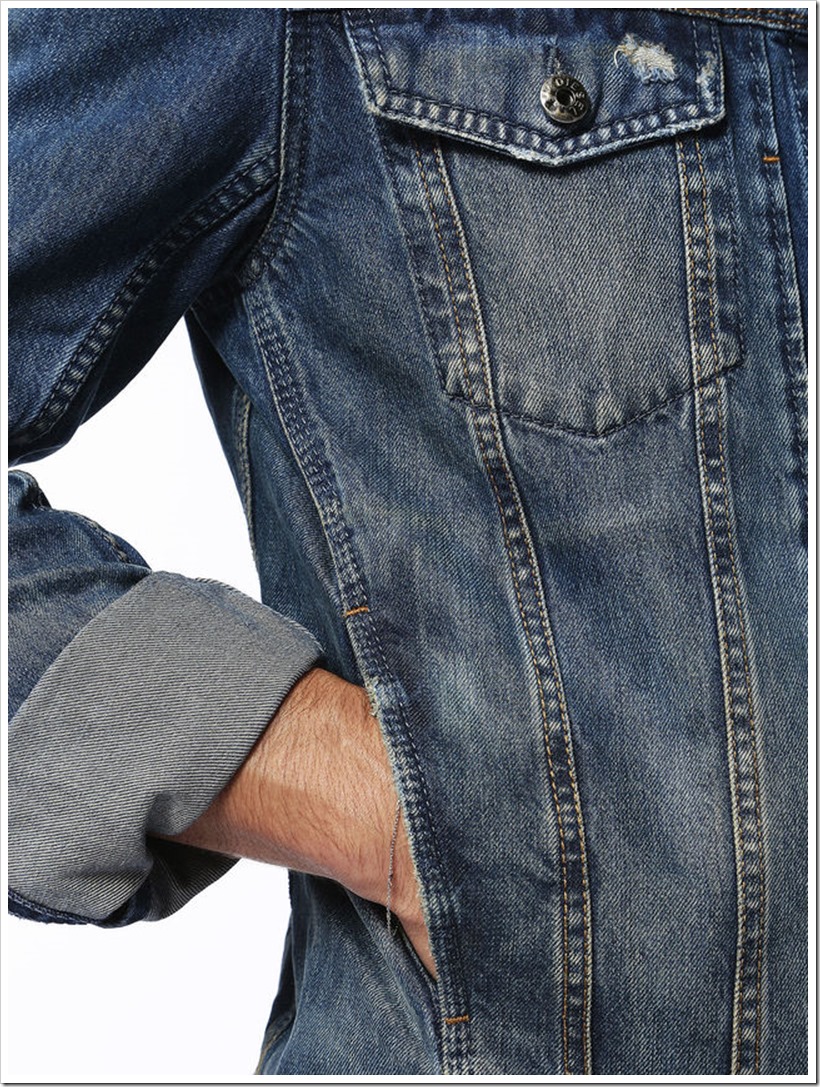 TEPPHAR 0830K
Carrot , regular waist , medium blue, destroyed with 97% cotton and spandex.
THAVAR JOGGJEANS 0837C
90% cotton, 8% polyester, 2% elastane-spandex, Skinny low waist, black/grey , coated Jogg jeans
KROOLEY JOGGJEANS 0600V
Low waist dark blue , Jogg jeans with 90% cotton and 8% polyester.
LARKEE 008Z8
100% cotton, Straight fit and regular waist.
WAYKEE 0814W
92% cotton, 6% polyester, 2% elastane-spandex with straight fit and regular waist .
SAFADO 0UB89
100% cotton , straight fit and regular waist
THAVAR JOGGJEANS 0842W
90% cotton, 8% polyester, 2% elastane-spandex, skinny Jogg jeans
KRAYVER 0666Q
Black / grey , coated stretch denim.
TAYLHOR 0846W
Tapered Black/grey stretch.
About Diesel
Diesel is a fashion industry legend. A pioneer in the world of denim and casual wear, it has always remained both outside and ahead of trends. Never forsaking its original DNA, it has evolved into an iconic global lifestyle brand. Despite Diesel's extraordinary growth, its philosophy is the same as when Renzo Rosso created it in 1978. He envisaged a brand that would stand for passion, individuality and self-expression. Today, Diesel continues to blaze its own trail. It is on a continuing mission to challenge the status quo, experiment with new ideas, innovate and provoke.
---