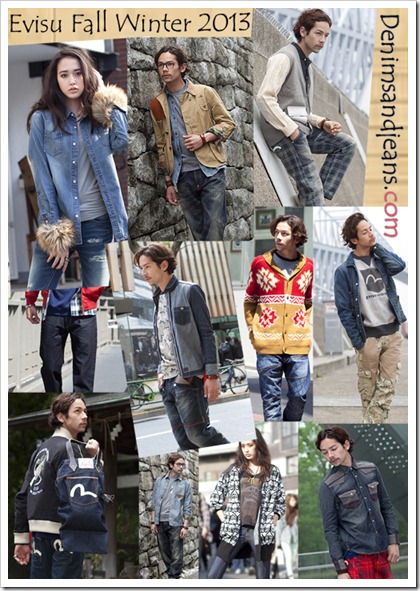 Japanese denim specialist EVISU infuses core elements of traditional Japanese denim wear with modern touches to create its  2013 Autumn Winter Collection. The collection is presented in a series of advertisements shot across multiple locations in Tokyo that best capture the spirit and style of the brand.
EVISU Private Stock Collection
Traditional Japanese denim wear is at the core of the EVISU brand and the EVISU Private Stock collection, the brand's flagship line, showcases the essence of Japanese culture at superlative levels of quality and craftsmanship. The entire collection is crafted in Okayama, Japan, the home of Japanese denim. Using sophisticated, specially crafted looming machines, the premium quality unsanforized selvedge denim, KIBATA, undergoes more than 30 steps to dye it the famous indigo blue color. A handful of recognized master craftsmen then hand paint the EVISU Seagull logo on the back pockets in separate layers. These  jeans are an example of  Japanese commitment to perfectionist  craftsmanship.
EVISU Heritage Collection
"Classic with a Twist" underpins the design direction of the EVISU Heritage collection. Fusing new-age design elements with traditional denim wear, the collection offers a sophisticated and stylish look. This season EVISU integrates the ever-popular camouflage print and other outdoor gear elements into the collection, which makes the pieces easy to complement with a variety of styles, offering a different and more mature side to denim wear.
EVISU Genes Collection
The stylish EVISU Genes collection is a core line within the EVISU brand. It stands out from the other collections by being designed specially for the street. This new-age, pop-colored denim package is inspired by Tokyo's unbridled buzz and presents the fun-loving face of Japan to the world. Suitable for all ages, the collection features elements such as patchwork and colorful prints that are used to update classic designs such as MA-1 and varsity jackets. The bright color palette for slim and skinny denim adds a more modern touch to the entire collection.
Women's Collection
Denim may highlight the masculinity of men, but it has the opposite effect on women. A slim silhouette of denim showcases feminine curves, while the right pair of shorts can bring attention to a woman's youthful vitality.  Evisu tries to pep this up !
Some cool looks from the collection shot at different locations in Tokyo..