Selvedge Denims are a prized possession for most adult denim aficionados , many of whom treasure it like their life ! . So , should kids have selvedge denims, who would not understand what it really is  and could abuse it to their will ?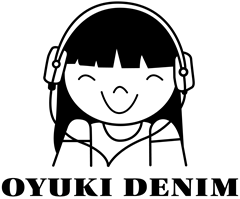 Guido Kerssens from Netherland thinks so .  He created the "OYUKI DENIM"  – a selvedge denim brand from Netherland  for KIDS Only.  We were surprised to hear about this brand and got curious to know the story behind it .  Guido Kerssens gave us a detailed account of why he created OYUKI DENIM and why it will always remain a "Children's Denim Brand'. He explains in detail:
"In the Spring of 2012, in a combined holiday and research trip, I visited Japan with my wife Kitty and our 9 year old daughter Oyunaa. Oyunaa is a Denim fan and she was always looking for a jean just like Daddy's.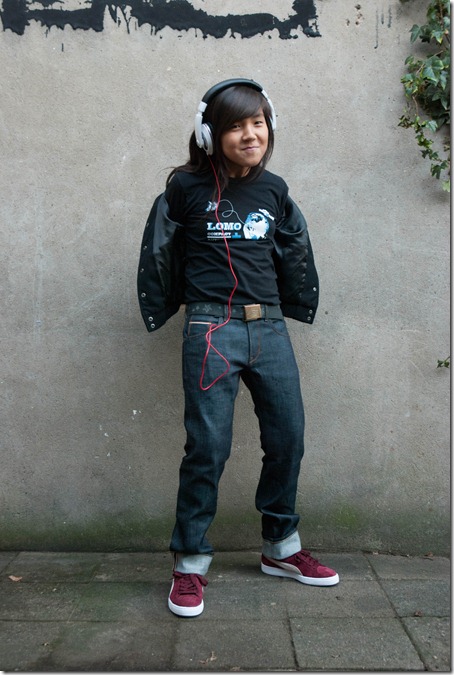 One day we visited the Momotaro production facility in Kojima and were shown around by Hiroki Kishimoto. Oyunaa was really exited about the product and at the end of the tour we visited the Momotaro store. There she found 'her' Jeans in her size. In my opinion, the price was way too high for a kids Jean, with the expectation to see the raw selvedge Denim being abused while playing football, mountain biking, skating and all that stuff.
So I promised her to make her 1 or 2 Selvedge Jeans myself. I developed a straight fit selvedge Denim with the selvedge on the back and coin pockets. They gained quite some interest from friends and colleagues, so I decided to make a few more.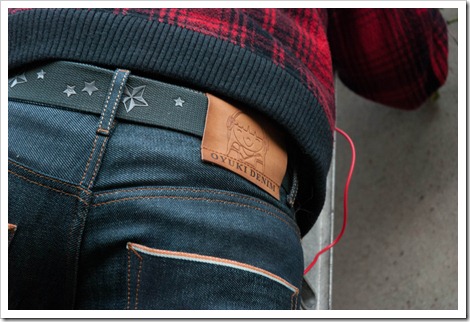 After experimenting with fits, different Denims and random ideas, it finally lead to Oyuki Denim. Oyuki Denim is in production at Denim Manufacturer EROGLU GIYIM in Turkey. They produce for some of the big names in the business like Tommy Hilfiger, Zara, H&M. I got really lucky with this. I have been visiting the company with students on Production excursions for the last 10 years. Eroglu liked the Oyuki Denim concept so much, they made an exception for this very small production.
The name OYUKI is a contraction of my daughter's name, OYU-naa and my wife's name KI-tty. Also, Oyuki is a Japanese fairy tale about a Spirit. I re-wrote the fairy tale for the Oyuki Denim Facebook page.
After experimenting I decided to have the final version like this:
· Oyuki Denim is meant for cool kids of about 8 till 14 years old Sizes go from 140 up to size 164. Later this Spring the sizes 128 and 134 will be added for the 6 and 7 year olds. If the collection needs expanding the only option will be different fits (or smaller sizes), but as for now there are no such plans.
· Oyuki Denim will NEVER be something else then a kids Selvedge Denim. Quote: OYUKI DENIM – Even your parents might want one- BUT THEY ARE NOT GONNA GET IT!"
Guido Kerssens mainly uses Isko Selvedge stretch denim 13oz for his label and some of the fine accessories.  For the quickly growing children , "there is some extra length so that the jean can be worn a bit longer" he says.
About
Guido Kerssens is a  lecturer-coordinator at AMFI,  Amsterdam Fashion Institute part of the Amsterdan University of Applies Sciences and has been teaching production and development, with a strong focus on Denim