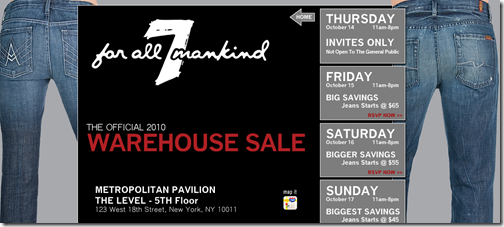 Most of us know and love Sevens Jeans. They are the pioneers in the premium denim segment and have won millions of hearts. with their great jeans – fit , finish , fabric et al.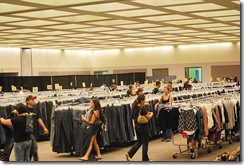 Sevens , now owned by VF , came out with their first sale last year . There were over 10,000 people who went to the sale and it was a huge rush with long queues outside the venue . The second sale is now due in a couple of weeks  and if you are a denim lover , this  is not an event to miss.
Warehouse people, who are organizing the sale , were kind enough to offer VIP passes to our readers . These passes basically give access to the sale on the first day when very limited number of invitees are allowed in and you might even find some celebrities in the 'Denim Lounge' .
Our readers can get 10 VIP passes for the New York Sale and 10 VIP passes for the Los Angeles Sale . To get a VIP pass, just leave a comment below with your email address and also the city name (New York or LA) for which you need it and we will ensure the pass reaches you . PLEASE LEAVE YOUR COMPLETE FIRST AND LAST NAME AND IT WILL BE ENTERED IN A LIST NEAR THE DOOR TO THE SALE..Remember, it is on a First Come First Served basis . So , be fast and do not be left standing in the long queues as people were last year .