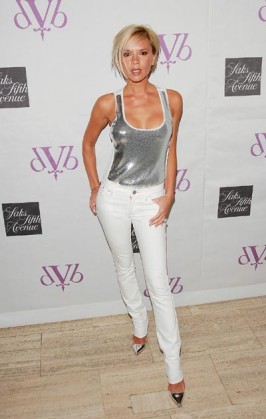 Victoria Beckham launched her debut denim collection this week in New York to a multitude of photographers, television cameras and journalists.
Beckham has boosted her profile by unveiling her dVb collection of denim jeans, skirts and shorts at Saks department store on Fifth Avenue.
Wearing her own white jeans, silver heels, and a sparkly, silver vest, Victoria posed for photographers before heading upstairs to sign autographs for fans waiting in line.
The dvb jeans will have large star stitched on the back pockets and will cost around USD 250/- (dark denims). The dVb range also includes retro style sunglasses.
I think its a lot easy for these celebs to launch their own labels which ride comfortably on the strength of their popularity. However, the real test comes within a year of the launch when the publicity dies down a little and the Jeans has to perform.. Lets wait and watch how dvb performs.