14.5oz was supposed to be normal jeans and one used to consider 15.5oz as heavy jeans. Then we heard about 18oz jeans and 21oz jeans was considered a shock …!
So , how do we react to a 25oz denim jeans from Iron Heart ??
Iron Heart – denim brand from Japan – excels at making jeans which justify its name – Iron Heart . Created by bikers from Japan in search of a tough jeans to support their passion – biking , the jeans is actually now bought internationally by over 90% customers who are non-bikers .. The reason may lay in the desire to buy a jeans that will last a lifetime ..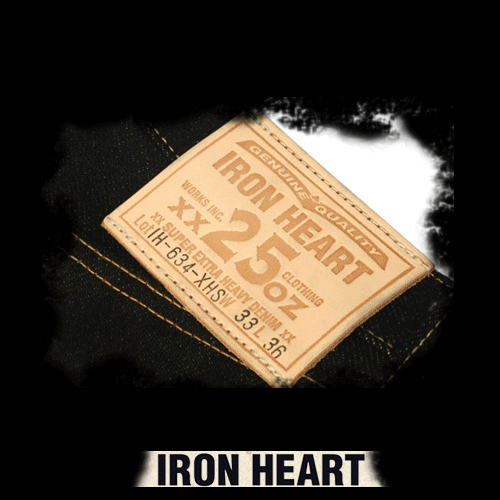 We had previously interviewed Giles Padmore from Iron Heart (UK) to know about how the brand developed and the concept behind it . When they just launched the 25 oz denim  , it was time again to speak to him and get into the thick of a 25oz Jeans ..Its not really easy to make a 21oz denim and stitch it , let alone a 25oz denim. Iron heart gets their fabric made exclusively at a Japanese denim mill which can do this kind of product.  I was sure it must have been really tough and Giles confirmed the same.
Hi Giles, welcome back to Denimsandjeans.com . Another first from Iron Heart – a 25oz denim jeans .. Wow !! Who would be the typical customer for such jeans?
We don't really have a typical customer, but I guess the people who will be buying these are people who like to wear something really special.  These are not for the faint of heart and will take some time and dedication to tame.
It must be really tough making these jeans.. How did your people manage to weave it in the first place ?
It was really tough, we lost a lot of fabric in the weaving process.  Typically in the weaving room, one person will look after a number of shuttle looms.  With the 25oz denim we had to dedicate a full time person to oversee the loom that was weaving the 25oz denim.  This way we could spot problems with the weave immediately are make adjustments.
With such a heavy denim, how do you manage the starch component? It would be really difficult to wash it off..
Starch actually is not much of an issue.  We soaked these jeans after construction to remove most, if not all of the starch.  When you get them, they will feel super stiff, but that is down to the density of the denim,not to the amount of starch in the fabric.
Maintaining comfort in a heavy jeans is not easy.. Have you also worked on this aspect ?
True, they certainly hurt for a couple of weeks, but after that they start to soften up and become very comfortable.
Stitching such a jeans must be a nightmare ? Must have broken a large number of needles ..!
It was a nightmare!  In the first run we needed to produce 300 pairs, we had to make 370 just to ensure that we had the 300 perfect jeans we needed.  We had to develop a number of new ways of using our vintage sewing machines to construct the jeans.  Bar tacking the belt loops on was the most dangerous and we had to insist that the workers wore eye protection!
As I understand about Iron Heart – you do not care about denim trends.. You create specialized jeans for your customers whom you understand well . Does this help you to create exclusivity and does away with the need of going for volumes ?
We try and make stuff that will look as good in 20 years as it does to day.  Simple, classic, well made garments.  We do not aim for exclusivity, but we are well aware that are clothing is not for everyone.
I once again congratulate you on creating these exclusive jeans.. Wishing you all the best. Any advice for our readers ?
Thank you.  If you do buy a pair of these, make sure you tuck your tee shirt in for the first few weeks, if you don't, you'll be bleeding……
And if you wish to buy this $480 Jeans, click on this link .