The textile world is working very hard to become 100% sustainable as soon as possible. Almost all brands and mills are working on it. Most of the factors in terms of raw material as yarn, processing and supply chain have been worked on. But Natural Dyes is kind of unexplored area in sustainability approach. One of the reasons could be the unavailability of data for calculation of sustainable benefits.
AMA Herbal Laboratories in India has made a breakthrough in this regard.  CEO  Mr Yawer announces :
"We have made a breakthrough in the dyeing sector by presenting Bio Indigo® dye with Life Cycle Analysis (LCA) for the first time. LCA is a scientific, analytic approach in calculating benefits that brands can get on a sustainable balance sheet by just switching to Bio Indigo® in denim production."
Bio Indigo® dye is obtained from leaves of plant Indigofera tinctoria was commonly known as indigo which also exhibits medicinal properties. One of the major characteristics of the Indigo plant is that it is a legume and contributes in fertility to the soil. Many coconut farmers have reported higher yields in coconut water by planting Indigo in the periphery. It also acts as a nitrogen source when used as a compost.
Mr. Yawer further adds :
"Bio Indigo® dye comes in powder form and is certified on "GOTS Version-V", and has "ZDHC", "REACH" to its credit. Its Fastness properties, the process of dyeing and method of use remains same or at par with synthetic indigo. Many large denim mills form Turkey, India, Pakistan, China, Italy, and Japan are already using Bio Indigo® on their rope dyeing machines. Bangladesh Denim world is also showing a good response to the concept. Designers are loving Bio Indigo® for its greener cast and the kind of wash effect that it gives."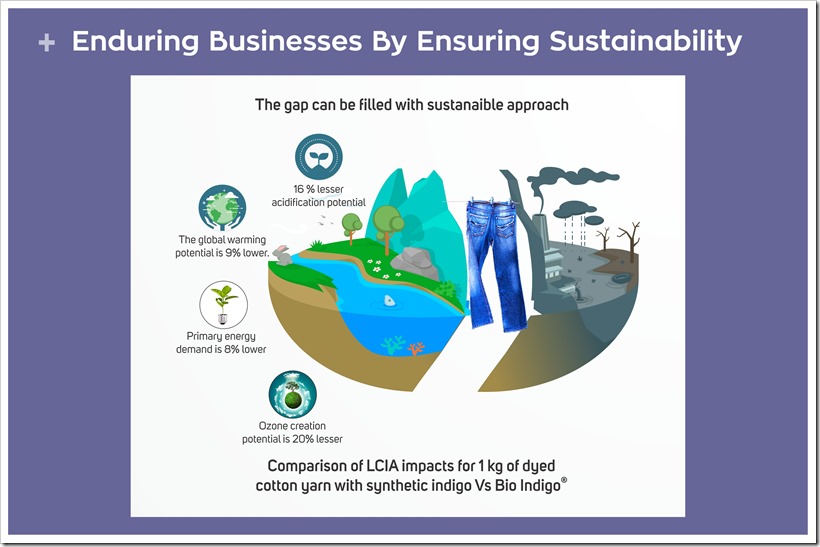 Denim and indigo blue go hand in hand. Initially, all denim was made with Natural Indigo only but now Indigo is mainly produced synthetically. Synthetic indigo (another name – Indigotin, CAS no. 482-89-3) is produced through a chemical process and makes up for the majority of commercially produced indigo dye in the denim industry.
To support their claim of Bio Indigo® dye being a sustainable product as well as compare with Synthetic Indigo Dye, AMA Herbal Laboratories have evaluated its environmental impacts using Life Cycle Assessment approach as per ISO 14040/44 standard. AMA Herbal Laboratories entrusted Thinkstep Sustainability Solutions Pvt Limited, a subsidiary of Thinkstep AG, Germany for the LCA study of Bio Indigo® dye using GaBits Software system and Thinkstep Professional databases and services. The study helped evaluate the various environmental impacts of the Bio Indigo® dye and how it stands compared with the Synthetic Indigo Dye.
For dyeing of one kg of cotton yarn, synthetic dye consumption is lesser than natural indigo dye. Thus, to make a fair comparison, the functional unit was defined as one kg of dyed cotton yarn. The inventory used in the study consisted of all the production steps from indigo leaves produced in the farms to Bio Indigo® Dye production followed by its use in cotton yarn dyeing. For synthetic dye, similar system boundary i.e. the production of Synthetic indigo dye followed by its use in the cotton yarn dyeing was considered in the study.
Rope dyeing, being the most common technology for dyeing in the denim industry was considered. It consists of twisting the yarn into a rope then quickly dipped into Indigo baths. This dyeing technique is considered a superior dyeing technology where better dyeing uniformity is achieved.
Mr Yawer was very happy about the results achieved:
"Dyeing with our Bio Indigo® dye has 16% lesser acidification potential, the global warming potential was 9% lower, the primary energy demand was also 8% lower whereas the fresh water demand was 0.4 % higher. The difference in the positive impacts was in the range of 0.4%-23% for various environmental factors defining sustainability of denim."

"Additionally, the study was used to compare environmental impacts for production of 1 kg of both the Dyes. Except for fresh water consumption, all the other environmental impacts are 10-100% lesser in case of Bio Indigo® Dye."
He further explained about the difference regarding Bio Indigo® made by their company vs natural indigo available from other sellers :
" Natural Indigo has been primarily been made by the artisans based out of villages and small towns who grow the plant and extract the indigo . Due to their limitations, they are not able to give a standardized product on a commercial scale. Besides, it is also very difficult for them to control the usage of effluent and waste produced from such productions . AMA herbal is perhaps the first company to come out with a standardized natural indigo produce with specified discharges. We recover about 60% of the water used in the dye production while the rest is almost evaporated. The solid spent created from the production is used as bio-fuel and bio-fertilizer. Also, Traditional Natural Indigo contain various impurities, these impurities do not allow this product to run on Rope dyeing/slasher machine. Where as our Bio Indigo® is upgraded version that can run on rope/slasher without any problem. Natural indigo so manufacture is our Bio Indigo®. Also we are the first to have done a LCA of the produce and hence the sustainability experts can be reassured that they are getting a product with minimum impact on the environment."
We were apprehensive of the high cost of natural indigo to which he replied :
"Bio Indigo® is more expensive than synthetic indigo. However, when we consider the cost of usage of synthetic indigo on environment and the additional cost which is applicable in case of many other sustainable processes, the usage of Bio Indigo® would come out much more feasible. Besides, with the latest increases in prices of sythetic indigo, the gap between the two has considerably reduced. "
AMA herbals summarized the results as follows:
The impact contribution of dye production in both cases of dyed cotton yarn production is not more than 8-9% across various impact categories. The major impact contribution comes from the cotton yarn and  energy consumption in rope dying process. Use of Bio Indigo® dye leads to impact reduction, from the credits, it generates as a raw material as well as utilization of dye wastewater in agriculture as a source of nitrogen.

The impacts from dyes are highly dependent on the quantity of the dye required. Better utilization of Bio Indigo® dye will lead to further impacts reduction.

This study provides Life Cycle Inventory (LCI) and Life Cycle Impact Assessment (LCIA) as regional averages (India) across the industry for dye manufacturing.

Decisions, as well as the choice of modeling approaches and assumptions, can influence the results of LCA.

Bio-diversity is not assessed in this study due to its limitations in the LCA methodology

The decision should not be taken on toxicity parameters due to their high level of uncertainty. But when compared with Synthetic Indigo Dye, Bio Indigo® dye has lesser impacts for sure.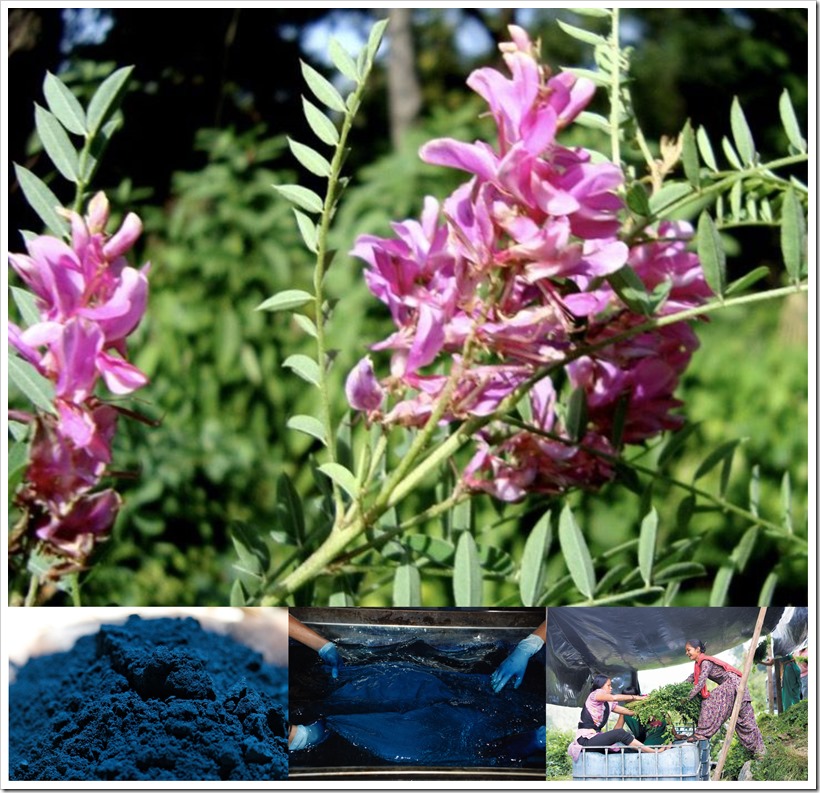 Bio Indigo® dye can provide denim brands and manufacturers with a sustainable solution of having lesser environmental impacts. In general, natural dyes have certain advantages over Synthetic dyes. Natural dyes are non-toxic, non-allergic and now one can say they have a reduced negative environmental impact than synthetic dyes. The water consumption can be reduced by engaging sustainable farming practices. AMA Herbal Laboratories will explore this area as the next step in their LCA journey. To become sustainable, fashion industry needs sustainable materials. Bio Indigo® dye thus promises in this endeavor.
Bio Indigo® available in powder form for Rope Dyeing
& Ready to use pigment form for coating and printing of textile.
AMA Herbal can be contacted at bioindigo@amaherbal.com or more information is available at www.amaherbal.com