Nowadays, when it comes to eco-friendly treatments within the denim industry, there seems to be no shortage of innovative views, technological progression or the investments as witnessed by the attendees of last December's AATCC Denim and Sustainability symposium. Instead, the difficulty lies in the power to implement the green solutions into the apparel market. Naturally, no long-lasting change happens over night.
Reasons vary throughout the supply chain: from short term pricing issues to lack of education concerning the production methods and or simple reluctance of companies as well as consumers to embrace a breath of fresh air in the way they conduct their business and or lead their lives.
Having identified the problems, three potential answers echoed throughout the guest lectures.
A first observation is that there is an enormous need for an interdisciplinary consideration, education and open dialogue regarding the methods and technologies involved from the beginning phase of raw material sourcing through design, production and the consumer use stages.
Secondly in order for the fresh ideas to fully materialize, one should not disregard the importance of the collaboration between the ground-breaking developments and the capital intensive apparel manufacturers.
Thirdly, we can all agree that retail is saturated with insincere "green" claims which cause mass confusion. To deliver honest products into the market manufacturers must adhere to the existing laws, employ appropriate testing policies and allow for transparency throughout the value chain. Putting the same into practice seems to be the most problematic as it requires additional research, time and advanced education. As a remedy to these issues, a multidisciplinary minded team of faculty and students at the University of Delaware Department of Fashion and Apparel Studies have joined forces with key industry partners and developed 10 business policies which aim to cultivate positive economic, environmental, and social benefits for the world and its inhabitants.
The two day AATCC conference was packed with informative presentations and inspiring discussions between academics, industry professionals, policy makers and students. Considering the nature of Denims and Jeans blog, this article will highlight four environmentally friendly dying/laundering solutions presented at the symposium. Notably, the examples discussed below have actually surpassed the market barriers and are becoming vastly embraced.
1.The "Holy Grail" of denim the Levi's ® brand-did research regarding a life cycle assessment of pair of their Levi's ® 501 jeans. They found 58% of climate change impact happens at the consumer-use phase. Together with Goodwill International, Levis Strauss & Co. launched the "Care Tag for Our Planet" campaign. This collaborative project shares the data from the lifecycle assessment and educates consumers about the benefits of cold washing, line drying and donating used clothing to keep it out of landfills.
2.The Advanced Denim presentation by Clariant addressed Diresul RDT® range of dyes and the PAD-OX® Process. Their new low sulphide content dyestuff can achieve various indigo shades without the actual use of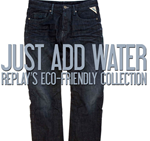 synthetic indigo. The Pad-OX® process manages to condense the typical 10-12 step indigo dying procedure into 4, consequently reducing water consumption and water clean up by 60%. Furthermore, these dyes are superior in their fabric adherence affinity and are available in other colors. The entire color pallet is highly compatible with ozone technologies in achieving faded or bleached looks, minimizing the need for harsh chemicals. Replay has used the Diresul RDT® products in their "Just Add Water" campaign.
3. Genencor– exhibited a line of enzymes called PrimaGreen ® which can achieve a collection of stone washed, vintage and bleached looks. The biodegradable nature of enzymes serves as a great substitute to other harmful agents such as bleach or potassium permanganate which are habitually used by laundries in attaining the above mentioned aesthetics. In addition, PrimaGreen® products provide substantial savings in overall water process and energy consumption.
4.Perhaps the most remarkable and technologically sophisticated was the "0" Means "0" presentation by Mr. Enrique Silla, president of Jeanologia™. His team did a case study on consumer perception, asking the following question:
Given a choice when buying a jean with labels expressing the following ecological characteristics:
-No water used in the finishing of the jean
-No energy used in the finishing of the jean
-No chemical used in the finishing of this jean.
Which would you choose and why? (keeping the price, fit and style being equal)
99% responded no chemicals, 1% responded no water. Most noted reasons were chemicals contaminate more, chemicals are toxic, chemicals are hazardous to my skin and chemicals are not natural.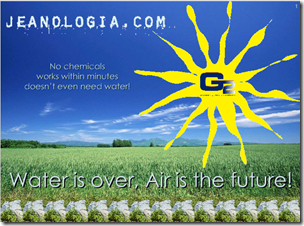 Inspired by their findings, the Jeanologia™ team set on a mission and forever marked the apparel history by introducing a garment finishing process with zero chemical use. Their presentation showed a collection which included 3d resin, vintage fading, whiskering, bleaching, handsanding, blasting; pretty much any denim effect one can imagine. Instead of chemicals they used laser technology to mark the wash details. If desired, they showed one can further manually add grinding scrapping and tagging.
After the laser has mapped-out the garment, it undergoes a short hot wash and or stone wash-depending on the look one whishes to achieve.
Subsequently, the washed garment is placed into one of the most revolutionary machines in garment finishing called G2.
This device uses air, transforms it into plasma which brings out the laser details and or the aged look.
Following the G2 process, garments are rinsed and dried.
Moreover, Jeanologia™ also introduced another ground-breaking device called e-Soft. e-Soft is a garment softening technique which operates based on electro –flow technology. It uses a continuous electricity flow and wet air to create positively charged microscopic air bombs. When the air bombs hit the fabric, they change its surface tension yielding a very soft handfeel without weakened tensile strength.
It is truly extraordinary what a bit of water, pumice stone, sand paper, grinder combined with Laser, G2 and e-Soft technologies can achieve. Thanks to Jeanologia™, brands now have an opportunity to process their garments with zero chemical contamination, save water and energy while maintaining same or even better cost margins.
There exist limitless opportunities in every industry. Where there is an open mind, there will always be a frontier.  Charles F. Kettering
 Adriana Galijasevic is an American designer of Yugoslavian descent currently residing in Amsterdam.Her passion for denim, educational,professional and personal experiences prompted her to start up a Denim Institute. In collaboration with other denim enthusiasts and educational institutions, Denim Institute's mission is to research the past, confront the present and open doors to the future innovation in denim design and production. Contact her at this email address