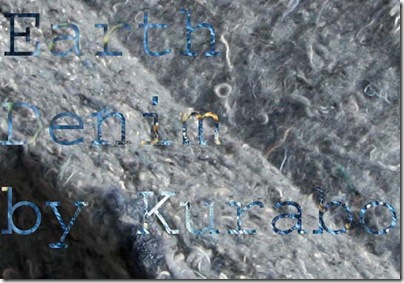 Making economic sense from environmental conciousness is not an easy task. Taking care of environment takes money, but if you can make more money than you spend, it makes great business sense.
Kurabo Denim's Earth Denim does precisely that.  Kurabo has ventured to contribute to reduction in Carbon Dioxide emissions by not burning its denim waste and instead recycling it back as a premium denim !
The Earth Denim is made in three steps:
Textile wastes from Kurabo's manufacturing process are collected and dyed.
Then they are broken up into fiber forms, mixed with virgin cotton, spun into yarn.
This yarn is  then dyed in indigo.
Because parts of the newly spun yarn are already colored at the beginning of the process, Kurabo doesn't need to use a sulphuric dye necessary for deep color. Only indigo dyeing is required and it further reduces the requirement for chemicals.
The best part is that this denim is positioned as a premium denim and it sells at $8/yard.. The Denim features features a white core and super-dark-blue color due to its unique makeup. West Coast (USA) designers  re-sponded to stretch and rigid denim with a vintage look.
I think this is a good example of innovative thinking whereby the company shall be helping the environment as well their own kitty.
However, it also needs to be remembered that only mills with this kind of fame can encash such innovative developments as lesser known mills will not get the price that may be required to cover the cost of such a product.
Another noteworthy point is that the need to recycle such wastes is a more urgent requirement for developed nations as in developing economies, such wastes are automatically recycled because there is a market for almost every kind of waste ..
Note:Check out the Denim Mills Directory for links to Kurabo and other Japanese denim mills.