The project "Planet Denim"  with the prestigious MA Menswear course at the Royal College of Art in London, challenged the students to focus on the design and finish of the iconic "5 pocket" denim jean and to develop new techniques for pattern making, construction and especially finish, which take into account the long-term impact the design would have on the environment. Thus the idea was to create "Denim jeans for a sustainable planet". The project was hosted and instructed by NYC based designer Johnny Diamandis. (ex design director Evisu Jeans). He was invited  to do the project by Ike Rust (Head of Menswear at RCA). Denimsandjeans.com also got involved in the project by providing useful inputs to the students.
A number of students participated in the project and the works of three students was shortlisted . We would quickly go through their project work as below :
Student 1 : Aleksandra Domanevskaya
Aleksandra brought out the concept of 'Fade Jeans' .Here is the summary of his project.
Fade Jeans – The Concept
Fade Jeans aim to make a small but important step towards changing consumer's relationship with products.For the environmental form of production to succeed, western consumption habits need to change.
We value things that we have made ourselves more than something that's been bought. Fade Jeans offers customers an opportunity to modify their jeans and partake in the process of design. Consumers decide on the appearance of their jeans in terms of colour and wear.
How it works:
The dye on the jeans is left semi-fixed, so it fades quicker than normal jeans. Consumers wear the jeans in, wash them to their desired level of fade and then fix the colour of the jeans in the washing machine with a sachet of dye fixative provided.
The Jeans are made of two fully recyclable materials, which can be easily separated, and up-cycled at the end of their life.The Fabric and Stitching threads are made of Lyocell. Lyocell fibre can be produced to meet any specifications and woven into twill fabric; it can also be melted back into polymer; up cycled, dyed and is biodegradable.
Screw-in Buttons are made of Ingeo Biopolymer.
Jeans are dyed with reactive dyes in a closed loop production system, using C2C principles for the choice of dyes, auxiliaries and finishing chemicals based on their impact on human and environmental health.
Up-Recycling and Shipping
The company will utilise existing postal networks. Jeans would be shipped in Ingeo crates, which can be reused unlimited amount of times. This way a pair of jeans comes useless-packaging-free at the shop level.
On the inside back pocket area jeans have pre-paid envelope embroidered, so that when the useful life of jeans is over, they can be returned to the factory and moulded back into new fibre. Buttons, made of Ingeo can be reused infinite amount of times.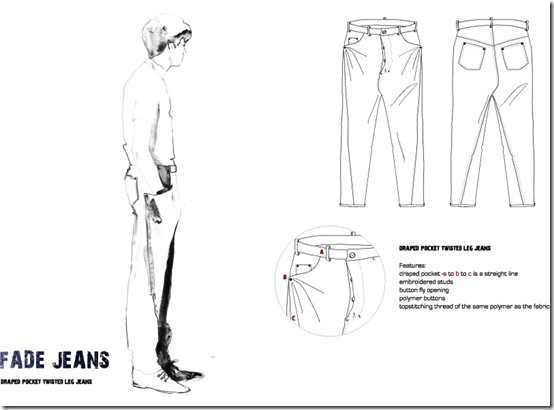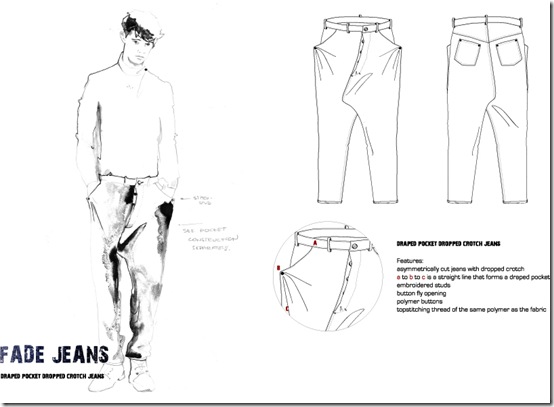 Student 2– Emily Murry
Emily brought out the concept of  "Generation Jeans".
Generation Jeans – The Concept
Generation Jeans are a classic straight-cut jean carefully designed to transcend trends and live a long life with you…gaining their personality and
distinction as you wear them. They arrive to you in an unwashed dry
denim state and have details to ensure they last as long as you want them to, until you are  ready to pass them on to the next generation
or send them back to us to be transformed into a new generation of jeans.
Generation Jeans will basically have "An Extended Life" so that the same jeans can be used for a longer period of time.
Details
1. 60% Organic cotton 40% Organic hemp .Hemp is easily sustainable and uses considerably less water in the processing than cotton. It is naturally antibacterial and extremely  durable, helping to prolong the life of the jeans. The cotton however, helps retain the softness of the denim making them more comfortable against the skin.
2. Two-piece Tagua Nut buttons – strong and durable but biodegradable and sustainable also.
3.Reinforced gusset piece cut on bias – to allow easier movement but prolong life of jeans in thei weak area.
4.Unbleached organic cotton waistbanding and pocketing – biodegradable and non-toxic. Waistband has internal drawstring to adjust fit further, prolonging wearers use of jeans.
5.Cross-stitching reinforcement at pressure  points, no use of metal rivets.
6.Contrast triple top-stitching on inside and outside leg with non-toxic dyed organic cotton thread, heavy weight for strength. Chain stitch used meaning if stitch breaks anywhere on seam it will not run, thus making jeans more durable.
7. Waistband and centre back seam with 2.5cm additional seam allowance to take trousers out.
8. Reinforcing patch behind pocket corners to prevent tearing.
9. 10cm deep button-up hem which can be let down or buttoned higher with growth or changing trends.
10. Woad -dyed denim. Woad is a natural, non-toxic dye which does not require the use of mordants or toxins for fixing. Fully biodegradable
and approved by the National Soil Association.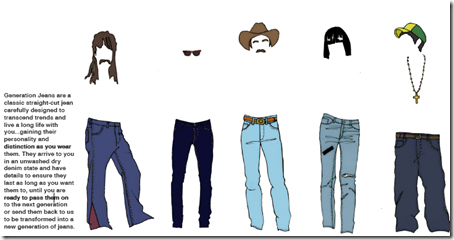 How it works ?
You receive your jeans, along with repair patches and thread, in a protective felt bag. The felt is made from the jeans textile waste and remains unbleached or dyed. It is fully biodegradable and non-toxic. With the drawstring waist pulled in and the button-up hem at its shortest, you start
the love affair with your dark, dry denim Generation Jeans. Your legs have grown, so you let down your hem to the longer length, and after years
of wear the colour has faded and you require a patch. The jeans look lived in and loved, and still fit you and feel as good as when you first got them.
Many years later, your jeans have faded further and you had to let the waistband out a little, but your Generation Jeans are still your good old
faithful in the front of your wardrobe.
Finally, after years shared with you favourite jeans, its time to say goodbye. So you pack what is left of them into a freepost envelope (available from the website or store if you lost the original from years ago!) and send them back to us, where we compost them or re-use still strong parts for new generations of jeans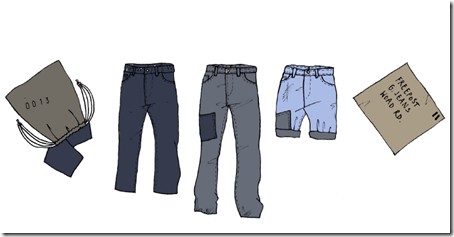 Student 3 –  Fah Chakshuvej
Fah brought out the concept of  'By-Product Jeans'
By-Product Jeans
The basic concept behind By-Product jeans is to use environmentally friendly ingredients and also environment itself to provide the various effects on jeans.The jeans are basically buried in various places like farms, dirt roads etc to provide various effects on the jeans.
Here is a complete picture of her project . Click on the photograph to see the larger size .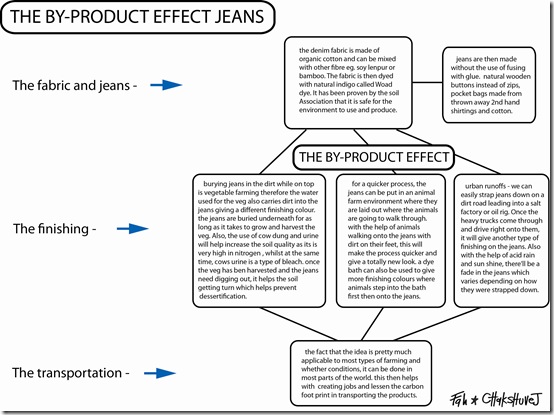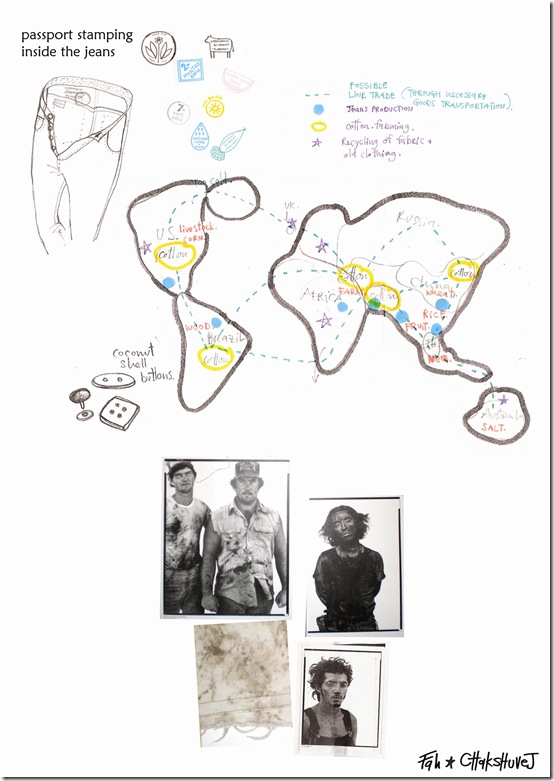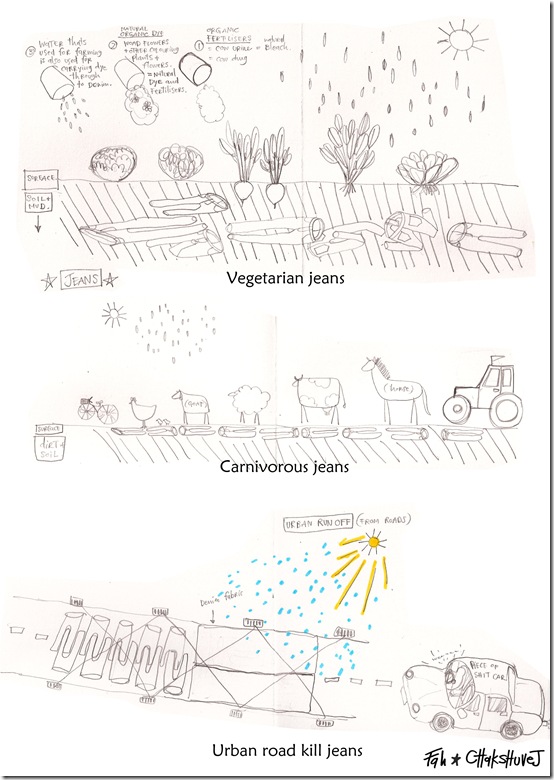 So, this was a very brief summary of some students work related to the "Project Denim".
To which of these students does your vote goes to ?
About RCA: The Royal College of Art (often abbreviated RCA) is the world's only wholly postgraduate university of art and design, offering the degrees of MA, MPhil and PhD. The University is located in South Kensington and Battersea  in London, United Kingdom.The College has an international reputation for its teaching in the fields of architecture, automotive design, photography, industrial design, communication design, interior design, fashion, ceramics and silversmithing.